Form a Kew for the injury room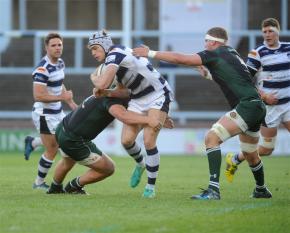 Not a nine.
By Carnegiette2
October 8 2017
It's well documented that we have a small squad, but if anyone had told me we would play 70 minutes of today's game with Chris Elder at 9 and Pete Lucock at 10, I would have assumed they were hallucinating……..however that is exactly what happened.
Both teams scored 4 tries but Richmond won 31-20 as they converted all their tries, and scored a penalty. Our tries were great, but due to a combination of a swirling wind and lack of recognised kickers on the pitch, none were converted.
With Jonah Holmes again watching from the stands (what a waste!)– we conceded first to an interception try. Irvine was very quickly off the pitch and after Watkins had scored his first try for the club (the club twitter feed mistakenly had it as Casson's), Alex Davies was clearly also struggling with a thumb/hand injury. He took (and missed) the first conversion but then came off.
Having conceded again, our second try was made by a McColl/Brown break after which Lucock chipped for Sanderson to score. Lucock was acting Captain and he and Stevie were taking kicks – to be fair both gained a lot of ground when kicking for touch. The Lineout was not functioning however, and we went in 21-10 down at half time having conceded again just before.
Chris Elder is a very good player – and our third try was a brilliant individual effort from him to score from his own half- but I don't think anyone would describe him as a scrum half. The scrum was generally functioning well, but by now it was a guessing game as to who was playing in which position – after Casson came off, there was (another) welcome return for Richard Beck, but that left Bainbridge at centre. Forsyth was binned as Richmond scored their 4th try.
James Thraves has come on twice in the back row recently, but when he, Imiolek and Buckle came on in the last few minutes we were pushing for a 4th try. After 3 lineouts in their 22, which resulted in 2 yellow cards for Richmond, we thought we had blown it, but Mike Myerscough had other ideas and scored from 30 metres out to rescue a point.
There's no shortage of team spirit or skill with this team. There's just not enough of them. With a fully fit squad – I have no doubt we would have won today's game. Losing Irvine and Davies so early was unlucky but a risk we take without having a replacement 9 and 10 on the bench. That said, credit to Richmond for taking their chances. We now have a 2 week break for the B&I and I literally have no idea what team we are going to field for these games. The word is Rich Mayhew will be back for the Bedford game, and Max Green back from suspension, but we have to get some more players from somewhere. A lot is made of the success of our academy players - I suggest now is the time to see what they're made of.
More Yorkshire Carnegie headlines
Yorkshire Carnegie Poll