A Trail down the M1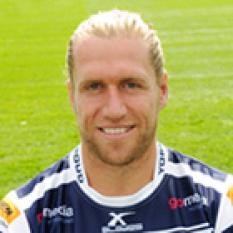 Skipper fit?
By ww
November 9 2017
The Championship fixtures resume this weekend with a full programme. Yorkshire Carnegie follows a familiar route down the M1 to west London and will be hoping to improve on the two defeats suffered the capital so far this season.
Ealing Trailfinders, this week's opponents, have had a meteoric rise up the Championship and currently sit second in the table with only one defeat against the leading team, Bristol. The club invested heavily in the close- season and it has paid dividends. Howevr some people have questioned the wisdom of such expenditure given that only one club will get promotion this season and all the indications are that it will not be Ealing.
The Carnegie board has, wisely in my opinion, decided that fiscal prudence will prevail this season. The books will balance, come what may. To this end three players have already moved on to ease the financial burden.
Despite these measures our team has already beaten three of the top five clubs. The next two games will determine whether or not it can turn this into a nap hand. In our last game, against a very good Bedford side, the lads showed that they can improve on sixth place in the league. Despite hanging on at the end they never looked like losing the game and scored one of the best tries so far this season.
The side against Ealing will improve with the return of Buckle at hooker. One observer noted that Mayhew could not hit his jumpers at key times against Bedford. Buckle has had two weeks since Mayhew's departure to get it right on the training ground. Our new props, Thomas & Miller-Mills have both been good signings and have taken the pressure off the regulars. Behind them the good form of Sanderson & Whetton (that run, that off-load) coupled with the return of Beck and West gives us plenty of options. For me, this season, our stand out forward has been Ollie Stedman who is proving a worthy successor to Buzz.
Our game will improve if either Davies or Irvine is fit. Lucock has done well as a stand-in but his best position is at 12 where I hope that he will start his 100th league game. Against Bedford Elder showed what a dangerous runner he is . Along with McColl in our back three he will keep the home defence busy at the weekend.
Vallis Way has an artificial pitch. Will this be a factor in who wins the game? Probably! More importantly, for me, is which kicker is on better form as I think that it will be a close run thing. If we have a regular 10 (Davies or Irvine) then I think we have enough to snatch a close game. Carnegie to win by 3 and bring 4 points back up the M1.
More Yorkshire Carnegie headlines
Yorkshire Carnegie Poll