High flying Bristol Beaufighters shoot down Carnegie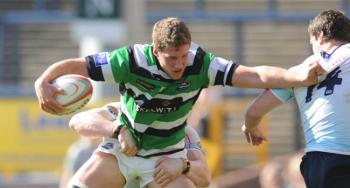 Scored!
By Almostatyke
November 19 2017
I approached this game with no real expectations of a Carnegie win, just hoping there would be some good rugby and that Carnegie would do us proud, with the score not too embarrassing. The atmosphere in the Carnegie Café/Stand/Terrace before the game was good and the pre-KO Hyde Park Brass Band played their hearts out. From behind the posts we tried not to let our eyes wander too far to the left or right where, the ghosts of the north- and south-stands were.hiding in the night. More on the construction progress on another thread, for now I will concentrate of the activities on the excellently manicured pitch
Unsurprisingly there was not much "churn" in the Carnegie team selection, we just do not have enough fit players to do that; it is more a case of shuffling so that all positions are covered and hoping that out-of-position players can do a good job. It was good to see "Right Said Fred" Burden back in the squad having being recruited on a Rolling Contract, which I interpret as similar to the "pay as you go" arrangement I have with Tesco Mobile. Apparently Fred was enticed to pick up his boots again by the prospect of working with J-Lo, who is clearly working his socks off each week in training a full-back to play centre, a centre to play fly-half etc.
Bristol only had eight internationals in their team, with 5 being ineligible because they are in the current Samoa or Tonga squads, so a weakened team – hardly.
So to the game. Firstly I was relieved that there was no Carnegie "rabbit in the headlights" moments from the start and we were catching and passing OK for the first 15 minutes. A lineout in a promising position went astray (so what's new?) but otherwise the team looked much better than you would expect with all the out-of-position players. Bristol then showed their class with a try on the left, and this set the pattern of play: Carnegie doing OK with the ball but Bristol being decisive and clinical leading to scores in the corner. Bristol also took all their goal-kicking opportunities (their Irish International Ian Madigan was 100% with his goal kicking throughout the match).
The half-time score was 23 – 0 and the other noticeable events were Pistol Pete landing a heavy, legal, hit on Ian Madigan, Chris Elder skinning Vardell on the wing (though his kick ahead then went dead) and for lots of students arriving, seemingly each with pint in hand about 25 minutes into the match. This improved the atmosphere remarkably.
The second half began as the first ended but then Carnegie found a way to the Bristol line. First Richard Beck and then Kirsty scoring tries, the first one after something like 40 phases of play and carrying possession from end to end. Both were converted, making it 30-14 and so the score was going to be respectable? No - normal service resumed, final score 44-14. Fred Burden came on after 45 minutes (for Casson) and gave a good account of himself.
Overall I thought our team did pretty well: we leaked 5 tries but Bristol had to work for them and most were in the corner. Our players just do not have the opportunity to train or play with players of Bristol's quality, so no disgrace there. I suspect that that performance would have beaten any other team in the Championship although Ealing would be close.
More Yorkshire Carnegie headlines
Yorkshire Carnegie Poll