Maybe, maybe not.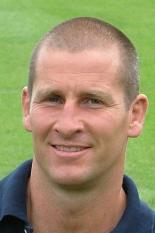 Winner.
By Bemused of BD23
May 23 2018
My normal reaction to the end of the season is one of disappointment /relief. I then go into a cricket-induced coma for a couple of months before emerging with fresh hope and enthusiasm in time for pre-season. This summer has, so far, been different.
Our expectations were trimmed early on when the past season was effectively written off by the board and our playing strength adjusted to meet fiscal constraints. Combine this with the reconstruction of the stadium and the unique viewpoint (nearly) of our home matches from the top of the Carnegie stand and the whole season had a different feel to it.
Just as we looked to be losing the plot as a viable, competitive club Chris Stirling was appointed to review the playing side of things. He was quiet at first ( finding his feet presumably) but then we had a whirlwind week when players were signed on a daily basis and, more significantly for us, announced on the website. Poor Phil Daly must have had sore fingers that week!
Brendan Cope signed from Jersey after proving that he is one of the best fly halves in the division. His halfback partner comes from France and we have signed some tasty props. Just as important for me is the retention list. Key players retained include Joe Buckle and Marc Thomas in the front row and the effervescent Chris Elder who will again be our main strike runner from the backs. Add Beck,Smith ,Mayhew Bainbridge and Myerscough to the retained forwards and Lucock & Forsyth to the backs then we have the makings of a competitive squad.
Last year we saw lots of talented players from the academy get match experience. I expect this to continue and lads like Fox Bullough and Davey will get opportunities to stake a claim for a starting shirt.
Finally we have John Okafor. Well maybe. Currently in Harlequins academy John is a 19 year old lock who, it is rumoured, is joining us so that he can study at Leeds Beckett University. I hope this rumour is correct.
Other clubs have been busy preparing for next season's Championship including promotion favourites London Irish and Ealing who have shipped out over 20 players and are replacing them with experience such as Tom Denton. We will not be seen as a contender which is a good thing. Anything better than 6th is an improvement and we will have the added benefit of supporting the lads from the new Southstand. That will be a whole new perspective for me.
More Yorkshire Carnegie headlines
Yorkshire Carnegie Poll