The Perennial Question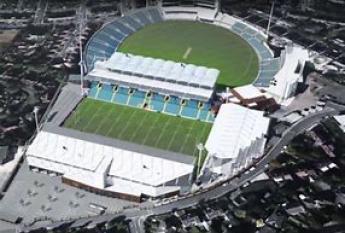 Not good enough?
By Almo
July 1 2018
Should I stay or should I go? If I stay there will be trouble, If I go there will be double.....
Seemingly not a month goes by without the question of Yorkshire Carnegie being better off away from Headingley recurring. I am not sure if proponents of our departure are wanting away from Headingley itself, or want a clean break from our past management and association with Leeds Rugby; I imagine probably a bit of both. But what are the practicalities of Hexit?
Our new board of directors has made it clear that they are only interested in Premiership Rugby, hence have signed medium-term agreements with Leeds Rugby to continue the combined use of Emerald Headingley and the Kirkstall Training Ground. Their quoted reason is that Headingley is the only rugby ground in the county that meets Premiership standards*. I would also add that we operate a rfu-licensed Academy based on the facilities available at Kirkstall, therefore there is a further ongoing commitment to our current training ground. But assuming we can overcome these issues, what are the alternatives?
New-Build Ground
As a recently-retired civil engineer who spent the last ten years of my career in pricing construction works, this immediately seems an expensive exercise. The figures from the Cornish Pirates' "Stadium for Cornwall", confirm this:
To construct a ground holding 6000 spectators:- £14.3 million
Second-stage, to improve to Premiership standard, an additional £10 million (and likely to rise IMHO).
To get the first-stage under way, despite being in partnership with Truro Football Club and Truro & Penrith College, £6 million of public money is required, plus Pirates' have to underwrite £300k/year for 10 years to cover the running costs. I wish Pirates success in their enterprise but fear that we would not qualify for any public funding if we made ourselves intentionally homeless.
New Build Training Facility
These are relatively cheap. I was involved in the pricing of a Premiership club new training facility (the project did not go ahead) and if we have access to an existing sports ground, a new all-weather pitch and training building would be circa £2-3 million.
Share an existing facility
I know of the following existing grounds in Yorkshire that appear to meet Premiership Rugby standards: Hillsborough (39k) Elland Road (39k) Riverside (35k) Bramall Lane (33k) Odsal (26k) Valley Parade (25k) John Smiths (24k) Oakwell (23k) Rotherham United (12k) The Jungle, Castleford (12k) Craven Park, Hull (10k)
If there are any other out there, post and I will edit.
I understand that Castleford have a proposed newbuild stadium of 13k capacity, there is also a Community Stadium being built in York, but its capacity is limited to 8k for logistical reasons.
Clearly some of the existing stadiums are in the "wrong" part of Yorkshire so would be impractical, but I leave it to others to comment on whether we would be welcome in Hull, Bradford, Beeston, Huddersfield or Castleford.
* Premiership standards: 10,000 min capacity of which 4200 must be seated. There are also standards for medical, safety and certain facilities (such as toilets). It doesn't matter whether you own the ground or rent it and a temporary amnesty can be put in place to cover ground improvements.
More Yorkshire Carnegie headlines
Yorkshire Carnegie Poll