Runners and riders 2019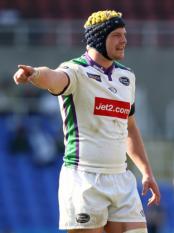 Good luck Rhys!
By Bemused of BD23
July 12 2018
It is that time of the year, with Wimbledon & the World Cup out of the way, that rugby afficienados can sit back and start to worry about their club's prospects for the coming season. In the Championship there are two questions that need to be answered.
Firstly - is my club good enough to challenge for promotion? Second - can my club avoid relegation? Last season we knew the answers to both questions from early on as Bristol & Rotherham occupied the relevant positions all season. All clubs will be looking to improve on last year - some will and others will not.
London Irish have replaced Bristol for the coming campaign. They already have a big squad and the benefit of the parachute payment. It is difficult to look beyond the Exiles for promotion back to the premiership.
Ealing Trailfinders also have a big squad. They will be, once again, the main threat to the relegated club at the top of the table. The loss of coach Alex Codling in the close season will hamper their plans.
Last season the top four also contained Bedford and Cornish Pirates. Both clubs are seasoned campaigners in the Championship. I expect them both to be in the top four again next May.
Jersey enjoyed finishing fifth last time out. Their flyhalf, Brenndan Cope really impressed me but he has moved north to further his career. Jersey will struggle to stay in the top half of the table .
Carnegie finished sixth. Despite the addition of Cope and a Welsh scrum half the squad is threadbare and imbalanced. The top half of the table may just elude us this season.
Doncaster, Nottingham and Richmond occupied the positions just below us. I do not expect much change in their fortunes next time around.
Hartpury remains an enigma. Despite a poor second half to the season the students managed to finish tenth. The club's close ties with Gloucester should ensure a third season in the Championship.
London Scottish had a poor season. The club has reverted to full time pros for next season. Look out for a substantial improvement in it's fortunes.
Coventry returns to the Championship after an absence of several years. The club has recruited wisely and attendances are on the rise. Cov will surprise many teams despite the quality gap twixt ND1 and the Championship. I predict a top half finish.
To summarise:- London Irish will go straight back up, we will finish seventh and Jersey will drop to ND1. Hmmm...
More Yorkshire Carnegie headlines
Yorkshire Carnegie Poll