We're bottom and I love it!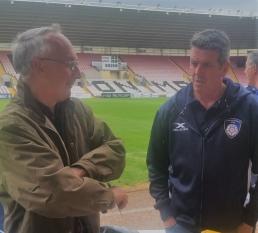 Delivering
By WW
November 2 2018
After the first swatch of games in the Championship Yorkshire Carnegie lies 12th in the table, adrift of the 2nd bottom club by some points. The lads have only managed to win one game. No one would be surprised if the long suffering fans were a tad down at this point in the season and looking at potential trips in National League 1 next season. Well I for one am quite happy.
At the start of the season I adjusted my expectations in line with the squad that we had at that time - clearly too small to mount a serious challenge for promotion. As we stuttered and stumbled through the early fixtures I realised that it could get a lot worse - and it did. However once you have hit the bottom there is only one way to go.
About this time we had a visitation on the messageboard with a not-so-subtle hint of re-inforcements imminent. Within the blink of an eye players were announced as arriving, mainly from the other side of the globe but with some celtic lads mixed in.
Wow! Here was something that could develop into a really tasty rest-of-season. At the last count we had picked up an additional 8 players. The cavalry have arrived! Now all thoughts of relegation have evaporated and my mind has turned to the interesting question of "How far up the league can we go?" I look at the teams above us and straight away I am looking past Xmas to a trip to Castle Park on the 29th - a good place to end 2018 with a resounding win - a marker for the rest of the season. Next I am looking at the home fixture against Ealing. If the new guys are half decent and settle in then I think a realistic target is a home win that day.
Clearly we are not going to win all our remaining games but it will be exciting if we can see progress month by month. The positivity of our DoR is tangible and it is rubbing off on the fans. As one of the clever people said: "In Stirlo we trust"
More Yorkshire Carnegie headlines
Yorkshire Carnegie Poll