Yorkshire 18 Cornwall 13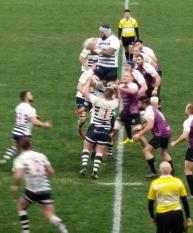 Lineout
By WW
January 13 2019
If this fixture had taken place in November I would have arrived at the ground expecting the high flying Pirates to bury us by a veritable cricket score. However, despite our lowly league position, there has been a definite shift in perception about our capability to handle teams above us in the league. I was looking forward to a win today!
Pirates are a decent team. They have a big pack, lively backs and they defend well. Add to that a swirling west wind then today's fixture was never going to be easy.
Carnegie started well by catching thje kick-off, recycling well and going through the phases. Joe Buckle rumbled over behind the driven wall into the wind after 6 minutes and we were looking OK. Midway through the half a superb break out of defence by the effervescent Dan Temm passed to Elijah Niko who sprinted in for the 2nd try. 12-0 and the game was going to plan.
After half an hour we went to sleep and Pirates acquired 10 points without really being in the game. They had lost their 10, ex-Carnegie player Will Cargill , after a collision with Chris Elder but his replacement looked lively enough. We turned round leading 12-10. The next score would be critical.
Our game management after the break was excellent and we played in the Pirates half. Several penalties came our way as we started to own the scrums. Umaga, who was struggling with the capricious wind, kicked two penalties and we looked solid as the replacements added to our game. Then things went a bit wobbly as Bainbridge started fighting in the Pirates 22 and got a penalty reversed. As the visitors pressed for a score Forsyth joined Bainbridge in the bin. Pirates kicked a penalty and we expected an onslaught on our line but the ref had had enough and blew for time.
A hard fought game in difficult conditions - four point to us, one to Cornish Pirates. That felt about right. Lots of good performances - Craig Mitchell, Pete Lucock, Joe Buckle and Elijah Niko all played well but my MoM was the evergreen Matt Smith who was epic in both the set piece and in defence.
So another win and a trip to the Athletic Ground to look forward to next week. Happy Days!
More Yorkshire Carnegie headlines
Yorkshire Carnegie Poll