Book Review - After The Lemons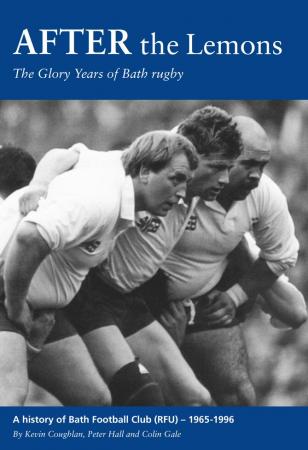 By Glen Leat
November 21 2010
At last it's here. After waiting what seems like an eternity (seven years) the latest update on the history of Bath Rugby is about to be with us. "After the Lemons" (A history of Bath Football Club (RFU) – 1965-1996) is launched in time to fill our Christmas stockings.
The reliable and committed team of Kevin Coughlan, Peter Hall and Colin Gale used the enthusiastic response to the first installment of their history of Bath Rugby (Before the Lemons) as encouragement to deliver a second volume and you'll be so glad they did. This books covers the period leading towards the professional era and chronicles the amazing on-field success of a small club in English domestic rugby.
As someone who enjoyed following Bath through its golden period I was keen to re-live the days when Bath supporters spent every May at Twickenham and every Saturday cheering yet another victory (well mostly). However there is so much more to Bath's modern history than 1984-96 and this book is an excellent reminder about the players who were local heroes long before the national press started reporting on Hall, Barnes, Hill, Chilcott and Guscott et al and the fact that for too many years Bath measured crowds in hundreds rather than thousands.
Whilst this book reminds us the likes of Robbie Lye, Jim Waterman, Mike Beese were part of the team which beat Welsh Champions, Pontypool 30-15 in 1975 it is the less know facts and stories which will tickle the reader's fancy. For example, schoolboy prodigy John Palmer clearly made an impression on Bert Meddick on and off the field, "The team coach had to pick this boy up from the school. There wasn't much of him, to be honest, but on the field he'd take a pass, there'd be a gap and he'd be through it in a flash. Who is this boy, we asked ourselves?" But it was after matches that Palmer made his biggest impression on the experienced Meddick, who prided himself on always being first to the bar. "Every match, I'd be showered and changed before everybody else. But this time, when I got to the bar, this schoolboy was there first – fag in hand and on his second pint!" Priceless!
My eyebrows raised quite a few times whilst reading this book as I discovered nuggets I'd not heard before. Explanations about the clubs' perilous financial situation were far more detailed than I ever thought I'd read and the sheer comedy of the club President telling Jack Rowell he wasn't needed because the club had enough coaches is anecdotal gold dust. Rows within our club have been commonplace down the years and some of these are aired here, usually with the Committee falling out with playing staff and coaches. After years of controlling things the "suits" found the likes of Rowell and Barnes were different kettles of fish: their ruthless winning mentality meaning everything at Bath had to be in support of the pursuit of trophies even if this meant upsetting a few old stalwarts.
So much has been made in football over the last two decades about the great sides Sir Alex Ferguson has built, strategically releasing key players and replacing them with better ones. Well we in Bath would argue Jack Rowell was doing this before Fergie got his feet firmly under the table at Old Trafford and perhaps his greatest player switch was Stuart Barnes for John Horton in 1985. Great player that Horton was, it is interesting to surmise whether Bath would have been as successful had Barnes not replaced him. I believe Stuart Barnes had the greatest overall impact on Bath's success and the book asks us to "Consider for a moment how many times he was on the losing side in cup or league matches for Bath in the eight seasons from 1985 to 1994. Nine, just nine." Stunning!
After The Lemons concludes in 1996, just as professionalism was tapping rugby's shoulder and Bath enjoyed the cross-code double header with Wigan and Andrew Brownsword was toughing out his negations to buy the club.
Whilst I enjoyed the first installment of Bath's history, at times I found it a bit of a slog because I hadn't watched the players described and therefore struggled to relate to them as people. However this book is different as it tells the story of my life through what was happening at "my" club and I know that many of you reading this will feel the same. I couldn't put this book down as I was keen to devour every one of its 262 pages (plus stats - lovely) and I know I'll re-read it many times in the coming years. Those interviewed were wholly candid with their reminiscences and filled in the many gaps in my knowledge of what went on whilst I was happily standing in the Flowerpots.
Messers Coughlan, Hall and Gale have done everyone associated with Bath Rugby a great service by producing a book which is detailed whilst remaining wholly accessible and amusing. It provides the definitive history of our club's greatest era. In short it's a great read and I recommend every fan of Bath Rugby to buy it. I predict there will be a lot of empty seats in front of the TV on Christmas Day because believe me, once you pick it up you'll not put it down.
To get your copy of After The Lemons Click here