East Meets West: Gallagher Premiership Playoffs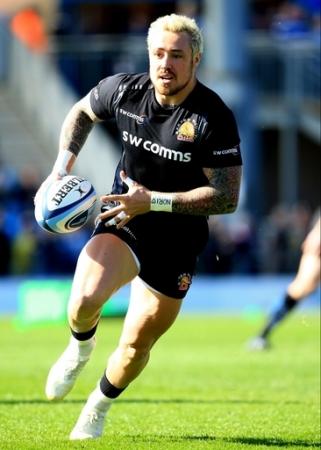 Nowell: Jack in a Box
By P G Tips
May 21 2019
East plays west this weekend in both Premiership semi finals, with the bookmakers predicting a Saracens: Exeter finale. Bath must once more sit out this stage of the season having failed to live up to hope and hype and managing only 'third best in the west' and last minute entry to the Champions Cup. Ardent fans across the country will though be watching these games to see who triumphs as must Bath's new coaching team, to see how it is done. Who then do we think will win and who, as neutrals would we want to?
Two themes have dominated the push for Top 4 in this closely competitive season where 5 points (one bonus point win) embrace places 4 to 9 in the final table: culture and renewal. Culture has served Exeter and Saracens well; it is the basis of their togetherness, winning ethos and consistency. They deservedly top the table, having set the pace all year. Gloucester and Northampton have been renewed and revived after several years of disappointment by new coaches with new approaches. Northampton finished with same number of league points as Harlequins and Bath, grabbing 4th place ahead of Harlequins, another club in renewal mode, by virtue of one more win. Trailing them, Bath in 6th and Sale, a league point short in 7th could have forced their way into the playoffs with one more penalty goaled or one less tackle missed in any one of a number of matches. So will the culture of the "established' front runner see them home, or do the reviving challengers have one more surprise in them? Let's take a look.
Exeter Chiefs
Eight points clear, at the close of an attritional season, with seemingly interchangeable selections at tight 5, centre and wing, they have already dispatched Saints – last weekend. After initial shocks and on level pegging at half time they still found the self belief, determination and intensity to win the second half 19-0. They build their game on dominance of possession, constant change to point of attack and relentless pressure. In Ewers, Armand and Kvesic they possess one of the best balanced, most physical back rows in the tournament and behind the scrum the silky skills of Henry Slade, now close to world class at outside centre plus the jack-in –a-box energy of Jack Nowell. It is hard to see them slipping up at home.
Northampton Saints
Saints fans will be delighted with their return to the Top 4 where they were an ever present from 2011-2015, especially since their revival involved the biggest risk. Chris Boyd has them playing a very different style to the Mallinder years of driving from the set piece and hard carrying frontal assault from forwards and midfield. Against Chiefs Saints used the wider game that has served them best this campaign, moving the ball away from crowded areas as swiftly as possible and counter attacking through broken field whenever a chance appeared. Where Mujati, Manoa, Lawes, Hartley and Wood were once the heroes, the standout names this year are Reinach, Hutchison and Collins – all likely to cut a defence to ribbons as they showed at Sandy Park. Biggar at flyhalf has enjoyed his own personal renewal too, adding an instinctive distribution game to his canny tactical kicking and solid defence. They will surely bring much to what should be a high scoring match, but will need a big stroke of luck to conquer Sandy Park.
Saracens
Premiership Champions and also European Champions in 3 of the last 4 years, they are understandably bookies' favourites, a nose ahead of Chief challengers Exeter. They build their game on intensity, a cleverly executed kicking strategy and clinical counter attack to complement the brutal defence that first brought them to the top of the Premiership 9 seasons ago. Their longevity in the Top 4 is double that of Chiefs, they are founded on the core of England's pack in George, Itoje, Kruis and Vunipola and in the backs can rely on Farrell, Barritt and Spencer to keep their game going forward. They also have the most undervalued Englishman of the Eddie Jones era in Alex Goode, capable of outstanding play and surprises at either 15 or 10. It will be a shock if they do not make yet another final.
Gloucester
If 'Glaws' are to surprise the Saracens, most would expect Danny Cipriani to be the architect of that triumph. He has undoubtedly lit up their season, his self -discipline and team ethic a revelation and much of his play in break and distribution sublime. Johann Ackermann though will be looking to his forwards to make the Cipriani magic possible. Old warhorse Ed Slater, a clutch of hard nosed South Africans and dynamic back rowers Polledri, Ludlow and Morgan will need to be at their very best. If they are, then the Cherry and Whites can offer plenty of exciting running threat from the likes of Atkinson, Sharples and find of the season Ollie Thorley, not to mention at scrum half the choice between Heinz and Vellacott. They will give it their all, but will that be enough? It seems unlikely.
Who Bath fans will root for is of course a personal decision and highly subjective. Not long ago, Exeter were many neutrals' favourite, for the romance of their rapid rise and the creativity of their game. For the past two seasons that inventiveness has been mostly replaced by a pragmatic game of rugby trench warfare, making progress by inches through persistent close quarter forward drives. Effective, but predictable and after a while unexciting. That style is the dominant Chiefs image this season, masking the occasionally breath taking quality of their back play. Many will hope for an underdog triumph, although as one of those is Gloucester, derby sensibilities may prevent them gaining much support from the Rec. Personally, I am opting for Saracens. Not long ago derided as defensively oriented, cynical and mechanical, they have now developed into multi faceted champions capable of an all round or percentage game as conditions dictate. They have an admirable approach to winning which Bath could learn much from.
So much for the heart- what of the head? As with the bookies, I have to conclude that the last showdown will be between scimitar and tomahawk. By 6 PM on 1 June I expect the temples of the east to be happier than the tepees of the west.