SPACE: RUGBY's FINAL FRONTIER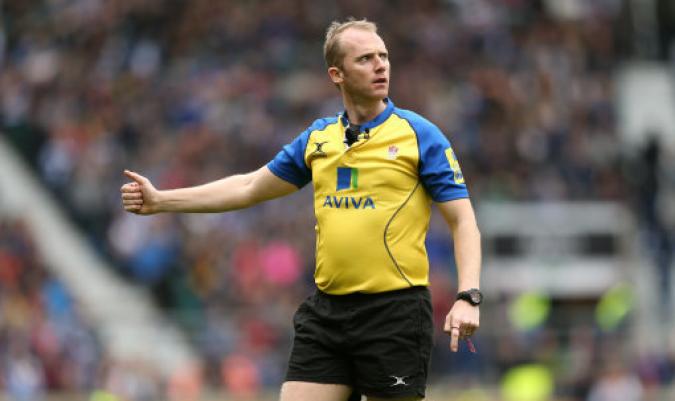 Barnes: warning?
By Optimist
August 6 2019
The size of a rugby pitch has remained fairly constant since the game's inception. The size of players on the other hand …. a study of NZ players showed that between 1947 and 2015 the average height and weight of players increased by 4% and 20% respectively. While the 4% height increase sounds suspiciously modest, it's still the equivalent of reducing the size of the pitch by 4 metres in length and 3 metres in width.
More significant though is the increase in player fitness and mobility. This is most apparent when, following a turnover, you see props covering 40-50 metres in a few seconds to rejoin and reform a defensive line. Twenty years ago, if the ball was turned over in your 22 and a three-quarter got their hands on the ball reasonably quickly, none of the 6 front-rowers present would expect to be involved in the game until the next scrum.

If 'ball in play' time is used as a broad indicator of that increase in fitness, then consider this. At the 1991 Rugby World Cup it was just under 25 minutes. It is now closing in on 40 minutes as the norm for elite levels of rugby – an increase of nearly 40%.

So let's make a sweeping estimate and say that the playing area is now, effectively, 20% smaller than it used to be. Congestion is dull. Ask any commuter. But in rugby, it is also dangerous. Concussions have increased at an alarming rate – not surprising when bigger, faster, stronger players occupy ever-smaller spaces. There is barely enough time or room to adopt a classic low-tackling position for the majority of the tackles that forwards make these days – even if that was the type of tackle that was encouraged.

Increasing the dimensions of the rugby pitch isn't an option. And every hoped-for consequence of a law change is likely to be balanced out by an unintended one.

So how can rugby congestion be reduced? Here's one suggestion. Tell referees to stop 'coaching' and start penalising.

An analogy. Anyone ever listened to the 'bong' game on Capital Radio? The basic premise is this. The presenter reads out increasing amounts of cash for the player to win. But if the 'bong' sounds before you shout 'stop' you lose the lot. Get greedy and you lose. Hedge your bets and you reap a modest reward. Rugby union's a bit like that, except the referee gives the player a nudge and a wink a couple of seconds before the bong. Players get risk-free rewards. Spectators get bored.

An example. Bath United vs Gloucester United in 8 April 2019 was refereed by Sarah Cox – not the DJ (though that would have been convenient for my radio analogy), but the first ever professional female rugby union referee, and the first female to have refereed a Premiership Rugby match. At one point, Cox awarded a penalty to Bath when a Gloucester player infringed in a maul close to the Bath line. She had been warning him, but as he ran grumpily back he appeared to be complaining that he hadn't been able to hear her. The obvious implication was that her voice didn't have the same volume as a male referee. He may have been right in that. But so what? Why do players feel entitled to be told by referees, 'excuse me, you are infringing the laws of the game, but if you desist reasonably quickly, I won't penalise you'.

Rugby union has always cherished and embraced the notion of 'getting away with what you can'. The laws are so open to interpretation, so individually, idiosyncratically, inconsistently applied, that it's not even really considered cheating – it's considered a legitimate part of a player's ability.

But why do referees aid and abet players in exploring the absolute outer limits of what they can get away with by warning them, coaching them, communicating even? When a forward finds themself blatantly offside in a ruck or maul, they know they can often get away with it by looking at the referee quizzically and saying 'am I alright here? No – oh, ok, I'll make my way slowly round to the back foot then'.

Why does a referee give the scrum-half a five-second warning to 'use it'? Why do referees usher players back from offside positions? Why do referees have to tell players – as if they don't know perfectly well, and as if the ref hasn't got quite enough to do – that they should either start behind the kicker or allow the receiver at least 10 metres?

To me, this is for Mini and Junior rugby, where the referee plays an important role in coaching the players, and preparing them for competitive rugby to follow. But why do professional players have to be coached? They don't. They are simply using it as an opportunity to go up to and marginally across 'the line'. And it's yet another factor in killing what little time and space there is left on a professional rugby pitch.

So what might happen if the referee simply started to blow their whistle the instant a player infringed – no warning, no coaching, no tolerance, no 'line' for them to creep over? Well, it would be chaos for a while with a penalty every 15 seconds. But once it becomes apparent that you don't get to be told that the 'bong' is about to sound, then rucks would be quicker, the offside line would become something meaningful, line-speed would have to be delayed a little, and the holy grail of space might just open up a bit.

One of the best pieces of refereeing advice I ever heard was, when confronted by a situation where you're basically guessing what has just happened and which of any one of about 16 players to penalise, just look at one of them, and say 'you know what you did'.

And of course, all of the players did know exactly what they were doing. And what they are doing. And what they're going to do next time. So don't warn them. Penalise them, and watch the space open up.