England's World Cup Hangover – A Bath Perspective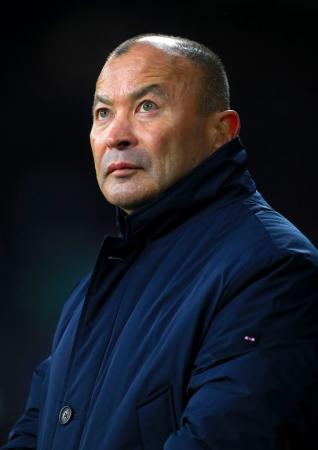 Eddie Jones - zip it!
By P G Tips
February 4 2020
England's 2020 Grand Slam ambitions disappeared on Sunday faster than you could say "Eddie Jones". England's promised physicality was slow to feature and aspirations to be "the greatest ever" looked hollow at half time and ridiculous a few minutes afterwards- staring at a 24 point deficit. The reasons were clear to see: unforced errors, poor decision-making, a lack of heavy ball carriers and leadership. But what next and what does defeat mean for Bath's England players and hopefuls?
The first change Eddie can make is to keep his mouth shut for the next week. The threatened "brutality" acted as a red rag to a French team still smarting from their World Cup exit. Next up are Scotland, desperate for redemption after their own dismal World Cup and fresh from carelessly throwing away a winnable game in Dublin. What better medicine for their woes than to puncture the ego of an "Auld Enemy" getting above themselves?
Radical changes seem unlikely. Eddie has named an unchanged squad of 35. Manu Tuilagi is among those named but sidelined with a groin strain. There has been no call to Dombrandt, Hughes or Morgan, despite their form and England's failure to dominate the gain line in Paris. Mako Vunipola is due to start at Murrayfield but a heavy-duty carrier is surely needed from the scrum? Lawes did not convince in this role so perhaps Lewis Ludlam may be tasked with it, but Eddie has said he is inclined to stick with Tom Curry at 8. He sees the experiment as a long-term project-"we feel he can be a really good Number 8." Indeed he has hinted that he may not want to make changes "defeat does not change who your best 23 players are" he said.
That may be so but the game plan needs attention, so does accuracy. The attacking kicking game so potent against France last year did little to disturb the hosts until Johnny May's late chip and chase. France won the breakdown and although England disrupted France's lineout ball, they fluffed too many of their own throws in attack. Above all, England need to adapt and play what's in front of them. Seven visits to the opponents 22 without scoring (until May's solo efforts) tell a sorry tale. More damning were the 4 try -line sieges the French managed to repel – 2 of them with wasted 4 man overlaps out wide.
One area where England enjoyed clear dominance was at the scrum. At Murrayfield they must make – and take – early penalty chances from the set piece- it may be the only reliable way of scoring in the fevered atmosphere and drizzle of Murrayfield. Farrell as Captain and Youngs at scrum half must get a grip. Possession and pressure have to be turned into points so they need to vary the play and decide when to drive close and when to go wide. Farrell's personal game let him down at Stade Francais, just when leadership was needed most. Perhaps he would be more comfortable directing affairs from stand off? If that is Eddie's choice it would be tough on George Ford who was the only cool head in England's midfield, whose kicking helped spark their second half revival and, it should be remembered it was he who saved England's blushes in last year's Calcutta Cup.
So what of the Bath contingent and their chances for Saturday and the rest of the 6 Nations campaign?
Charlie Ewels
Stole early lineout ball but struggled to impose himself in the loose. Not the worst of England's forwards and worth persevering with but it would be no surprise if he misses out for Murrayfield.
Sam Underhill
Not error free, but one of England's stronger performers. Powerful carries more notable than his breakdown work where France prospered. Made a few trademark heavy tackles. Should be retained and could be a key man.
Jonathon Joseph
Thrown into the fray earlier than he would have expected due to Tuilagi's injury. Worked hard with his footwork but failed to find space. Will be under the microscope, but with Tuilagi, Slade and Marchant absent, his experience could prove valuable.
Will Stuart
Got only 5 minutesso had no time to show his wares. Deserves to be retained for the Calcutta Cup bench.
Anthony Watson
Furbank struggled in both attack and defence and Daly looked no more comfortable under the high ball on the wing than at full back. If he regains fitness will surely be restored – but where?
Tom Dunn
The front row went well in the scrum and Luke Cowan –Dickie played well from the bench. Unless the Exeter man's family issues resurface, Tom will have to be patient a little longer.
Of course Eddie may decide to stick with his original selection – injury enforced changes aside. Those who made the errors, he could argue, are best placed to understand them and motivated to put them right. Whoever he choses, he'd better come up with some convincing answers fast or England's hangover will turn into a season long splitting headache.
View a Printer Friendly version of this Story.
England's World Cup Hangover – A Bath Perspective
Discussion started by Comeonmylovers.co.uk (IP Logged), 04/02/2020 19:14
Comeonmylovers.co.uk
04/02/2020 19:14
What do you think? You can have your say by posting below.
If you do not already have an account
Click here to Register
.
Edited 1 time(s). Last edit at 2020:02:11:21:10:33 by P G Tips.
Dorset Boy
04/02/2020 19:39
"A defeat doesn't change who your best 23 are"

Well it would help if the match day squad was the best 23 players available, but it patently wasn't Eddie.
joethefanatic
04/02/2020 20:09
Your best players are defined by playing in their best positions. I don't understand why Eddie thinks Tom Curry can be a "good 8" when he's already a world class 7. If Eddie wants a Curry at 8 that badly, pick his brother.

I'd like to see drop goals being taken once the initial try line attempts have failed. Once the defence resets it all becomes a lottery. Take the 3, get the ball back from the kick off and go again. You've only got to fail to score a try 2 times out of 3 (and most of the time that 's what happens if you're not Exeter) for it to be a net win. And, if nothing else, setting up for a DG gives the line defence something else to think about.

I'd start Faz at 10, Devoto at 12 and Daly (as clearly we must have him in the side) at 13. It's Daly's best position and JJ really has not looked the part for a long while. Watson and May wings and Furbank at 15. I think Furbank is worth persevering with cos he's a younger Alex Goode and dropping him after that clusterfeck seems a tad unfair.

... IMHO, of course.

Now in Honolulu



Edited 1 time(s). Last edit at 2020:02:04:20:10:45 by joethefanatic.
warrenball
04/02/2020 21:42
If he wants a fast, agile No 8 why not Simmons who is one of the most gifted players in the Premiership and knows how to get over the try line from 2 years out (and touch the ball down)
P G Tips
05/02/2020 09:11
Quote:

warrenball
If he wants a fast, agile No 8 why not Simmons who is one of the most gifted players in the Premiership and knows how to get over the try line from 2 years out (and touch the ball down)
Good choice of words wb- it seemed England would not have converted their pick and drive in 2 years of trying!
Simmons unfortunately is not in the squad.
PG
Bathovalballer
05/02/2020 14:28
As I have said and obvious to all, Mr Jones doesn't give a fig about form as he 'knows who the best players are'! Smacks of incredible arrogance to me. If the starting 23 last week are the best available players in England, many of whom are struggling for form, we will never be the World beating side he says he wants to create. In fact without some selection flexibility, we will never be.

Please RFU, remove Mr Jones are find another coach who has a different view and is prepared to look beyond Eddie's chosen ones. You never know, we might find a group of players who are hungry and capable of rising above muscle bound mediocrity and consistently perform at the highest skill levels.

Adopted player 2019/20 Jonathan 'JJ' Joseph.

The Jink Joseph.

Adopted player 2018/19 Adopted player 2018/19 Semesa 'The Rock' Rokoduguni
Optimist
05/02/2020 14:54
Eddie 'knows who the best players are'! Smacks of incredible arrogance'

I mean ... that's his actual job, so I'm struggling to see how that is evidence of his arrogance.

Claiming that his aim is to coach 'the greatest side that ever played', however .....
BathMatt53
05/02/2020 15:38
Always good to have an aim, and that one sounds about right for a team that got to the RWC final. I think that he was probably having a bit of a joke when he said that though.
[
www.theguardian.com
]
[Adoptee 19 / 20: The High ball and counter attack meister, Tom Homer]
Optimist
05/02/2020 18:12
The thing is nobody is looking for jokes from Eddie - he's a rugby coach. The world isn't short of comedians.
Man from LA
06/02/2020 08:14
I'd go for Heinz, Ford, Devoto and JJ. If Farrell is out of form and unable to show leadership he should be dropped. No-one should be guaranteed their place.
warrenball
11/02/2020 07:23
You are right Opti, lots of comedians, but very little humour, unfortunately a sign the times.
Sorry, only registered users may post in this forum.