Here We Go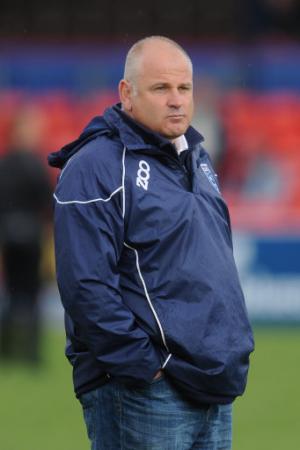 By Blues Brother
October 11 2019
Mike Rayer's boys get the best possible opportunity to put a poor pre-seaon behind them with a trip to financially challenged Carnegie this Sunday.
The Tykes have had to literally throw a side together during the summer after their financial woes and are everyone's favourites for relegation.
Irrespective we have to improve our form and the Blues side shows a number of changes as we look to get that winning start.
Tappers returns to the wing, Fraser Strachan starts at inside centre and Lewis Robling moves to fly half.
Up front Oli Curry and Joe Atkinson are on the flanks.​
Blues: 15. Rich Lane​, 14. Pat Tapley​, 13. Matt Worley​, 12. Fraser Strachan​, 11. Ryan Hutler​, 10. Lewis Robling, 9. Grayson Hart​ ,​ 1. Sean McCarthy (capt)​ 2. Robbie Smith​ 3. Henry Paul​ 4. Jordan Onojaife​ 5. Will Carrick Smith​ 6. Oli Curry​ 7. Joe Atkinson​ 8. Huw Worthington​
​
Reps: Andrew Boye​, Joe Wrafter​, Karl Garside​, Ed Taylor, Josh Buggea​, Alex Day​, Oskar Hirskyj-Douglas​, Ed Coulson
View a Printer Friendly version of this Story.
Here We Go
Discussion started by Blues Brothers , 11/10/2019 13:38
Blues Brothers
11/10/2019 13:38
What do you think? You can have your say by posting below.
If you do not already have an account
Click here to Register
.
compo simonite
11/10/2019 21:31
Let me be the first to wish the team every success now that the real rugby season has started........COYB!
Garlic sausage
11/10/2019 21:40
In a world of negativity all hail Compo.
compo simonite
12/10/2019 13:19
Iron Blue

'I believe Ealing will win the league this year so even with my blue tinted sunglasses on I cannot see us getting anything from that game.'

Iron Blue I must comment on your recent posting......I cannot locate anyone offering odds on winning the league but would suspect that there are those on here who will soon rectify that discrepancy.......

Another omission I note is the lack of offers on the Leeds v Bedford game despite there being offers on all the other games.......me thinks the bookies have it all but over and done with....
iron blue
14/10/2019 06:50
Expected us to win yesterday but you never know with Leeds, all the times that I have been there this was the first time I have seen us win.

After a shaky start I thought the boys put in a solid performance the scrum was good as was the line out and we won a lot of theirs. A good win that will boost confidence going into some tough games this month. Liked the look of the new scrum half don't know how long we have him for.
compo simonite
14/10/2019 07:56
Iron Blue are you still so certain of Ealing winning the League........some interesting results over the weekend should make it difficult to forecast who tops the league.......personally I am not so certain on Newcastle going back up......interesting times....
Luton_Blue
14/10/2019 13:18
we need approx 33 points to stay up.

our lowest place in decades was 8th.

I think actually we're probably the most successful championship side never to be promoted?

Cause for optimism, every season.
iron blue
14/10/2019 19:24
Compo, yes I still think Ealing will win it although that was a shock result as was LS against Newcastle unlucky not to win by all accounts.
Sorry, only registered users may post in this forum.
More Bedford Blues headlines