Beer and Rugby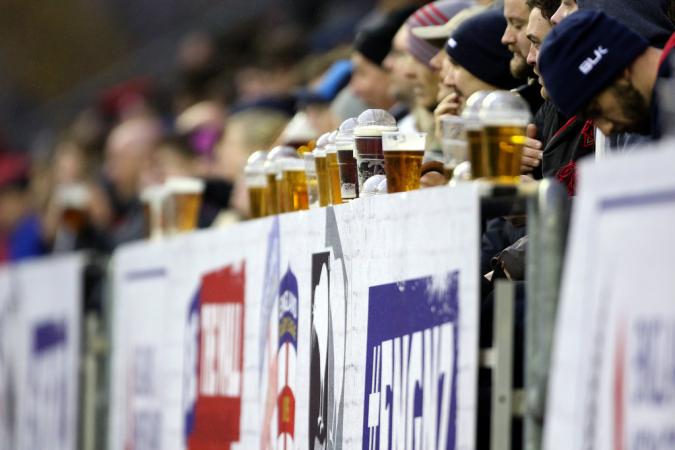 By Blues Brother
February 6 2020
What could be better on a Friday night than a real ale festival and a top notch Championship clash?
Fourth placed Coventry are the visitors to Goldington Road in a game which will test our new found resolve.
Every week now we seem to see a handful of changes and its no different for the Friday night beer extravaganza. Scrum half James Lennon is back and there's amore changes in the pack with skipper Sean McCarthy and Alex Penny returing to the front row .
Will Carrick Smith is at lock and and Josh Buggea in the back row.
Blues: 15 Rich Lane, 14 Ryan Hutler, 13 Oskar Hirskyj-Douglas, 12 Sam Leeming, 11 Matt Worley, 10 Will Hooley, 9 James Lennon, 1 Sean McCarthy (Capt), 2 Charlie Clare, 3 Alex Penny, 4 Jordan Onojaife, 5 Will Carrick Smith, 6 Josh Buggea, 7 Joe Atkinson, 8 Alafoti Fa'osiliva.
Reps: Jacob Fields, Joe Wrafter, Henry Paul, Ed Taylor, Huw Worthington, Grayson Hart, Lewis Robling, Pat Tapley.
The doors open at 5.00 for the Beer Festival which will feature: Blues Legends Ale (Festival special), Eagle IPA, Parallax IPA, Black Sheep Pale Ale, Ram Tackle, Wychwood Dirty Tackle, Marston's Old Empire IPA, Courage Directors, Young's Cityscape, Brakspear Oxford Gold, Ringwood Old Thumper, Razor Back, Jennings Cumberland, Hobgoblin Gold and Banana Bread Beer.
View a Printer Friendly version of this Story.
Beer and Rugby
Discussion started by Blues Brothers , 06/02/2020 13:08
Blues Brothers
06/02/2020 13:08
What do you think? You can have your say by posting below.
If you do not already have an account
Click here to Register
.
TryBlues
07/02/2020 23:52
Now Fa'osiliva is getting fitter we're starting to see how good he is. Although a Worthington did well again coming on with his turnovers.
Bluebuthappy
08/02/2020 10:12
We seem to be heading in the right direction since the Boxing Day embarrassment but why, oh why, do we lose so much of our own throw 10m out from the opposition try-line? Two possible tries literally thrown away in the last 10 minutes again.
compo simonite
08/02/2020 13:38
There were periods of the game in which we produced some of the best running rugby I have ever seen at GR......there was some of the best defensive play we have seen for ages........however this game turned with the injury to Hooley .......which was followed by the now usual shuffling of the team.....

......there were five points on offer last night....but lets be thankful for the four we got......
Blue Fox
08/02/2020 22:03
Yes agreed Compo, we played some scintillating rugby at times, the backs were moving the ball so smoothly. I thought we left a few points out there though. Why they did not opt for 3 points twice, I really don't know. That would have put us in a lesser risk of losing, had Cov scored. Anyway the end justifies the means, as they say.
TryBlues
08/02/2020 22:59
We didn't take 3 as we didn't really have a kicker - Robling isn't great. I'm also glad we didn't attempt 3 for a few reasons

1. It would've just meant we'd probably draw if we conceded as we were only 4 points up
2. We need try bonus points and if we scored it'd kill the game.
3. The best form of defence is being 80+ metres from your own line rather than inviting pressure.

If Hooley had kicked that other poor penalty attempt in the 1st half that ended up short it wouldn't have been an issue.
iron blue
09/02/2020 19:23
Another great performance from Oskar Hirskyj-Douglas, what a player he's turning into, another Rayer gem. Agree with Tryblues re Alafoti Fa'osiliva, really starting to see the best of him.

Not sure who made that tackle right at the end but whoever it was deserves MOM, definitely won us the game. The pass looked forward though.
iron blue
09/02/2020 19:45
Try highlights and a post match with the man himself

bit.ly/OskarCovPM
compo simonite
09/02/2020 21:48
We have gone from 11th to 8th in the table this weekend......can we get a much needed point or two at Ealing?
compo simonite
10/02/2020 14:21
[
mobile.twitter.com
]
The above is worth watching its on the Clubs twitter 'thingy' .......it covers 25 phases of play ,.....it even received applause from the Coventry fans in front of us.........
Sorry, only registered users may post in this forum.
More Bedford Blues headlines