BRIS EDGE EALING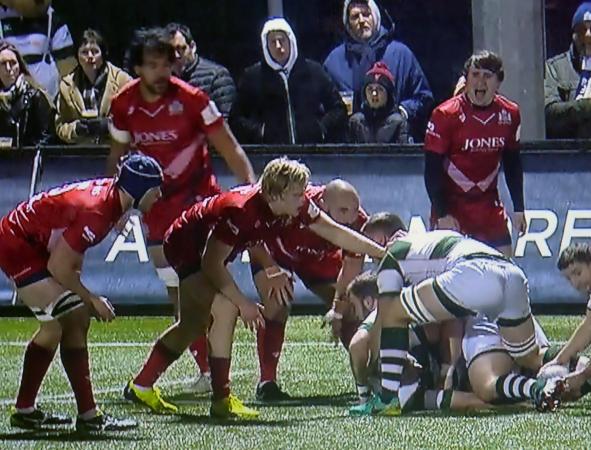 By Di Manning
February 23 2018
A victory by a single point saw Bristol open a gap over the hosts at the top of the league. Poor conditions saw both sides play excellent rugby but it was the visiting side that had just that bit more class particularly out wide and the bonus point win was well deserved.
Blustery condition. Rain coming down. Bristol's kick-off failed to make 10 metres. Could anything get worse? Well yes it could. The talking point of the match build-up – Bristol's struggle at the scrum – proved all too accurate when it was promptly penalised to allow the hosts to make easy territory. Bristol were lucky that was all Ealing managed to do and instead it was the visitors who looked the stronger side in the early stages, keeping the ball in hand rather than opting to kick with the wind. Powerful direct running, good work from Dan Thomas and quick hands gave Tusi Pisi plenty of space and the captain duly dotted the ball down.
Ealing were quick to strike back with a well weighted cross field kick to Redden who was unmarked and eluded the last ditch tackle to score. The hosts kept Bristol under pressure and they mauled their way up to the line before the referee trotted behind the posts for a penalty try and then back to show Steve Luatua yellow. However Bristol were undaunted and worked their way patiently into the Ealing 22, direct runs dragging in the defence before a slightly bemused looking Sam Jeffries trotted through a gap to touch down. Having done that hard work Bristol then promptly lost debutant James Lay to the sin bin, accompanied by Ealing's Casson, when a ruck dissolved into some pushing and shoving. A Bristol penalty was reversed and Ealing went in at half time three points in front.
Bristol started the second period in the best possible way when Thomas tipped the ball to Jordan Williams who sprinted clear down the right wing, jinked round the last defender and over the line. Ealing narrowed the gap just minutes later with a neatly taken drop goal but Bristol eased further in front with another well taken try from Williams. It brought up the bonus point and meant Ealing had to score twice to take the lead.
It was a tense last ten minutes with Ealing pushing hard for the vital breakthrough. Bristol somehow managed to hold up one determined thrust but it was no surprise when Allen scored seconds later. Bristol looked surprisingly calm in the circumstances and the game ended with Bristol patiently going through the phases, well inside the Ealing half, without giving them either the sniff of the ball or a penalty. The final score was 27 – 28, but it moved Bristol further ahead at the top of the table. Just so long as complacency doesn't set in for next weekend's trip back to west London.