Oi! Monkey! Gerroff!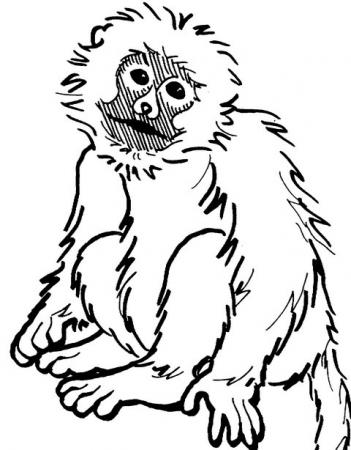 By AdminBTCov
April 20 2019
That simian will probably be cheesed off with us talking about it by now...
...so will probably be very happy to be able to clamber down off Cov's collective back.
With one game to spare, Cov finally exorcised the demon of a winless away campaign with a strong performance at Castle Park, Doncaster, this afternoon.
On a day made for rugby, things didn't start too well though, with one of last Saturday's star turns, Gerard Ellis, having to be replaced before the start whistle, with James Gibbons being elevated from his bench role, and Dan Lewis taking his place.
However, Cov started strongly, taking a fifth minute 5-0 lead with a try by, who else, James Gibbons. Will Maisey added the extras, and Cov led 7-0.
Doncaster came back swiftly, though, and with Cov infringing on their own 22, Dougie Flockhart stepped up to ease over a straightforward penaly to bring it back to 3-7.
The home side were looking lively by now and after a series of forward drives, set up Jarvis for a try on 21 minutes to take a slender lead; Flockhart failing with the conversion. 8-7.
Cov came roaring back five minutes later though, with local boy, and former Knights centre, Will Owen going over, benefitting from a Jack Ram break and restoring the Cov lead to 14-8 with Maisey's conversion shot.
Maisey then slotted a penalty from midway inside the Donny half on 33 minutes to extend the lead to 17-8, and then intercepted a Pitman pass on his own 10, and raced in to score, again improving the try and extending Cov's lead to 21-8.
Well into time added on, the Knights gained a penalty as Cov infringe at the breakdown, and Flockhart knocked it over it to bring the half to a conclusion at 11-24
Flockhart again converted a penalty, this time from just inside the Cov 10 line, bringing the score to 14-24.
Within a minute of the start of the second period, home prop Hislop received a yellow card.Both sides started to make changes with Cov replacing White, Nutley and Brighouse with Kessell, Voss and Boulton within around ten minutes of the restart, and Dawidiuk added to his try tally since returning to Cov from his loan spell at Saints finishing a lineout drive on 51 minutes. Maisey improved it, taking the score to 14-31 to the visitors.
With Hislop returning, it was time for Donny to fight back, and on 55 minutes a good break from Polataivao was foiled by a fine Halaifonua tackle close to the Cov try-line.
But then, on 58 minutes Quigley took the ball over from a Donny catch and drive, with Flockhart converting smartly (21-31).
71 minutes in, and another home catch and drive and the gap was reduced to three points with Flockhart converting, and thoughts were drifting back seven days to the home game against Nottingham. Surely it couldn't happen again? 28-31, and nerves shredding.
But - Cov were not going to be dragged into sucker-punch time again, and a cool Maisey penalty eased it out to 28-34. Still plenty to do though, but Donny now needed a converted try to inflict that misery for the second time in a week.
With the game drifting into stoppage time, David Halaifonua put things almost beyond doubt with a try, converted by the ever reliable Maisey (28-41), but there was still time for Donny to grab their consolation bonus point try. However that was it, victory - well deserved - and a very welcome 5-1 points tally, while slipping smoothly back up to eighth in the league, overhauling both Donny and the defeated London Scottish.
Doncaster Knights 35-41 Coventry
Scorers:
Tries: Gibbons, Owen, Maisey, Dawidiuk, Halaifonua
Conversions: Maisey (5)
Penalties: Maisey (2)
Coventry Official. Man of the Match: Jack Ram
Coventry Official. Match Report: http://www.coventryrugby.co.uk/2019/04/20/doncaster-knights-v-coventry-rugby-match-report/
Coventry Official. Rowland's Take: http://www.coventryrugby.co.uk/2019/04/20/doncaster-knights-v-coventry-rugby-rowland-winter-post-match-reaction/
Coventry Official. Stevens/Maisey http://www.coventryrugby.co.uk/2019/04/20/doncaster-knights-v-coventry-rugby-heath-stevens-and-will-maisey-post-match-reaction/
Still much to play for then in the Channel Islands in the final game of the season. Eighth place in the Championship would be seen by most as a very solid start to the club's current tenure in that league. Fingers crossed for a big, big win.
Send that monkey to Hartlepool. Apparently they know how to deal with them up there. We certainly don't want it back.
Pics: Nick Meredith
View a Printer Friendly version of this Story.
Oi! Monkey! Gerroff!
Discussion started by Unofficial Coventry Rugby (IP Logged), 20/04/2019 18:26
Unofficial Coventry Rugby
20/04/2019 18:26
What do you think? You can have your say by posting below.
If you do not already have an account
Click here to Register
.
Edited 1 time(s). Last edit at 2019:04:27:13:06:28 by AdminBTCov.
Camouflage
20/04/2019 19:56
That was a bruising encounter. Heath's tackle on their number ten finished his game early. Collectively, I think the team really earned that win with many tough tackles. When Beech broke through we had it covered. Their number 14's kicking today saved them from a big loss. Okay, he did miss some but Will Maisey was fantastic today.

The best move of the game for me was Jack Ram's tackle which made their player lob the ball straight into our path resulting in a try.

Thank you lads. We really enjoyed that win. The applause was well earned. Just do the same next weekend please.
Wazeroonie
21/04/2019 08:36
It was a great day out. It got a bit nervy in the second half, but overall we deserved it. A few Donny fans myself and Mrs spoke to before and after were a credit to their club. Very welcoming and gracious in defeat.
HoboAl
21/04/2019 09:06
It was a great away day and Doncaster is a great club. There were so many good performances it does go down as a team effort.

For me if one person sneaked the MOM it was Will Maisey. Tackled well, was immaculate with the boot, had one of his more creative games from the hand; then to top it all off picked a ball off the opposition then had a long hard sprint to the line in the heat to dot it down.

Well done Cov.
CharlieBravo
21/04/2019 09:34
Massive congratulations to all the team, the coaches and support staff. Whilst a number of players, Jack Ram and Will Maisey in particular, put in MoM performances, this was very much a team effort. The strength of some of the tackles was earth shattering and continued right through to the final whistle. A very well deserved five points.
A couple of observations........
- All season Iíve questioned the leadership of the team on the field. Much as I respect Heath, I honestly donít feel heís a good and inspiring captain. I hate to say it, but I feel that our win yesterday was in spite of him, not because of him.
- A couple of hopelessly wayward passes which went into thin air were the only blemishes from Charlie Beech. He played like we never saw him him play when he was with Cov. Perhaps he felt like he had a point to prove?
- I watched Ryan Burrows closely and I regret to say that I saw nothing which made me eagerly anticipate him being part of the Cov team next season. Or did I miss something?
- The Donny Supporters, by and large, were very decent people. I just felt it was a shame that so many of them drifted away and left the ground before the final whistle. To me that smacks of the football supporter mentality.
Tim Smith
21/04/2019 09:50
Hi Cliff...sorry I missed saying hello up at Donny. Just a quick comment in Stevens' defence. The tackle on their 10 he made fairly early on was a game changer for me. It was a real bonecruncher.

Their fly half took no further part in the game and Donny didn't appear to have a natural replacement. It was a massive disruption for them....

Not an observation about his leadership admittedly, but it was an important moment in the game.
CharlieBravo
21/04/2019 10:41
Youíre right Tim, it took the number 10 out immediately, and Heathís contribution as part of the team canít be faulted. Iím questioning his captaincy however. Most particularly, apart from yesterday, when weíve got ourselves into a winning position near the end of a game but donít have the ability to close the game out and to defend our lead.