Pictures from Jersey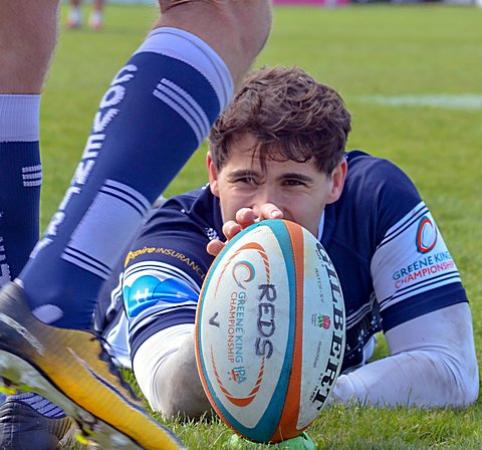 A Tad Breezy!
By AdminBTCov
April 30 2019
Former FA Cup winning Coventry City Chairman John Poynton might be excused for wondering if he put his cash into the right club
after Cov put his Jersey side to the sword on the windy island on Saturday afternoon.
Cov, with their tails up following a first away win of the season at Doncaster the previous weekend, were in no mood to accede to the home side's desire for a third-place finish in the Championship, and in the process completed their one and only 'double' of the season.
I heard several claims during the week preceding the match that the travelling hordes might exceed the number of London Irish visitors earlier in the season, and at least two that it may number in the region of 1000.
In the event, who knows? But those who made the long air journey to beat Storm Hannah were richly rewarded by the Cov side in full cry.
They'll be able to say, "I was there".
Pictures by Nick Meredith:
Rowland Winter smiling at last. Who'd a thunk it?
Official Coventry Match Report: http://www.coventryrugby.co.uk/2019/04/27/jersey-reds-v-coventry-rugby-match-report/
View a Printer Friendly version of this Story.
Pictures from Jersey
Discussion started by Unofficial Coventry Rugby (IP Logged), 30/04/2019 09:17
Unofficial Coventry Rugby
30/04/2019 09:17
What do you think? You can have your say by posting below.
If you do not already have an account
Click here to Register
.
Edited 1 time(s). Last edit at 2019:05:08:19:41:03 by AdminBTCov.
HoboAl
30/04/2019 10:05
Jersey said 500 tickets sold to Coventry accounts on line.
tomthepom
30/04/2019 13:14
Quote:

HoboAl
Jersey said 500 tickets sold to Coventry accounts on line.
That roughly accords with my own estimate of 5-600 which was based on the total crowd (2,155) vis-a-vis our average (1,600), taking into account that we had an extra marquee with about 250 mostly home supporters in it. As the author has pointed out, not an exact science.
What is beyond doubt is that those who did travel were great ambassadors for their club and contributed to an excellent occasion. Hope everyone enjoyed themselves as much as we (Jersey) did on our promotion party outing to BPA seven years ago (crowd that day 1,643 according to statbunker). Great to meet you Al, plus many others, and look forward to next season.
covkid53
01/05/2019 13:51
Pretty good effort and shows two things, Cov are a big club on they way back and Cov folk love the island of jersey. I know I do 😂
HoboAl
01/05/2019 17:24
That is a great picture of Max Trimble keeping the ball on the tee in the wind while Will Maisey was kicking. Max's contribution should not be under estimated!!
AdminBTCov
01/05/2019 18:26
Haven't found any yet Tonker, except for one of the tries on the Championship Twitter.

Agreed Al. That's one of my favourite shots of the season!
MDCS
02/05/2019 12:09
There are three albums of photos on the Jersey Rugby Club Facebook page. Well worth a look
Sorry, only registered users may post in this forum.