Tease Me, Please Me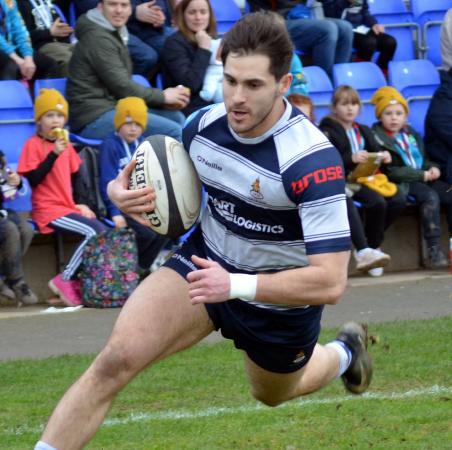 By Mark Forster
June 24 2019
SO, WORK is advancing rapidly to lay a new all-weather pitch at Butts Park Arena.
The 'will they, won't they' saga we've enjoyed as fans wasn't so much a tease but kept the rumour mill going for a while.
That we found out the work was taking place from other sources than Coventry Rugby is, for me at least, a trivial issue.
Chairman Jon Sharp had said it would be happening this off-season and after what he's done for the club, he's someone to have faith in.
Fellow Cov fan, Tom Jordan (whose pic accompanies this), has been keeping us updated on Twitter from his eye-in-the-sky vantage point overlooking the BPA.
Last week's missives showed 'reinforcements' in the form of more heavy machinery dancing out their scissor moves and mis-pass routines and within hours the blades of grass had gone.
For me, that news evoked shades of Dickens. 'It was the best of times, it was the worst of times.'
Make no mistake, despite all the arguments against artificial grass pitches, this is going to make a huge positive difference to Coventry Rugby, Coventry United and Coventry Bears. Now Phil Nilsen's famous picture of him covered head to toe in mud will definitely be one for the memory banks. Just as a certain other Cov front-rower remains the focus of an iconic shot from the 1970s, which gave a new meaning to the term mud-bath.
Mud baths no more.
Some of us old enough to remember the first incarnations of what were dismissively called 'plastic pitches' might remember the bounce of the ball at Queen's Park Rangers' Loftus Road ground wrong-footing those other footballers wearing blue and white numerous times.
But the technology is tried and tested now and we were informed this week that the pitch was the same standard as that laid at Cardiff Arms Park, where Cardiff Blues ply their trade in the Pro 14.
Despite this, I've a sense of sadness, partly because the old traditions are slowly and surely being swept aside. Which amateur rugby player didn't gingerly run out for the odd game on still melting ice and snow? Or emulate Fran Cotton and Mr Nilsen in finding mud clinging to every crevice imaginable after a torrential rainpour during a match?
The filthy water of the old communal baths, enjoyed with beer in hand. Ah the memories. And the job of washing the kit? Er, yes, maybe best left in the past.
Yet there is more for me. My grandmother remembers Coventry schools heading for The Butts in the late 1920s and early 30s for the annual Maypole dance on May Day. Before the technical college was built, where my grandfather was among the first intakes as a Standard apprentice.
And one miserable evening in the early 1980s, for reasons long forgotten, I was soundly beaten in a 200 metre sprint at The Butts. I don't think I made the school athletics team again.
After a bit of juggling and jostling in the old memory banks, what sticks out for me was the heavy gates in the middle of a high wall that conjured up memories of film prisons. Not at all welcoming to this young boy.
When Coventry Rugby Club first played at The Butts, there was also a cricket pitch and the famous velodrome. This was where the cycle manufacturers of the age tested out bicycles and ran races to promote the speed and durability of Coventry-built bikes. Coventry was the best in the business back then.
History. Pride.
The last remains of the velodrome were to go when Coventry moved back to The Butts from Coundon Road. I used to admire it and the overgrown athletics pitch when I would return to Coventry on the train along the Nuneaton line. Back then, I would never have considered Cov would give up Coundon Road and transform the old college sportsground, but I also imagined it all in its heyday.
Now the grass has gone. The grass on which my grandfather played sports while at 'The Tech' and my grandmother danced around the Maypole.
The sacred turf where Coventry enjoyed one of their most remarkable campaigns in the club's history in winning promotion back to the Greene King Championship.
A reminder that change is ever constant. That some of those players have departed, just like nature's green carpet. Price, Litchfield, Povoas, Poole, Nilsen, Burke, Jubb, Grove, Hodgson, Setu, Makaafi, Narraway, Preece, Palmer, Matoto, Brazier, Daynes, Tuitupou…
Heroic efforts, fantastic memories.
The old badge gone, too.
Personal flights of fancy, hopefully forgiven. As I say often, I look forward to new memories, to new history, created on a pitch that should suit Coventry's attack-orientated approach. A pitch better suited to the hard running of Coventry Bears and the round ball game of Coventry United, a club with their eye on the future and happy to sign a long term deal to stay at the BPA.
If that doesn't show confidence in the future direction being taken by the rugby club, I don't know what will.
Did I mention transformation? We Cov rugby fans have endured some ugly years, but this is further evidence of something special with Mr Sharp at the helm.
Good news when Coventry needs it most.
View a Printer Friendly version of this Story.
Tease Me, Please Me
Discussion started by Unofficial Coventry Rugby (IP Logged), 24/06/2019 18:46
Unofficial Coventry Rugby
24/06/2019 18:46
What do you think? You can have your say by posting below.
If you do not already have an account
Click here to Register
.
Edited 1 time(s). Last edit at 2019:07:09:17:46:12 by AdminBTCov.
covmick1/Michael Carter
25/06/2019 13:33
Can anyone else remember when Peter Rossborough played left wing for Coventry City? Big clue it was a testimonial game at Highfield Road.
allthegear
25/06/2019 16:07
I remember him playing but do not recall his position nor the event. It may have been only the second time I ever went to Highfield Road.



Edited 1 time(s). Last edit at 2019:06:25:16:08:57 by allthegear.
covkid53
03/07/2019 21:05
?



Edited 1 time(s). Last edit at 2019:07:05:08:49:56 by covkid53.
covkid53
03/07/2019 21:30
?



Edited 1 time(s). Last edit at 2019:07:05:08:52:20 by covkid53.
AdminBTCov
04/07/2019 09:44
The only thing you're likely to play 5G on is a mobile phone!
covkid53
05/07/2019 08:48
?



Edited 1 time(s). Last edit at 2019:07:05:08:53:18 by covkid53.
covkid53
26/08/2019 22:15
[
www.ccfpa.co.uk
]
I saw this testimonial, check out the CCFC former players link above.
Sorry, only registered users may post in this forum.