Newcastle. The Sequel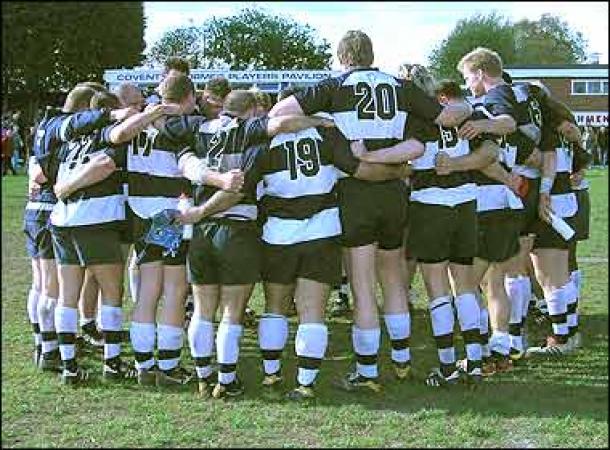 By AdminBTCov
July 23 2019
Gosforth. Newcastle Gosforth. Newcastle. I think that's how it went anyway. They're back this season.
Twenty-something years ago, they'd already morphed into the latter and had mopped up boundless international talent at the behest of a Very Rich Man, and were preparing to take the second division by storm on their way to the promised land of the Allied Dunbar Premiership One.
They didn't have it entirely their own way though, as the records show.
Two defeats and a draw from 22 starts wasn't bad, but wasn't enough to give them top slot. No, that was taken by the plaything of another Very Rich Man, Richmond, who, as we all know have certainly had a bumpy ride in the leagues since then.
One point separated the top two, with Derek Eves' Coventry six points behind in third, but securing a play-off against London Irish.
The records of second and third, though, were somewhat different.
Newcastle rattled in a staggering 188 tries – eight and a half per game on average, while Cov managed a far more modest 96. They (Newcastle) converted 120 of those (57 for Cov), and put over 24 penalties (Cov took more kicks at the sticks though, potting 42).
Defensively it was a much closer picture with Cov conceding one fewer try, but several more penalties.
Newcastle scored a total of 1255 points over the course of the 1996/97 season, while Cov managed a paltry 738 by comparison.
Their top scorer was Rob Andrew on 292 points.
They topped the try-scoring tables with John Bentley on 25 and Gary Armstrong on 21 (Pat Lam and Tim Stimpson managed a mere 28 between them by comparison...).
Our try-twins Andy Smallwood (17) and Andy McAdam (14) could only bring up the rear, while Jez Harris scored a very creditable 249 to finish fourth behind Andrew.
These are figures that Newcastle will hope to emulate or better this coming season, but will obviously look to go one better by actually winning the Championship.
Once again they have 22 games against twelve opponents.
There, the similarities (clubs-wise) end.
We know what happened to Richmond last season, like it or not, so they will not be an opponent of Newcastle's this time round.
In fact, of the other twelve sides in the league 23 years ago, only Coventry, Bedford (fourth), London Scottish (fifth) and Nottingham (bottom) figure this time round.
But enough of the Tyneside plaudits.
I remember that game very clearly.
I remember calling in to the Coundon Road shack during the preceding week to pick up tickets for my Brother-in-Law and my nephew from John Butler.
I remember drinking in the marquee on the school playing field pre-match.
I remember leaving the marquee much too late and only being able to get as far as the school end of the ground due to the crush of people already in there. No way were we going to make our usual spot in front of the Cowshed Tea Bar! We managed to get to the front though on the strength of having my young No.1 daughter with us. She wouldn't have seen a thing otherwise.
I remember watching Rob Andrew practice kicking from right in front of us – trying to hit the upright (and if I remember correctly, managing to do so once, although I may have that wrong).
I remember a frustrated Jon Bentley swinging a huge hay-maker (at, I think, Smallwood) and being invited by Sir to spend the rest of the proceedings in the dressing room.
But most of all I remember the drop-kick goal by Jez Harris which sealed a famous victory for the Cov club.
Oh yes, I remember that alright.
So, Newcastle are coming back to see us again this season. The venue may be different, and the crowd may be somewhat smaller this time, but I know we can promise them just as big a welcome.
Can we promise a Cov win?
Who knows? But never forget how remote our chance was all those years ago.
Cov Dog in attendance? You bet your life.
View a Printer Friendly version of this Story.
Newcastle. The Sequel
Discussion started by Unofficial Coventry Rugby (IP Logged), 23/07/2019 13:38
Unofficial Coventry Rugby
23/07/2019 13:38
What do you think? You can have your say by posting below.
If you do not already have an account
Click here to Register
.
Edited 1 time(s). Last edit at 2019:07:30:08:44:13 by AdminBTCov.
Maxee
24/07/2019 06:15
Wow! I've seen England win Ashes series and win marquee World Cup Fixtures in various sporting codes, but nothing compares to that day in terms of sporting memories for me. My Dad and I did manage to find our way into the Cow Shed but not as far as our normal spot. I would've been 16 at the time (just turned 40)! Tim (of Cov blogging fame) kindly sent me a DVD of the game a couple of years back which I gave to my Dad for his 70th Birthday and we relived it over again
Rob C
24/07/2019 09:22
Truly a great day in the Cov annals...

It's funny how time plays tricks on your memory, I would have sworn that I stood in my usual place for that game - to the right of the Cowshed as you look at it. However, having played one of the videos that Tim posted, the camera panned along the crowd on the left of the Cowshed and there I was, stood with my future wife (who knew she went) and some friends - two of which are sadly no longer with us.

A great snapshot in time
AdminBTCov
24/07/2019 09:33
What ages it is that I still have a copy of the original VHS tape of it. And a machine to play it on
poplarside
24/07/2019 16:50
I heard that the abrasive Newcastle Lock Garrath Archer hit a sign on the way to the dressing room afterwards and broke it! It was great to see the equally abrasive Dean Ryan immediately seek out a Cov player's hand to shake on the final whistle. Respect.
Tim Smith
24/07/2019 17:01
Maxee/Rob - thank you for the mentions.
Anyone wishing to watch highlights of the Newcastle game might want to click on the links below:
Part One:
[
coventryrfc.me
]
Part Two
[
coventryrfc.me
]
Tim
Edited 1 time(s). Last edit at 2019:07:24:17:31:43 by Tim Smith.
Rob C
24/07/2019 18:11
Quote:

poplarside
I heard that the abrasive Newcastle Lock Garrath Archer hit a sign on the way to the dressing room afterwards and broke it! It was great to see the equally abrasive Dean Ryan immediately seek out a Cov player's hand to shake on the final whistle. Respect.
I think it was a bulkhead light.
poplarside
27/07/2019 20:25
Just been enjoying the video highlights again. In the Newcastle programme for the return match that season there was a line in the editorial piece that stated Newcastle would have surely won if it wasn't for that Red Card. We'll never know but I believe the great commitment of the Cov players and the immense Coundon Rd crowd would have seen us win against 15 men too.
Sorry, only registered users may post in this forum.