Jersey Reds v Newcastle Falcons 29 FEB - Information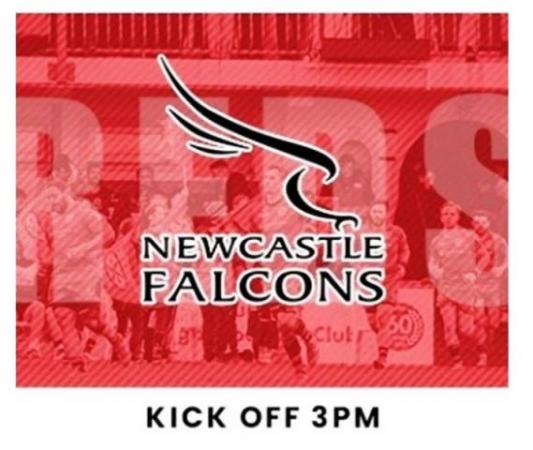 By Falcons
February 26 2020
Newcastle Falcons travel to the holiday Island of Jersey this weekend to take on Jersey Reds on their home turf.

Jersey Reds v Newcastle Falcons
Saturday 29th February - Stade Santander International
Falcons will have to contend with some awful weather, very strong winds in the region of 50mph have been forecast, hail, rain and temperature of no more than 7º. For those supporters travelling you will need your weatherproofs. However, high winds will not be allowed to blow Newcastle Falcons' promotion charge off-course at Jersey this Saturday, says centre Gareth Owen, as the Championship leaders take their 20-game winning streak to the Channel Islands. full article on the offy HERE
Also this is leap year weekend! So don't forget girls you can propose on Saturday
Jersey Reds signed hooker Reece Marshall from Northampton Saints last weekend to bolster their fronr row. However, they have had two players banned after last week's match against Ealing. Rodney Iona dangerous tackle banned until 24 March and Ziana montout-Alexis again dangerous tackle, banned until 7 April.
MATCH PROGRAMME
The Jersey Reds match-day programme is now a free online publication which is made available to all supporters the day before the game. The programme includes team news, match reports, profiles of opposing players/coaches and links to additional video content. The publication contains the team news as per the official announcement and also forms part of Jersey Reds' commitment to the environment.
TRANSPORT
As the offic
ial Travel Partner for the Jersey Reds, Jersey Bus & Boat Tours and Signature Coaches make it easier for locals and visiting supporters to get to the Stade Santander with a direct return shuttle. The Jersey Reds branded coach departs from Stand O, Liberation Station, St Helier before every home match and returns back to Liberation Station after the game.
The ground is less than 10 minutes' walk from the airport:
Taxi – to/from the ground to town, St Helier will be around £15.00
Bus – There's the No. 9 bus to/from St Helier at £2.20 which stops outside the ground or the No. 15 bus to the Airport or the No. 22 to L'Etacq. Visit Liberty Bus for all bus times.
Car – There is free parking available close to the ground, but traffic tends to be busy, so please allow lots of time.