It's tough at the top.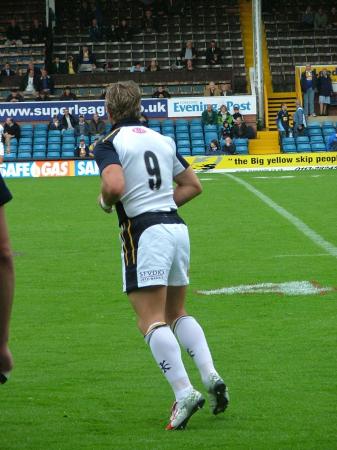 A win please.
By WW
November 11 2019
The standard of rugby in the English Championship (2nd tier) has improved in recent years. This has coincided with the downward spiral of Leeds Carnegie both on and off the pitch.
For the second consecutive year we find ourselves at the foot of the table. The difference this time is that we are a part-time team with an inexperienced coach. Last season the cavalry arrived mid season to rescue us from an impending drop into the 3rd tier of English rugby. Subsequent events have weakened our chances of surviving in the Championship. Our defeat at home to Ealing on Sunday was our 5th in a row. We have only secured one bonus point leaving us 7 points adrift at the foot of the table.
Next weekend we travel to Hartpury who have already won 2 games. No one expects us to win this game. At some point our squad will defy the opinion polls and stick it to their unsuspecting opponents. I suggest that next weekend in Gloucestershire is a good time and place to perform such an upset.
I am sure that once we have secured our first "W" then confidence will increase and we will compete in a lot more fixtures than we are doing at the moment. It needs to come soon before we get too far behind the 11th placed team. So Martyn & Joe - a win please at Hartpury. Thank you in anticipation.
View a Printer Friendly version of this Story.
It's tough at the top.
Discussion started by TykesRugby.co.uk (IP Logged), 11/11/2019 19:43
TykesRugby.co.uk
11/11/2019 19:43
What do you think? You can have your say by posting below.
If you do not already have an account
Click here to Register
.
Edited 1 time(s). Last edit at 2019:11:30:07:52:58 by Wildwillie .
Tyko
11/11/2019 20:14
So Bristol now top the Premiership It wasn't so long ago that we were beating them. How our fortunes have changed.
Talking of fortunes - all you need is money. Plenty of it.
JDH1
11/11/2019 20:46
We spent a lot of money but never enough to stand a chance of going up.
Wildwillie
12/11/2019 06:56
I take solace from the fact that Leicester are bottom of the Premiership!
almostatyke
12/11/2019 14:55
Nice balanced article, WW
I do not think there is a Plan B so we must just hope the coaches and team get it together soon!
Tyko
12/11/2019 22:12
Quote:

JDH1
We spent a lot of money but never enough to stand a chance of going up.
Nowhere near as much as Mr Lansdown.
JDH1
13/11/2019 15:44
Very true. He has the money to keep going though.
We spent millions, in effect, treading water for years.
almostatyke
13/11/2019 21:58
So we do not have the money that our rivals have, but I stick with my comments on the Communications Breakdown thread that our DoR has not engaged with us fans (or former fans?). And that costs nothing if the occasional input is made on twitter or, God forbid, on this forum.
JDH1
14/11/2019 19:43
Question. Do other championship and prem dor's do twitter or fans forums?
oopnorth
15/11/2019 12:33
I think the DOR has enough on his plate at the minute trying to forge a competitive team.
almostatyke
23/11/2019 21:41
Fair comment oop, but if we are in a "backs to the wall", everyone pull together situation (and I think we are), then not coming clean with issues is not helping the cause. We are not stupid and realise that there are many, many problems to overcome but Radio Silence is alienating not encouraging support IMHO.
Sorry, only registered users may post in this forum.