Always look on the bright side of life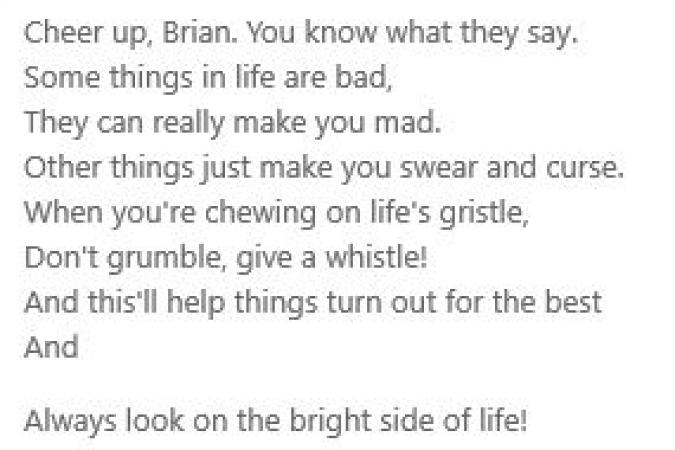 it could be worse....
By Almo
November 21 2019
Always look on the bright side of life…..
Fortunately, unlike the rfu, SportsNetwork have not insisted on a Bank Guarantee/Bond to ensure this site continues to the end of the season. However we have the ongoing commitment of publishling an article every two weeks to keep things alive.
Things have been really tough for Carnegie since our (only real) sponsor had financial wobbles and we have gone from a team that comprehensively beat London Irish to, despite heroic efforts by the management, a team of probably mid-table Nat 1 standard.
But we have had our ups and downs over the years, and ever since Almostatyke joined this forum, we have always had an "optimistic" thread going when things look bleak.
So you are invited to post only good natured, optimistic comments below. You know it makes sense! For example:
The late Autumn has lead to some great spectacular red and yellow tree colours that make your heart sing.
I am sure others can do better.
View a Printer Friendly version of this Story.
Always look on the bright side of life
Discussion started by TykesRugby.co.uk (IP Logged), 21/11/2019 21:45
TykesRugby.co.uk
21/11/2019 21:45
What do you think? You can have your say by posting below.
If you do not already have an account
Click here to Register
.
Edited 1 time(s). Last edit at 2019:11:30:07:51:24 by Wildwillie .
opuscoitus
22/11/2019 07:35
I pulled myself out of the secret Santa at work, due to the utter dross Iím usually bought I have decided not to tell anyone

Iím heading down to Saltaire brewery this weekend to buy me a keg As itís what Iíve always wanted
Albert Fishwick
22/11/2019 09:26
Ossett Brewery are also selling mini-kegs of Yorkshire Blonde. As the shop is not a million miles from Stanley I shall take the opportunity to stock up on my favourite pies from Gledhills.

If I had all the money I've spent on drink ..... I'd spend it on drink.
opuscoitus
22/11/2019 10:26
Hopefully Saltaire will have their "White Christmas" Mini Keg handy always nice to open that and steadily drain it whilst prepping Christmas Dinner
Failing that Citra or Amarillo go down very well
Also strongly recommend the beer club on the last Friday in the month
[
www.saltairebrewery.com
]
Madtyke
22/11/2019 11:34
We have White Christmas on at my Cricket Club and tbh I'm not a fan.
[
www.arborfieldoldboys.co.uk
]
opuscoitus
22/11/2019 12:11
Local lidl has Hobgoblin mini kegs for £9.99

i had to get a couple or 4 just in case there is a sudden outbreak of thirst in the opus household
AnIdiotAbroad
22/11/2019 15:43
On the theme of decent bars and real ale try Prop'ur Baa in New Street, Ossett. A recently opened small and extremely friendly bar, the onus is on hand pulled beers and quality lagers, gins etc. Owned and managed by Sam Drury and his wife Angela, Sam played more than 750 games for Ossett in the front-row. Great welcome, lots of rugby banter, a great little venue.
opuscoitus
22/11/2019 16:46
Pretty certain I played Sam many times had great tussles good solid player
almostatyke
22/11/2019 21:04
Great that when we look to optimism beer comes to the fore! I must admit that Saltaire Blonde has made a good number of average "Dad rock" bands in the Duck n'Drake in Leeds sound like Led Zep to me, at the time.
As I have theoretically £130 quid in my bank because I didn't buy a season ticket, what should I do with it?

The first £30 is going to a charity to support the homeless over Christmas, and more to come (go?).
Sorry, only registered users may post in this forum.
More Yorkshire Carnegie headlines