Close call at Kirkstall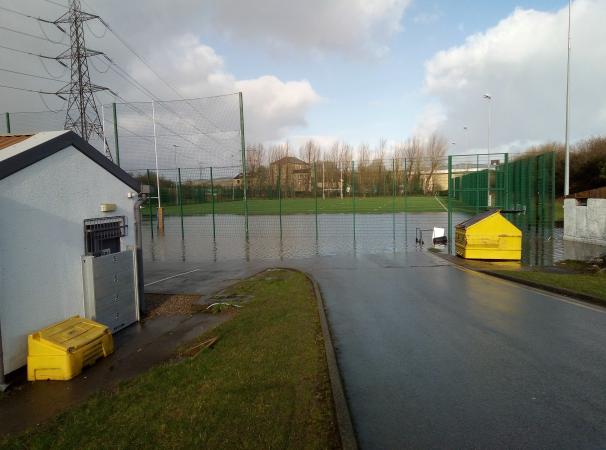 Duck paradise?
By Almo
February 10 2020
Shopping in Morrisons this morning, I thought I would pop over to the Kirkstall training ground, not to see any of our players of course (they are all at work), but to see the state of the river. However, as shown in the photograph, I was surprised to see that the training facility has had a flooding near-miss. The river had just topped the bank during the night, making the "all weather" pitch now suited for training ducks. Seems the worst of the rain is over so the river should slowly descend and hopefully the danger is now over.
You can see the temporary flood barriers around the building doors which have kept the building safe: Rhinos' players were busy inside training on weights as their game yesterday was called off.
When the Boxing Day 2015 floods occurred, there was a problem of silt contaminating the all weather pitch, which had to be replaced. Hopefully this, much milder event, does not cause the same problem.
View a Printer Friendly version of this Story.
Close call at Kirkstall
Discussion started by TykesRugby.co.uk (IP Logged), 10/02/2020 11:44
TykesRugby.co.uk
10/02/2020 11:44
What do you think? You can have your say by posting below.
If you do not already have an account
Click here to Register
.
Edited 1 time(s). Last edit at 2020:02:23:17:42:27 by almostatyke.
almostatyke
10/02/2020 13:01
Looking at the picture again, I'm sure that Rhinos have done a risk assessment in what to do in a fire when the emergency exit doors are blocked by flood barriers................
Wildwillie
12/02/2020 07:33
The training ground is always going to be susceptible to flooding.
almostatyke
12/02/2020 09:15
Certainly until the next phase of the Aire Flood Relief scheme gets built - due to start ths year, I believe.
[
www.youtube.com
]
If you view at about 2.00 you can see the river wall that will be built.
Edited 1 time(s). Last edit at 2020:02:12:09:47:26 by almostatyke.
almostatyke
17/02/2020 14:57
Well another week, another storm. The Aire at Kirkstall Abbey actually rose 2 cm higher this weekend than last, so I though I would go see what state the training ground was in.
Pleased to report that the management seem well on top of the situation. The river bank breach has been temporarily repaired by placing jumbo bags of sand in the gap (sort of giant sandbags, I suppose). Meanwhile the training pitch is dry and a lorry load of new rubber crumb is being placed on the third of the pitch that was flooded last week; I imagine the pitch will be available for use from tomorrow.
Sorry, only registered users may post in this forum.
More Yorkshire Carnegie headlines