Keastie Interview 2003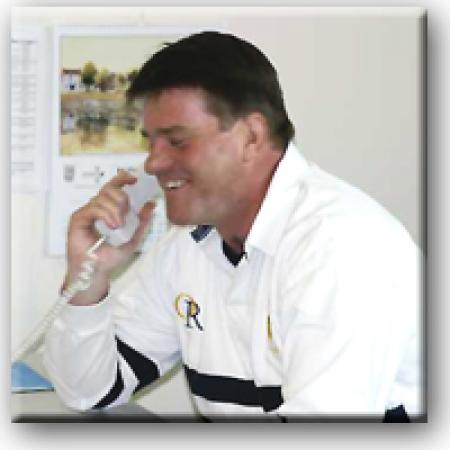 Hard at work???
By John Phillips
August 14 2019
A little bit of nostalgia as I learn how to design story pages. Still very interesting, we went on the set a Div1 record of 26 wins out of 26 games played!!
JP: could you tell us how you feel the pre-season games and preparation has gone
Andy: The pre season games were planned ostensibly to go from easy to hard, many people believed that the WASPs game was easier than the Ospreys and in some respects it was.
I think what you have to understand is that the game was the first ever game in their history, having been formed only this year as a Welsh Regional Side. They had many aspects to prove to the area, as well as themselves, therefore mentally they were probably playing for more than WASPS were.

Although a week earlier WASPS, had played Stade Francais in competition and won it. They had a stronger starting line-up against us than they did against Stade Francais, they did not start with Denny and Walters nor did they have Volley and Scrivener starting in the backrow, all four were picked to play against Worcester.
Without doubt they put out their strongest team against us. Other than Greening and Dowd, who they brought on in the second half, it was the strongest side they could put out. You could see from the start of the game that wasps were out to win this encounter, there were no half measures, it was full contact as some of the tackles on Tommy Hayes showed this was a full game flat out. This WASPS side is expected to win there Premiership games in the absence of their internationals during the world cup and the Six Nations.
You cannot take it away from the team it was a good victory and will do the players confidence a power of good, that is where we must not get carried away, we have to keep our feet on the ground it is about building confidence in the team, this has done exactly that!
As I have said many times it is all about points you can score 50 points and get nothing or win by 3 and get 4 points. Points mean prizes, they really do and it starts this Saturday up at Otley so it is all about preparation.
So as far as the three games have gone we have achieved everything we set out to do
---
JP: You spoke about the three games getting progressively harder, had you also laid out strict game plans and plays that the team had to implement during the games.
Andy: Yes of course, this was vital for the development of the team as well as the integration of the new players into the team and our game plans. The players take time to adjust as we could clearly see on Friday night, as well as during the previous games.
Overall there has been an improvement in each game which obviously is very important to us, the player's confidence in themselves and in the game plans executed. We were particularly pleased with the physical approach to the game, an aspect we have been working on and emphasizing during the weeks preparation to the games.
There have been many positives, there are also some negatives, which we are working on to eradicate over the next week.
---
JP: After the game on Friday night the talk in the bar was how much better we had defended against a 5 meter lineout. On several occasions last year we leaked tries in this area but on Saturday there were 5 attacks down this channel and we defended them very confidently. Has there been a concentrated amount of training in this area or is all last years training now starting to come together
Andy: It is a bit of both, we have not overtly trained any harder in that area, we trained much harder last season so it is probably starting to gain impetus. The biggest improvements made last year were in the scrum and lineout, John and I agreed that, that is where we need to start, working onwards from there. It has taken 12 months to get it working smoothly as a collective unit. On Friday you saw that collective unit working in harmony and that is what you have demand before you actually start to play.
Fridays was not about winning, it was not even in our vocabulary, it was about cohesion and team play and that as could clearly be seen came shinning through in bucketfuls
---
JP: I spoke at length with several players on Fridays about our defence and to a man the same theme came through, we had retained many players from last year and all last years training was now falling into place, has this been one of the factors for the success??
Andy; Many clubs had said we were bad defenders last year this was not necessarily true, when you had Mark Gabey, Christian Evans, Richard Bates and Ben Hinshelwood missing for large parts of the season, who are all very good defenders that's 25% of your better defenders missing, it has an enormous effect on your team.
You could see that on Friday, where Mark Gabey and Chris Evans had big physical games and Matt Evans, who is a good player but did not play to the best of his ability but has big potential and will come through. John and I feel we have a much stronger team this season, but it is all about performing on the field and when we see that we will feel satisfied.
We will be taking it game by game and they are numbered 1 to 26 and no game has more importance than another, the next game no matter who it is, is the important game.
---
JP: Ben Daly is another physically big forwarded recruited in from successful seasons for Glasgow. We did not get a chance to see him on Friday or indeed against The Osprey's is he being rested or is there another reason
Andy: No not at all he has a slight injury which he sustained in training the Wednesday before The Ospreys game, he was in the starting line but withdrew and rather than aggravate it rest will help it heal faster and stronger.
---
It was clear at the talk that both John and Andy are working hard with the team and have no problems with any of the games this season. Each one will be played as the opposition demands. The players and coaches are confident in their own ability, knowing that if they play to their potential it does not matter what team they are playing they will win!! Having seen this confidence at first hand and the way the "team" played on Friday I feel their confidence is well founded.
View a Printer Friendly version of this Story.
Keastie Interview 2003
Discussion started by Comeonyouwarriors.co.uk (IP Logged), 14/08/2019 15:47
Comeonyouwarriors.co.uk
14/08/2019 15:47
What do you think? You can have your say by posting below.
If you do not already have an account
Click here to Register
.
Faithful_City
14/08/2019 15:49
Guys sorry about repeating- still learning the ropes.

Making sure it is readable on mobiles.

Thanks for your patience

JP
Grasshopper
14/08/2019 19:21
Firing Andy was the biggest blunder the club have made in the past 20 years.
Sorry, only registered users may post in this forum.