Spotlight on Little Plums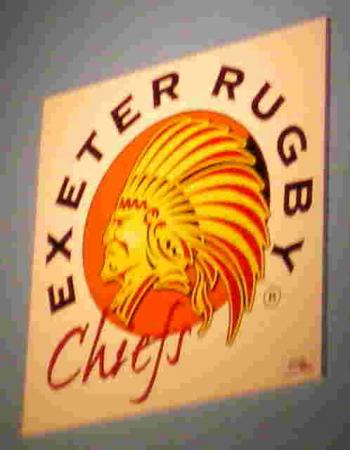 Chiefs
By Moorsman
August 31 2014
Spotlight falls on Little Plums with some very interesting comments from him.
Age: 29 and 188 months

Why do you support rugby? What other options are there?

When did you start watching (or playing) rugby and why? I started playing at the age of 11, when I went to a rugby playing school. It was the same one as Jonny Wilkinson, Ugo Monye, Peter Richards and Charlie Amesbury. There, I thought I'd get that one in early to save disappointment!
I started watching Rugby when my body told me that it was getting too old to play.

Which players did you/do you admire? As a former front row player myself, for his all round game, Keith Wood is without doubt, my all-time favourite player.
As a youngster, I remember the ability of Guscott and Horan to ghost through a gap with ease. I also have to add that the world of rugby will be poorer following the retirement of Messrs O'Driscoll and Wilkinson who were both truly without equal.
In terms of Chiefs players in the current crop, our dynamic duo in the second row, Welch and Mumm are real crowd pleasers. Ian Whitten is a dream to watch and is showing some of that effortless ability to find a hole that I spoke of, above. And while we are on the subject, Outside Centre is the only place to play him.
I truly hope that Sireli is able to find some of his previous form again. There can be no doubt that when he is fit, he has the ability to worry defences and take out three or four players but still deliver the offload.

What's your best memory as a spectator? There have been a few great ones, but the way in which we systematically took apart the star-studded Cardiff Blues in the home leg of last year's Heineken Cup sticks out. I was with my eldest son in the East Terrace, the atmosphere was electric and we couldn't speak to each other as we were in complete disbelief and grinning from ear to ear.
By way of balance, I should also say there have been a fair few games where my recall of the match has been less than perfect due to the Otter, so I can't claim those as my best memories although I had a cracking time.

Why do you support Exeter Chiefs and how long have you been following them? In such fanatical and longstanding company, I'm ashamed to admit that I didn't start supporting the Chiefs until their promotion to the Premiership. This has to do with old rivalries, as in my playing days was at the wrong end of a rather large scoreline when Exmouth used to play Exeter under floodlights at the County Ground, in what was laughingly called a "friendly". The world of Rugby moved on in the intervening years (by which I mean decades) and the opportunity to watch Premiership Rugby on my doorstep caused me to reappraise my mindset. I have to say, I was completely hooked from the very first game.

What has pleased you most about the way the club's developed over the last few years? I love the fact that the Chiefs and their supporters are so highly regarded and seem to be everyone's second favourite team. We are developing Sandy Park sensibly, within means. Management – on and off the field - appear to be level headed.

How many live games do you see a season? I make the vast majority of all home games, either in the East Terrace North, or I'll happily take the company's Gold Cards if offered.

Do you go to any away games? I haven't so far – I keep promising to myself I will go to an away European match and maybe, just maybe, I will go to either Bayonne or La Rochelle this year

What's your particular matchday routine? With a young family (three under 5 years old, as well as the 16 year old - hence the lack of away game action!), my mornings are spent on childcare and trying to accumulate sufficient Brownie points to earn a late pass. Then it is on the train, across the wobbly bridge, I buy as many Otters as I can carry with a hog roast in the other hand, to take my place in ETN as near to the centre as possible. I'm generally to be found in the Wigwam after the match, just to avoid the crush on the platform, you understand.

How do you think the coverage of the Chiefs and rugby union compare with other sports in the region? Bad, bad, bad! BBC Radio Devon's coverage is a constant source of anger when they flit between the mighty Chiefs, and three different games of soccerball, which generally yield a 1-0 loss and two goal-less draws in 270 minutes of play. The Chiefs deserve their own 24-7 TV channel!

Do you watch any other sports? I'm more of a do-er than a watcher.

Do you watch rugby on TV? If so is it club games, internationals or both? I really enjoyed BT Sport's Wednesday night show last season, but have to admit to having a soft spot for Sarra Elgin (in spite of her funny dialect). I'll watch England play, but would put club over country if there was a clash with an Exeter game. I will always watch the Chiefs if it is a televised away game.

Do you watch on terrestrial, satellite or cable and how does the coverage compare? BT Sport wins hands down. Brian Moore's and Stuart Barnes' opinions are about 15 years out of date and let down the BBC and Sky respectively. I dislike Sky Sports "swoosh-y" style intensely at the best of times. BT Sport have some big personalities who know what it is like to play in the modern era and deliver some great banter.

How long do you think it will take the Chiefs to make an AV play-off place? Tricky one. If you'd asked me at the beginning of last season, I'd have said 2-3 years, max. My concerns about the current state of recruitment are on record somewhere on these boards, so I'm going to dodge this question and say I'll be happy with 11th place and anything else is a bonus. I know this will annoy the "In Rob we trust" mob, but let's see how things develop. This is from a man who hates fence-sitting.

Any general comments about the club or the game? I genuinely love the sport and banter; ETN (as was) is the best place for both. It'll be interesting to see how the whole ETC/ETN situation unfolds and where the diehard fans settle. I would also love to see more teams of drummers (like the pocket of "enthusiasts" around Oggyman in the West Grandstand) in the other stands to really up the ante at home games.
You cannot escape the fact that a day at the Rugby is an expensive hobby and I will be watching with interest how the club manages the stadium expansion and the ability to fill it, with their price structure, particularly when the Chiefs qualify for full Premiership funding.
In terms of the game in general, someone needs to take a good hard look at how clubs' playing budgets aren't breaching the salary cap. There are clear inequities in the Premiership.
View a Printer Friendly version of this Story.
Spotlight on Little Plums
Discussion started by thechiefstribe.com (IP Logged), 31/08/2014 11:02
thechiefstribe.com
31/08/2014 11:02
What do you think? You can have your say by posting below.
If you do not already have an account
Click here to Register
.
Comanche Chief
31/08/2014 12:24
I hope the spotlight doesn't shine on my little plums!
Dawlish chief
01/09/2014 17:35
Well spoken LP. I didn't know jonny went to the same school as you!

I share your reservations about recruitment to challenge for play off, but I also understand it needs to be weighed up against development costs. Not saying which is more important, but I do think we're in the bottom half this year and want to be proved wrong.

that said, whilst I think we need higher profile players, I'm not sure it has to be a marquee player.

nice article LP don't mean to steal your show.
Sorry, only registered users may post in this forum.
More Exeter Chiefs headlines