View from the south stand: Sale 21 Worcester 15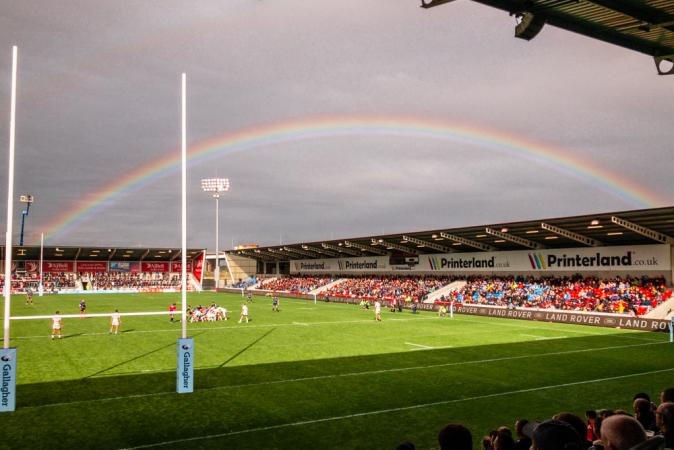 By Major Bloodnok
September 11 2018
A new season—high hopes—encouraging play—stern defence—a turnaround—various alarums—concern—relief.
Well, here we go again.
New season. New hopes. New highs, new lows.
Same old, same old.
---
After last week's second half capitulation, hopes were high that this first home game would put the team back on track. We needed a good win to ameliorate the memory of that Quins game and to set up for what will be a difficult next three games.
And for thirty-five minutes, that's what it looked as if we were getting.
---
From the kickoff, it was all Sale. The team seemed to have gelled, the forwards securing good ball and Wilf passing it quickly and cleanly. The backs made inroads seemingly at will and looked sharp and quick.
The first try, when it came, seemed to only to be deserved reward for the sheer amount of possession and territory that Sale had had. The ball moved sharply left; a tip-pass, a neat bit of football skill from Marland and a gentle pass into the arms of a charging Josh Beaumont and we had the first of what we hoped to be at least four tries and the bonus point.
The optimism continued later in the half when Denny intercepted a pass to run some 80 metres unopposed to score under the posts.
At this point, Worcester had barely even threatened the Sale 22, let alone their try line and the mood in the stands was buoyant.
About five minutes from half time, Worcester finally made a meaningful foray into the red zone and set up a bum-clenchingly tense period of sustained pressure. Something like 38 phases of play, moving from side to side, constantly probing the defence, expecting at any moment that lunge forward and the ref's whistle and raised arm.
But it didn't come; at least not for a try. After an interminable amount of time with the clock on zero, Worcester made the mistake, the whistle went and the half was over, with score 18-0 to Sale.
---
Given that first half, Sale fans could be forgiven for thinking that holding out such a sustained attack would have given the team more confidence to push on and go for a big win.
---
You'd think.
---
As it was, we got the proverbial game of two halves, with Worcester streaking out of the blocks from the off and putting the pressure back on the Sale line as if half-time hadn't happened.
Again, the defence held… until the inevitable breach and the try.
And from then, it was all Worcester. Sale seemed to not have a clue how to regain control of the game and showed signs of panic on several occasions. This was getting quite worrying. No apparent plan 'B', no apparent confidence to just keep possession, recycle, recycle, recycle. Kill Worcester's momentum and then wrestle it back.
But no. Aimless kicking, coughing up possession, penalties.
And then, two minutes to go, six points ahead, penalty to Sale 20-odd metres out over to the right.
Go for the points? AJ had been kicking well, although he seemed to be struggling with cramp at this point, but there's Wilf or Sam James who could take the kicking duties. Three points here would make the game safe and even a miss would probably mean a 22 drop out with virtually no time left.
So of course, we kicked for the corner.
Even that would have been OK: take it in, keep the ball in the forwards for a minute, plant it into row Z.
Of course, to do that, you really need the banker throw to the front, not the long one to the back that misses its target and gives possession to the opposition, who then start marching down the field in search of the seven points that would give them the (deserved) win.
A few more minutes of squeaky bum time followed before an infringement brought an end to the game, to Sale players' and fans' immense relief.
---
OK, it's disappointing and a bit worrying to have two such dire second halves in two games. I don't think there's any need to panic yet, though, although I am a bit concerned that we will be without several key players for so long at the start.
I know that it sounds as if we're fishing for excuses, but to be without Faf, JOC, van Cannonball and Chris Pillock is a serious blow to a small squad.
With three tricky games coming up, I can see us being somewhat adrift by the time we get to the European games. It's going to need a Herculean effort to get anything substantial from season if we're in the bottom four a third of the way in.
---
Exeter away next week — I can't see us getting anything from that. Then Wasps at home before a trip to Leicester. You'd hope we could get something from Wasps, but it's going to need a massive step up from this performance for that to happen.