Cherries Nicked, no harvest for Gloucester.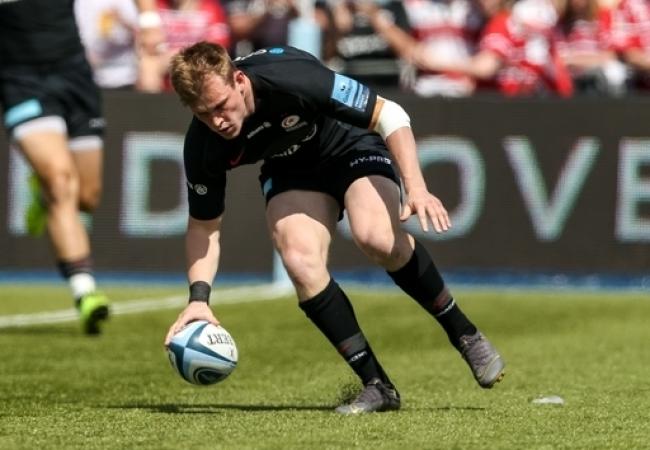 By Innings
May 27 2019
There is a certainty about one aspect of watching Sarries at Allianz Park: if the opposition take the first kick-off, Sarries have won the toss and will play into the wind. So it was this weekend. Oddly, the wind seemed to be fairly innocuous to begin with, certainly not the 15-20 pointer that the forecast suggested. The first action of the game in play was a straightforward drop into the perfectly placed pod of George Kruis and attendant lifters. Wind or none, the first Sarries touch of the ball was George mistiming his catch and giving Gloucester an attacking scrum inside the Sarries 22.
Within a minute, scrum set and completed, Gloucester have played a playbook move, right to left, pass to the cut-back runner going right, good hands and a stroll through for Ben Morgan. 7-0. Most times, we'd expect Jamie George to have taken the cut-back runner, but worryingly this may have been the first portent of a theme to recur in this game, being Jamie's wonky shoulder.
The restart is inch-perfect, and this kick demonstrates another constant theme of this game, namely Sarries relentless determination to use every kick as an opportunity to recover the ball and resume the attack from where the recovery happens. This time, eight Sarries players handle the ball. Six pass, Owen Farrell shows for the pass, steps his defence and pops a perfect little chip through, with the ball popping up for an easy stroll in for Sean Maitland. Gloucester have not touched the ball since Billy Twelvetrees placed it for his conversion of their try less than two minutes ago. No conversion, the wind is into Owen's face and strong across the posts.
Sarries clear the re-start as far as the half-way line, but Jamie's first throw-in is not straight. Gloucester take the scrum, and although the ball is with their backs, we see it moving back towards the Gloucester 22, every Gloucester player who receives it being tackled behind the gain line. Danny Cipriani is under great pressure, kicks to clear, an excellent long distance, but unfortunately so excellent that it goes out comfortably on the full, giving Sarries an attacking position just outside the Gloucester 22. Very worryingly, Jamie misthrows and this time he is clearly anxious about his shoulder. Moments later Sarries are penalised in the turnover, Owen protests too much and the kick is moved forward ten metres. This gives Gloucester perfect attacking position, on the five-metre line. The first essential element of making anything of this situation is to win the line-out, which the jumpers fail to achieve. Ben Spencer to Owen, who clears up-field, where Will Heinz gathers safely as Alex Goode arrives and marshals him neatly into touch on the half-way line. The elements of first-class defence have all been demonstrated:
Steal the line-out – tick
Perfect clearance kick – tick
Perfect chase – tick
Defender into touch with the ball – tick.
This then goes on:
Short kick after winning the line-out, and pressure the catcher into a penalty – tick
Convert the penalty – tick
Result overall – save five or seven and score three – tick.
Sarries are now running at something like their European best, and that is too much for Gloucester to handle. The first 20 minutes have passed, and Sarries are winning 8-7 against the increasing wind, and not only winning but are achieving all the positive rugby that is being played now. A second penalty in the same spot as the previous one, but Owen hits the post, leaving Gloucester flat-footed in the clearance. Jamie's shoulder is playing up and another not-straight goes to his ledger.
As the second quarter gets under way, Sean pressurises Ben Morgan inside the latter's 22. Billy Vunipola is known to practise his kicking, and we even know that he has been known to fancy his chances as a kicker in open play. However, on the evidence of his attempted clearance, Morgan does not practise this skill, and his kick is scarcely able to get the ball forward at all.
As the line-out is forming, we see Ed Slater going off. We know he's a vital part of the Gloucester forwards effort, but we also know that he is scarcely fit enough to train, let alone to play a meaningful part in a game of this intensity. Within a couple of minutes those same doubts might legitimately have been asked about Brad Barritt, who also trudges off glumly. Nick Tompkins comes on, and as Brad and he pass each other Brad whispers into Nick's ear.
We are still in the Gloucester 22, and scarcely have the newcomers got onto the field. Sarries line-out, then a clean break through the middle, by Maro Itoje, who is a one-man terrorist gang, showing the much-praised Gloucester second and back rows what makes a good player into world class. A moment of brilliance now, as Gloucester players converge. Maro shapes and dummies a pass to Ben on his shoulder, and every Gloucester player half-checks. Three or four more strides, the Gloucester men are struggling to nullify Maro's threat, as a brilliant little pass leaves him the centre of attention but the ball in Ben's hands for a brisk ten-pace run-in try. 15-7 and Sarries are warming to their task.
Gloucester are struggling, but trying to play their gamebook. Almost their next play gives an overlap only 15 or 20 metres from the Sarries line. Alex G is the last man defending against three, but rather than defend against any of them he is looking solely at the ball, floated gently over his head by Charlie Sharples. The intercept destroys the attack and restores Sarries' calm.
The next three minutes are awful for Gloucester. Back where they prefer to give away penalties, 35 metres out and in line with their own posts, they offer referee penalty options, should he blow for going off the feet or for playing the nine? 18-7 is beginning to force Gloucester to re-think how they want to play. But that is little compared with what happens next. The restart seems to be delivered cleanly to Alex Lozowski, who shreds the Cherry and White defence before giving Liam Williams a straightforward run-in for Sarries third try. Tricky conversion attempt in the stronger wind, so we play out the last four minutes at 23-7.
Some statistics are offered at half-time. Carries, 54 by Sarries, 51 by Gloucester, but metres made in the carry, 277 against 119. An average gain of five metres per carry is draining on defence, but average gain of 2 metres is draining on the attack. The Sarries kicking game this season has averaged 25 per game, but this half has delivered 23, of which five might be considered clearance kicks and 18 attacking ones. The tactic is clearly working grossly in Sarries' favour, and Gloucester seem to have no defined idea about how to respond. I think we shall see more of this in the coming half.
Off we go again. What has Johann Ackermann said to his team? Whatever it was, it has not added energy, and within two minutes it seems as though the entire Sarries back-line is queuing up for a run on the left-hand side. Sharples and Heinz seem to be there, but where are the others? Nick Tompkins decides he needs no help and simply sprints through non-existent tacklers to dot down. Owen adds the extras, and Gloucester are in deep trouble now. 30-7, with that solitary opening score looking like their only bright moment in this game.
Three minutes later, Heinz is penalised. He has been caught out leaving a very idle leg interfering with Ben's clearance, pretty much in Gloucester's preferred place for giving up penalties. Owen misses, he is unusually off the set-piece kicking radar today. Not to worry, only three or four minutes later, Sarries turn the ball over, and within seconds, eight different Sarries players have completed passes, and Nick is under for his second try. 37-7. Once or twice in moments of calm I have exchanged thoughts with my seat-neighbour, a Gloucester supporter who has the ticket of my usual man, the one who wonders why Sarries ever signed Will Skelton. The Gloucester man turns to me and says: "If the All Blacks scored that try we'd all be saying that shows why they're the best team in the world."
Changes everywhere now. Ben goes off, and Wiggy comes on, to equal Alex Goode's record of ten semi-final appearances. Will goes off, having, yet again, showed why he is one of the best of recent signings at Sarries. Nick Iziekwe replaces him. Actually changes will punctuate play for the next several minutes with the usual front-row changes.
Sarries find themselves taking a line-out on the Gloucester 5 metre line. Various grunts at the line, the latest by Maro. It is left to Nick Tompkins to complete the deal, with a canny change of direction, a duck-down to avoid having his head taken off, and a long stretch to touch-down. Hat-trick try, 44-7.
From now on, the game is about closing-out. Mike Rhodes will come on for Billy, and Joe Gray for Jamie. Worries about Jamie, he seems to be limping and worrying about his shoulder simultaneously. And at last, a chance to welcome, and say goodbye at AzP, to David Strettle, a player with the medals that go with 156 front-line appearances for this squad.
Gloucester will score two tries to make this beating less painful. But less is only a relative word, and in truth from the fourth to the 80th minute, Gloucester have been shown just exactly what will be required as they strive to challenge for something better than a serious schooling in. the realities of top-level rugby.
Ben Spencer was MotM but, in reality, I can think of at least three other contenders. Nick Tompkins is only the second player ever to score a play-offs hat-trick. Alex Goode has proven again the truth that Eddie Jones prefers grunt with some talent over limitless talent with grunt. Will Skelton has been largely instrumental in defusing the much-vaunted threats posed by the over-praised, IMHO, back five of the Gloucester scrum. You may purr about Ed Slater, Franco Mostert, Ruan Ackermann, Jaco Kriel and Ben Morgan, but in reality, in this game they were almost anonymous. Indeed, I think that the commentators mentioned Ruan Ackermann precisely once, and then only as part of a gang-tackle on Will. Mostert was mainly mentioned for his penalty-giving tendencies, and Ben Morgan for his opening try and non-clearance kick.
One thing has become very clear. What will Brad Barritt do after retiring? I know now. If a five-second whisper in Nick Tompkins' ear can change a young hopeful into a glittering star, Brad will be the most highly sought-after motivational speaker in the world.
Luke Pearce, good game, managed with decisive communications, a no-nonsense attitude and with even handedness.
I'd leave the last thoughts with Johann Ackermann. Normally a most realistic and decent man, much liked and respected by everyone associated with Gloucester, he seemed not to be at his finest in post-match discussion. Was the refereeing influenced by Sarries status as champions? Was his reference to the relative international rosters of the two sides just a poke at Sarries' payment methods?
Actually those last two words bring another thought to mind. Joe Gray has now played for Sarries in crucial legacy-defining games. But where was he found? On MMc's phone, asking to be allowed to train for free at Sarries because nobody else would look at him. I just hope that MMc remembers to put the cost of the return call onto the returns submitted to the salary cap manager. And on that note, Nick Tompkins interviewed today:
"Being part of the Saracens set-up is a big draw card, killing any thoughts of leaving. The culture and the trips are one thing, but then, being involved in these kinds of tournaments, some people don't get them ever in a career."
FORWARDS: Richard Barrington (169), Jamie George (217), Vincent Koch (66), Will Skelton (58), George Kruis (176), Maro Itoje (111), Jackson Wray (221), Billy Vunipola (102).

BACKS: Alex Goode (289), Liam Williams (29), Alex Lozowski (89), Brad Barritt (244), Sean Maitland (61), Owen Farrell (191), Ben Spencer (155).

REPLACEMENTS: Joe Gray (11), Ralph Adams-Hale (9), Christian Judge (20), Nick Isiekwe (62), Mike Rhodes (90), Richard Wigglesworth (230), Nick Tompkins (99), David Strettle (155).
Gloucester Rugby:
15.Jason Woodward; 14. Charlie Sharples, 13. Billy Twelvetrees, 12. Mark Atkinson, 11. Tom Marshall; 10. Danny Cipriani, 9. Willi Heinz (capt); 1. Josh Hohneck, 2. Franco Marais, 3. Fraser Balmain; 4. Ed Slater, 5. Franco Mostert; 6. Ruan Ackermann, 7. Jaco Kriel, 8. Ben Morgan

Replacements:
16.Mike Sherry, 17. Val Rapava Ruskin, 18. Ruan Dreyer, 19. Tom Savage, 20. Lewis Ludlow, 21. Jake Polledri, 22. Ben Vellacott, 23. Henry Purdy
SARACENS 44: Tries- Maitland, Spencer, Williams, Tompkins (3); Conv: Farrell (4); Pens: Farrell (2)
GLOUCESTER 19: Tries- Morgan, Dreyer, Ludlow; Conv: Twelvetrees (2)
Attendance: 9,568
Referee: Luke Pearce (RFU)
View a Printer Friendly version of this Story.
Cherries Nicked, no harvest for Gloucester.
Discussion started by TheSaracens.com , 27/05/2019 14:50
TheSaracens.com
27/05/2019 14:50
Thanks Philip



Edited 2 time(s). Last edit at 2019:06:11:15:41:14 by Darraghgirl.
SarrieSaint
27/05/2019 15:54
Excellent match report. Goodes quick shoe-shuffle to take the ball out of behind Sarries tryline was a thing of beauty too.
derbyshire fan
27/05/2019 16:48
Great write up - thank you; and I echo SarrieSaint - that take by Alex G on the try line, and the evasion of the two Glos players was just fantastic. 'Filthy' said Ugo Monye on TV - and I gather the radio commentators decided Goody must have been wearing the invisibility cloak.
TonyTaff
28/05/2019 10:17
Excellent prose. Thanks.
£721.05 (*) donated to the Saracens Foundation due to visits to the Sarries frontpage [
www.rugbynetwork.net
]
Please read and submit articles for publication.
(*) As at October 31, 2018.
BramleyRoad
30/05/2019 05:49
Excellent match report. Brad said to Nick, "Just play your game. You've got this." Truer words...

Supporting Saracens for 52 years
Sorry, only registered users may post in this forum.