FINAL PREVIEW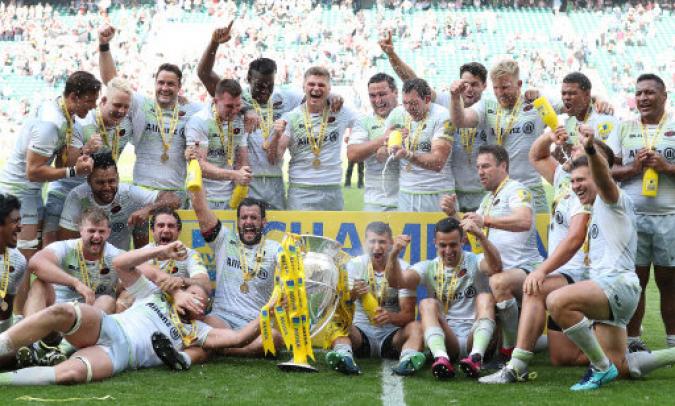 By Darraghgirl
May 30 2019
It is fitting that the 2 best teams in the premiership this season will be at HQ for the Premiership final. Saracens and Exeter have been head and shoulders above the rest and any other contest would have been a travesty.
When the 2 teams met at Sandy Park, just before Christmas, Exeter were resounding winners. In the return fixture in May, Sarries returned the favour just as convincingly. In theory the game at Sandy Park should have been a real contest – for once the 2 teams met outside of the international window! However if one looks at the Sarries team that day, we were without Maitland, Williams & Wiggy in the backs, and missing Figallo, Itoje, Wray and Billy in the pack. The bench was also pretty light on backs with just Tom Whiteley & Matt Gallagher in reserve. Most teams would struggle to cope without that little lot! The return fixture at Allianz was effectively a second team outing with neither side risking their first team squad (nothing to be gained and much to lose). The fact that Sarries "Storm" beat Exeter "Braves" doesn't add a lot to the party!
Sarries and Exeter have contested 2 of the last 3 finals. Sarries won in 2018 & 2016, Chiefs in 2017 (having beaten Sarries in the semis that year). Sarries of course also won in 2014 with victory over Bath. In 2018 sarries caught Exeter cold and had notched up a sizable lead (19-3) before Exeter started playing – by that time it was too late and Sarries ran out 27-10 winners thanks to a late try from Ben Earl. Exeter will be a better team this year. They have now spent enough time at the top to know they belong there, and having tasted victory in 2017, they will want to be winners again. But Sarries have also moved forward. Their performances over Leinster in the European Final, and for 60 minutes against Gloucester last weekend were sublime and if they can do that again on Saturday, even Exeter don't stand a chance. The big question is can they? It's asking a lot so late in the season but Mark McCall has completed the ultimate training coup – most of his team are fit and on top of their game right when they need to be.
Of course the word "most" is the important one here. Sarries will almost certainly be without Captain Brad Fantastic Barritt and for all the brilliance of Nick Tompkins last weekend, I never feel they are quite the same side without him. There also has to be a question about Jamie George maybe (certainly if you read Innings' excellent report on the Glos game) and Exeter is one team where our pack need to be on the front foot. Hopefully whatever ails Jamie can be patched up for one more game!
The press have made much this week about the contrasting styles of the 2 teams. Exeter can be a bit of a 1-trick pony, heavily reliant on the driving maul and scoring a lot of tries from lineout drives. They are a team who are miserly with possession and some dangerous runners – you only have to look at the try scored by Tom O'Flaherty against Saints to see that. They have several kicking options and I very much doubt if young Joe Simmonds will get stage fright in the way he did last year. Both the starting front row and the 3 on the bench are top class with the likes of Don Armand and Matt Kvesic pushing behind them. Argentine Santiago Cordero wasn't risked against Saints but if he has recovered from his knee injury and is fit to play on Saturday, he will want his last game for Exeter Chiefs (he is moving on to Bordeaux Begles next season) to be a good one.
As for Sarries – they really have little left to prove. Nothing will top that European win but retaining their premiership title will still be way up there! The team are playing some sublime rugby at the moment and hopefully will be able to carry on where they left off against Gloucester. But if they are even a tiny bit off their best, Exeter will be in there – and they can be ruthless given a sniff. It should be a good game! Wayne Barnes, unsurprisingly and I think fittingly, has the whistle for what is probably his final game in the Premiership too. He hasn't had his best season but hopefully he too will rise to the occasion.
So likely teams. I don't see many changes in either side unless injury forces them. Both teams also have extremely strong benches so Sarries usual advantage in that department is likely to be nullified. I suppose if Cordero is fit he will play but otherwise I think both teams will be similar to last weekend:-
SARACENS
Goode, Williams, Lozowski, Tompkins, Maitland, Farrell, Spencer, Barrington, George, Koch, Skelton, Kruis, Itoje, Wray, Billy.
EXETER
Nowell, Cuthbert, Slade, Devoto, O'Flaherty, Simmonds, White, Moon, Yeandle, Williams, Dennis, Hill, Ewers, Armand, Kvesic
The weather is set to be hot so it may come down to survival of the fittest. Either way it should be a good game and may the best team win!
View a Printer Friendly version of this Story.
FINAL PREVIEW
Discussion started by TheSaracens.com , 30/05/2019 08:38
TheSaracens.com
30/05/2019 08:38
What do you think? You can have your say by posting below.
If you do not already have an account
Click here to Register
.
Edited 1 time(s). Last edit at 2019:06:18:19:41:10 by Darraghgirl.
TonyTaff
30/05/2019 11:14
Thanks DG.
£721.05 (*) donated to the Saracens Foundation due to visits to the Sarries frontpage [
www.rugbynetwork.net
]
Please read and submit articles for publication.
(*) As at October 31, 2018.
derbyshire fan
30/05/2019 14:50
Thanks DG - getting really excited for Saturday now; you know it is coming up to the biggest games when colleagues at work are talking about rugby. For what it is worth, most of them have Sarries to win (and they all support other teams)
Sorry, only registered users may post in this forum.