A FINALE FIT FOR CHAMPIONS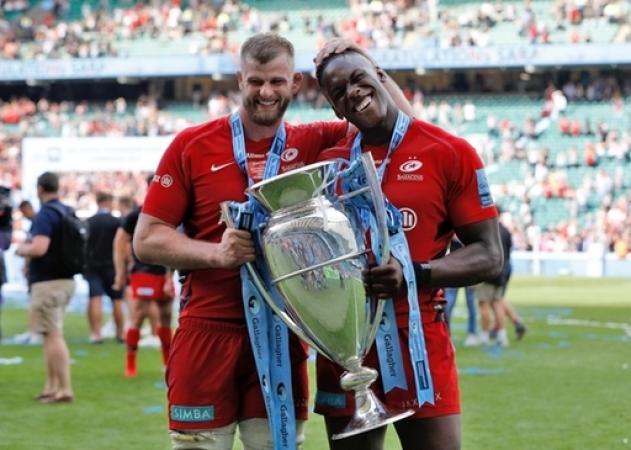 By JO'G
June 2 2019
We have all been waiting for this match-up for the whole season. Both teams pretty much at full strength, but a couple missing to give them the get out if they lost. The sun was shining, shorts on and supporters seemed to be from a lot more clubs this year. I got a real feeling of community, smiling away at other spectators. Seats decent too, although as it turned out we were at the wrong end for most of the tries.
Exeter kicked off and Kruis seemed not to have learnt from last week. The ball bounced out of his hands, scooped up by White who scores with only a few seconds on the clock. In the same vein as last week, Saracens got back the restart and played out to the left hand side. Instead of a kick through there was a pass to Maitland, except he didn't get it.
I initially thought the pass was poor, but it turns out Slade stuck out his hand for a deliberate knock-on. Stone cold yellow card; would it be a penalty try. It seems Barnes thinks Maits can't run in; just as well in the 70th minute he realised the truth. But of course, Barnes erred on the side of caution, but not Farrell who kicks to the corner. Jamie is back to precision throwing and Sarries gather to drive over with as usual, the backs diving in to make certain. Faz though has the first of several off kicks in the first half. The kick-off from Exeter isn't to Kruis this time, so it's collected and cleared efficiently. Sarries though get the ball back and after a couple of phases, Ewels is pinged for not rolling away.
Farrell is not great with the kick, which limps over for Sarries to lead 7-8. Sarries though have their tails up and win a scrum penalty which Faz misses badly. Still the ball comes back from the 22 drop out and after a few passages of play there is a scrum. Billy drives off well making some yards, further drives form Kruis and then a quick dart from Spencer and it's a try. Another straightforward kick goes missing; that's 7-13 but it could be 7-20. Exeter kick off to Itoje this time, but the result is the same as the Kruis' mistake with Exeter recovering the ball in the 22. The Exeter 'boring' machine takes over and they grind towards the line. There is a defensive penalty given away and after a kick to the corner, more penalties and although Exeter don't score, they might as well do so as Itoje takes a team yellow.
Exeter quite correctly go for the corner, and with the extra man, drive after drive finally go over and unlike Saracens add the extras to take a minor lead 14-13. Exeter are under pressure even with an extra man and it's compounded when Armand goes off for an HIA. The extra man doesn't seem to be helping Exeter and they can't seem to get over halfway and it's up to 9 and a half minutes on the clock when Sarries win a scrum. They quickly get a tap-penalty, and in a very un-Saracens behaviour, kick instead of using the scrum to get Itoje back on the pitch. Exeter make better use of the possession, with multiple phases making decent ground until finally they go over with Hill in the corner. The kick is missed, but it's now 19-13; Maro returning.
Sarries drive forward well and again Exeter are penalised for not rolling away (Moon) and its put over by Farrell who seems to have got over his kicking problems and its 19-16. Exeter though have their tails up and Sarries' defence isn't as good as it normally is. Good ground is made in a steady progression and Ewers looks to have gone over, except he grounds the ball on top of Alex Goode. It's scrum 5, and a quick burst on the whistle means the last action of the half is a penalty. I'm surprised that Exeter don't take another scrum or kick to the corner but in a surprise turn they take the 3 points to end 6 points ahead at 22-16.
Unsurprisingly. Tompkins is on for Brad at half-time. I'm not sure that Brad was fully fit as his contribution didn't seem his normal positive input. His inclusion in the squad did mean though he was able to lift the trophy later on. More bad news a few minutes later when Spencer is injured and replaced by Wiggy. Scrappy play for a few minutes by Saracens and Itoje gives away another penalty allowing Exeter to kick for the corner. However, Kruis makes up for the mistake by leaping 'like a salmon' and pinching it. Sarries escape and make their way downfield. The next twenty minutes or so are played in and around the Exeter 22 with them unable to clear their lines when they do get possession and Farrell pinning them back with great touch-kicking when Sarries do. Sarries though are making simple mistakes when in possession and it looks as time ticks that 6 points may be too much to claw back.
Kock seems through and passes to an Exeter player; Tompkins is in space but his pass to Williams goes into touch. We have seen this from Sarries before; but normally they come good in the end. Exeter make a number of substitutions, Simmons for Hill, the whole front row and White seems to have a torn muscle. Sarries swap Rhodes for Skelton. The new blood seems to give Exeter some impetus and after five or so minutes they kick through and it's a foot race that Loz casually wins. I see him dot it down as its right in front of me, but Barnes wants Graham Hughes to have a look. A worrying thing for a Saracens supporter, but he sees the ball actually grounded this time.
It's the first time Exeter have the ball in the Sarries 22 for almost the first time in this half and they make the most of it. Another Itoje penalty given away and it's kicked to the corner and it's all hands to the pumps. For once Sarries drive the attacks backwards and they seem to have cleared the problem when Skinner goes on the outside, offloads to Slade who just manages to get the ball down. It's right in the corner so the conversion is missed but it's looking ominous for Saracens who are 11 points down with only twenty minutes to go. However as in the Leinster game, there is a huddle under the posts. Farrell is giving his talk again. I'm pretty sure most of it is unrepeatable, but from the restart it makes the difference.
Sarries keep Exeter pinned and Faz notices a one on one on the other side of the pitch. With pinpoint accuracy he delivers the kick into Willams' hands. Simmons can't tackle him as he is in the air until he lands and scores in the same movement. Had another fly-half done so, the papers this morning would be full of it; but of course good play from Farrell isn't really a crowd pleaser. It's on the touchline, but Farrell does his part of the recovery with the extras and the lead is down to 4 points. Sarries seem to have this under control, as kicks turn Exeter further and further back. No possession though until Exeter kick to halfway. Wiggy of all people throws a dummy and rushes through a gap. There is someone to offload to and after a few passages of play it's out to Maitland on the wing in exactly the same position as the Slade yellow card
No deliberate knock-on this time, and with more cover than the non-penalty try, Maitland skips through the cover with ease and dots down. Again it's a kick from the corner, but Faz makes no mistake again and he makes up for his first half uncertainty. Sarries are 3 points up and Exeter look at sixes and sevens. They can't get out of their own half, or even their own 22 as the kicking game from Sarries has them under pressure. Finally Sarries get an easy penalty from a scrum. It looks simple but despite the tricky conversions under his belt Farrell misses it badly. Mind you Sarries are 3 points up and have the 22 drop to retain possession. Itoje takes it well and Faz drills a touch-finder almost to the corner flag.
Exeter throw badly, it's stolen and driven to the line and after a couple of plays Jamie George is in under the posts. There are three minutes left and after a 90 second conversion Sarries are 27-37 up and the cup is won. Sarries take the restart and kick to touch. As time is almost up, Exeter get the ball and Hill crashes over. But the clock is up and even with the conversion Exeter are 3 points short. I still don't know how Sarries managed to win that. They played not very well for three quarters of the game, but in that final fifteen minutes managed to wrest the match back. It was nice to see Brad and Faz lift the cup between them; captains for half the match each.
God knows how we can do better than this season; the only competition Sarries failed to win was the Prem Cup – that's another story.
EXETER CHIEFS:-
Nowell (Steenson), Cuthbert (S Hill), Slade, Devoto, O'Flaherty, J Simmonds, White (Maunder); Moon (Hepburn), Yeandle (Cowan-Dickie), Williams (Francis), Dennis (S Simmonds), J Hill (Skinner), Ewers, Armand, Kvesic
SARACENS:-
Goode, Williams (Strettle), Lozowski, Barritt (Tompkins), Maitland, Farrell, Spencer (Wigglesworth); Barrington (Adams-Hale), George, Koch (Judge), Skelton (Rhodes; Woolstencroft); Itoje, Wray (Isiekwe), B Vunipola
EXETER CHIEFS (22) 34 Tries: White, Ewers, J Hill, Slade, S Hill; Conv: J Simmonds (3); Pen: J Simmonds
SARACENS (16) 37 Tries: George (2), Spencer, Williams, Maitland; Conv: Farrell (3); Pens: Farrell (2)
Referee: Wayne Barnes RFU
View a Printer Friendly version of this Story.
A FINALE FIT FOR CHAMPIONS
Discussion started by TheSaracens.com , 02/06/2019 18:01
TheSaracens.com
02/06/2019 18:01
Thank you Jeremy
That was some game - I thought Exeter had it but our lads don't know how to lose!

Thank you to all our previewers and reporters throughout the season - hope you'll all be up for it again in October!



Edited 2 time(s). Last edit at 2019:07:08:20:12:35 by Darraghgirl.
PurfleetSarrie
02/06/2019 18:12
Excellent report thank you.

I also don't know how we pulled that one out of the bag but I'm glad we did.
derbyshire fan
03/06/2019 12:47
Thanks Jeremy - it was really odd watching the game on TV when we got back home; somehow we seemed to play much better on the television than we had managed at HQ!
TonyTaff
03/06/2019 12:51
Thanks a lot.
£721.05 (*) donated to the Saracens Foundation due to visits to the Sarries frontpage [
www.rugbynetwork.net
]
Please read and submit articles for publication. (*) As at October 31, 2018.
Good job Jeza, you taped it because there was no way you could have written that report from memory after Saturday's celebrations.
I have BT TV box Dave. Allows me to watch again any Prem match shown on BT sport



Edited 1 time(s). Last edit at 2019:06:04:11:23:30 by JO'G .
TonyTaff
04/06/2019 15:46
Quote:

JO'G
I have BT TV box Dave. Allows me to watch again any Prem match shown on BT sport
Jeremy, am I right in thinking that our missed touch kick, just as Maro's 10 minutes were up, was from a full penalty, rather than a free kick?
I thought so, live, but the BT Sport 1hr 12 mins replay cuts out the relevant bit
£721.05 (*) donated to the Saracens Foundation due to visits to the Sarries frontpage [
www.rugbynetwork.net
]
Please read and submit articles for publication. (*) As at October 31, 2018.
Sorry, only registered users may post in this forum.