END OF SEASON POLL - THE RESULTS # 1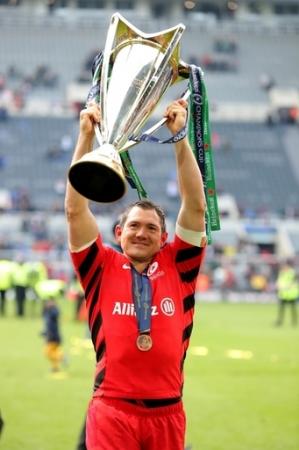 By TheSaracens.com
July 14 2019
The votes are all in – they have been independently verified and counted and we can now publish the results of the most eagerly anticipated ballot (sorry Boris & Jeremy) of the year – The Saracens' Supporters End of Season Poll. Thanks to everyone who took the time to vote – this is what you decided!
1. SARACENS PLAYER OF THE YEAR
What a difficult choice this was! So many of the guys were heroic this season, it seems unfair to single one out above everyone else however you did! Honourable mention to Jamie George & George Kruis but (as is the case with all good polls) in reverse order your choices were:- in 3rd place "the man mountain that is" WILL SKELTON; in 2nd place "Superb in both finals" LIAM WILLIAMS but the man you chose to be your Player of the Year is "pure class" and "still hanging out there" ALEX GOODE
2. SARACENS YOUNG PLAYER OF THE YEAR
Who would be your choice to follow in Nick Isiekwe's footsteps? Which of our young guns impressed you most? Honourable mention to Tom Whiteley "plenty of grit but not much ability" but the choice really came down to our top 3. In 3rd place "didn't think he'd make it but he surprised me" MATT GALLAGHER. Runner up "always reliable" NICK TOMPKINS but your clear winner and "Star in the making" is MAX MALINS
3. SARACENS OLD PLAYER OF THE YEAR
Big boots to fill here (last year's winner being Schalla) but then there are some pretty big boots around. A bit of support for Wiggy but most of you went for one of the top 3 (and it was pretty close). In 3rd place "in the right place at the right time doing the right thing" SCHALK BURGER. In 2nd place "to do what he does at 32 is monumental – our very own superman" BRAD BARRITT, but your winner "he added aerial excellence to his already impressive repertoire" is DAVID STRETTLE
4. SARACENS UNSUNG HERO
Thanks to the voter who suggested the "Strength and Conditioning Team who managed to get our team to every game possible last season" – they really do deserve a mention however once again 3 men got the bulk of the votes. In 3rd place was the "Premiership Player of the Decade" BRAD BARRITT. Runner up was the man who "delivered when we needed it most" BAZ BARRINGTON but this year's unsung hero award "appeared in every Premiership game and slipped so seamlessly into the team that we hardly missed Brad" goes to NICK TOMPKINS
5. SARACENS FIND OF THE SEASON
Some interesting suggestions for this one but in the end it came down to 4 men. In equal 3rd were ALEX LEWINGTON & MATT GALLAGHER. Some way ahead in 2nd was TITI LAMOSITELE (what would have happened if he had been fit all season?) but our winner this year is a man who fulfils the phrase "you don't know what you've got til it's gone" our replacement prop and the one who got away CHRISTIAN JUDGE
6. FAVOURITE SARACENS PLAYER
This one has to be subjective –afterall we all have our favourites. One of Maro's proposers said "so glad he's ours" but Maro didn't make it to the top 3 who were: in 3rd place, our favourite Hooker JAMIE GEORGE. In 2nd place our Captain Fantastic BRAD BARRITT but he was pipped by your Favourite Saracens Player, the one and only ALEX GOODE
7. AVIVA PREMIERSHIP PLAYER OF THE SEASON
So now we look to the wider game in England with the man who has most impressed you while playing for someone else! Quite a few suggestions here including Rory Hutchinson, Ollie Thorley, Josh Adams and Henry Slade. But the 3 men you chose are all worthy winners. In 3rd place, "the man who kept Tiggers in the Premiership" GEORGE FORD. The runner-up, and joint premiership top try scorer last season was COBUS REINACH but the winner was the man who (in my opinion) should also have got World Player of the Year (remind me who did win that!), the incredible FAF DE KLERK
8. INTERNATIONAL PLAYER OF THE YEAR (outside Premiership)
Some interesting selections here including Siya Kolisi, Alivereti Raka, Tadgh Furlong, Reiki Ioane, Ngame Laumape but there really was only one man in this section. Our International Player of the Year is Wales' very own ALUN WYN JONES
9. BEST INDIVIDUAL PERFORMANCE BY A SARACENS PLAYER
Well this season there were a lot of brilliant performances to choose from! I particularly liked the nomination of Sean Reffell in the Premiership Cup Semi against Wuss for "beating Burger's tackle record" when he apparently made 37! Maro got several nominations in different games: the semi v Glos "no one has the right to be that good!" & all of (or the second half) of the Final v Exeter. The Premiership Final weather was also nominated (not sure about that one) along with Faz's sheer determination in the Heineken Final and Jamie George in the Premiership Final but the 3 standout performances were as follows: in 3rd place was NICK TOMPKINS hat-trick in the Premiership semi-final. In 2nd place was BILLY VUNIPOLA's performance v Munster in the Heineken semi final but the best individual performance by a Saracen's player last season also went to BILLY VUNIPOLA for "single-handedly battering Leinster to a stand-still" in the Heineken Cup Final
10. BEST PERFORMANCE BY AN OPPOSITION PLAYER AGAINST SARACENS
This category turned out to be the least contested of all this season. There was mention for Faf de Klerk (Enya aka Sale A) and Ben Morgan (Glos A) and Nick White (prem Final) but other than that just about everyone went for that amazing performance which almost (but not quite) brought Exeter home: JACK NOWELL in the Premiership Final
11. RETIRED
As previously stated, this question has been retired and the winner is shared between ROMAN POITE and FAZ INVESTMENTS (please don't ask me how or why, it just is!)
12. MARTIN JOHNSON AWARD FOR LEAST FAVOURITE OPPOSITION PLAYER
Well this year there were quite a few opposition players who got your goat! "cocky" Marcus Smith, George Ford (for singlehandedly keeping Tigers up – seems a bit unfair that) Marler for his salary cap tweets, and Glasgow's Ryan Wilson all entered the "unpopularity stakes" but your top 3 in this category were:- in 3rd place Danny Cipriani ( for hiding behind Billy Twelvetrees every time he was tackled), in 2nd place Johnny Sexton (for being Johnny Sexton) but the Albanese award this season goes to the one and only DANNY CARE
So that completes part one of this year's EOS poll. Part 2 to follow next week including some suggestions on the Women's game for next year.
View a Printer Friendly version of this Story.
END OF SEASON POLL - THE RESULTS # 1
Discussion started by TheSaracens.com , 14/07/2019 06:56
TheSaracens.com
14/07/2019 06:56
What do you think? You can have your say by posting below.
If you do not already have an account
Click here to Register
.
Edited 1 time(s). Last edit at 2019:08:05:20:29:52 by Darraghgirl.
Sara'sman
15/07/2019 10:25
Thanks for collating our thoughts and for keeping us alive (if somewhat quiet!) yet again DG with another interesting article. I must admit that I don't recall all my nominations but do recognise a couple of comments - not necessarily in the category I'd intended! I'm calling it an attack of the TTs.
BramleyRoad
17/07/2019 05:57
Thanks for all your hard work on this. We are blessed with so many classy players that choosing individuals can be challenging.
Big shout for Smally, Alex S and the rest of the coaching team.

Supporting Saracens for 52 years
Sorry, only registered users may post in this forum.