END OF SEASON POLL - THE RESULTS #2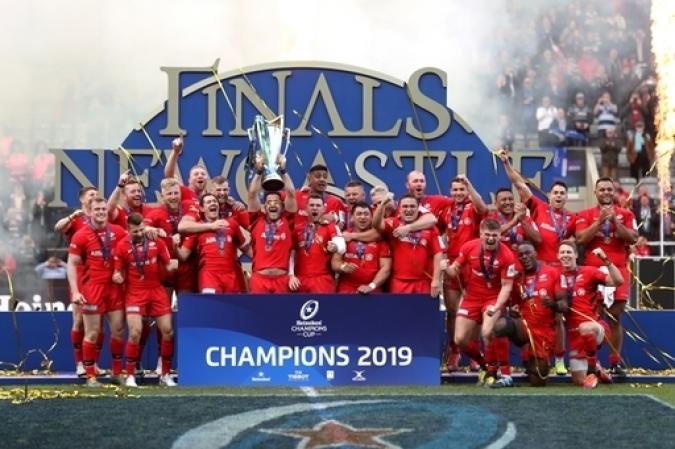 By TheSaracens.com
July 21 2019
So here it is - Part 2 of our End of Season Poll.
13. The Albanese Award for the Worst Performance by an Opposition Player Against Saracens. Some interesting suggestions here – including the entire Gloucester team in the Premiership Semi-Final, Connor Murray in the Euro semi, Johnny sexton in the euro Final, the entire Saints team in the Shield Final but the choice came down to 2 – the Runner up was the man with the terrible hair who was supposed to be the saviour of Glasgow Stuart Hogg, leaving us with this year's winner, flattering only to deceive Danny Cipriani
14. The Player you would most like to join Saracens next Season
Interesting how often this category features former Sarries men! And once again 2 ex Saracens featured heavily in the nominations this year. There was a fair sprinkling of international superstars including Demba Bamba, Siya Kolisi, Reiki Ioane & Dane Coles but 2 of your top 3 were home grown. In 3rd place was a man who stepped into the breach and did a fantastic job Christian Judge, in 2nd place, the one and only Schalk Brits but your winner, probably reflecting our squad depth (or lack of it in certain positions) is Tadgh Furlong
15. Best Performance by a Saracens Team
Well what a season it was. With a nod to the Shield semi-final against Wuss and the last 15 minutes of the Premiership Final, this one came down to Europe and it was a close call between the last two rounds however the Runner-up was the win over Munster at the Ricoh which means that the best performance by a Saracens Team this season (well it couldn't be anything else could it!) was The European Final Victory over Leinster at Newcastle
16. Worst Performance by a Saracens Team
Sadly there were a few blips along the way in what turned out to be a fabulous season. But let's not dwell on the bad times. Equal 3rd were the away performances in the league to Sale & Exeter. In 2nd place was the away defeat to Gloucester but the worst Saracens performance of the season was the away defeat to Bath
17. Chris Ashton Award for the Worst Disciplinary Panel Decision
There was only one wasn't there! So the decision described as "Pure Farce" and "It's not the citing commissioner's job to pick the team" was the appeal against the appeal suspension of Alex Lozowski
18. Favourite Away Venue
Interesting that The Rec featured here (despite the result) along with Franklins Gardens, the AJ Bell and La Defense Arena (Racing's Stadium – maybe next season??) but this category also came down to a choice of 2. The Runner up was the Matmut Stadium in Lyon (complete with oysters!) but the winner by a long way was St James's Park and the whole city of Newcastle
19. Least Favourite Away Venue
Both The Rec and Franklins Gardens featured in this category too (interesting how people's perceptions differ!) but once again 2 venues dominated. The runner up was Castle Grim but the winner, by a long way, and as many of you said "good riddance" was The London Stadium (although technically I think it was a home venue!)
20. Funniest Moment of the Season
Lots of lovely memories here. Jamie stitching up Mako in the medal ceremony at Newcastle, Billy's "Shearer" moment, Mako intervening in Glasgow's "try" celebrations, and the look on Judge's face when he realised he was clear to score to score a try all featured but your top 3 were as follows: in 3rd place Lewington's try at Exeter when the ball got held up in the wind, in 2nd place was Steenson's attempt to tackle Skelton at HQ but the funniest moment of the season was Alex Goode's 3 day bender
21. Best Referee
A number of you commented on what a difficult job the men in the middle do. This year we do have a different winner though. Wayne Barnes, Nigel Owens & Karl Dickson all had their supporters but your top 3 were as follows. In 3rd place, a young referee with a big future Christophe Ridley. In 2nd place one of 4 Frenchmen who will be in the middle at the world cup (interesting the French are producing better referees than players!) Jerome Garces but your winner is an Englishman who will also be in Japan Luke Pearce
22. J P Doyle Award for the Worst Referee
I know a lot of you don't like to vote in this category because it's a tough place to be but sadly some of our whistle-blowers are more popular than others! So with nods to Craig Maxwell-Keys and George Clancy, your worst 3 referees are as follows. In 3rd place Ian Tempest. The runner up (will we ever forgive him?) is J P Doyle but yet again your least favourite referee is Tom Foley
23 Will Greenwood Award for the Best Media Performance by a Rugby Celebrity or Broadcaster
Several of you were very positive about the BT sport team (with one exception – see next category!) especially Ben Kay and Stephen Jones (who is now an honorary Saracen!) also got a mention but the Podcasts seem to rule this one and there are 2 of them that you love. The runner up was our very own Big Jim but this year's winner is David Flatman
24 Stuart Barnes Award for the Worst Media Performance by a Rugby Celebrity or Broadcaster
Well for once the cock-womble did have a bit of competition from Ugo Monye, Austin Healey, Jeremy Guspratt, Owen Slott, Laurence Dallaglio and the BBC website for "putting our Eurowin 9th on the list of Sports Stories for the day and consistent errors) but once again he reigns supreme, so much so we have named the award after him, the worst man on the media is once again Stuart Barnes
25. Michael Gentleman Award for the Best Contribution to the Message Board
As always the Eds are grateful to all those of you who were kind enough to thank us for our efforts and many regular contributors including Barty, TPR's Headmistress & King Zak were mentioned in dispatches however there can only be one winner this year, the remarkable Innings
And finally, one of our correspondents suggested that we should also feature Saracens Women in the poll – after all they are Champions too! His/her suggestions for the women's team awards were as follows:-
Player of the Year: Bryony Cleall
Young Player of the Year: Zoe Harrison
"Old" Player of the Year: Georgie Gulliver
Unsung Hero: Rosie Galligan
Find of the Season: Alex Austerberry
Performance of the Season: Quins at home. 5 minutes to go, 28-12 down and three tries scored to win 31-28
What do you think? If there is enough interest I am happy to include a female version next season.
View a Printer Friendly version of this Story.
END OF SEASON POLL - THE RESULTS #2
Discussion started by TheSaracens.com , 21/07/2019 07:40
TheSaracens.com
21/07/2019 07:40
What do you think? You can have your say by posting below.
If you do not already have an account
Click here to Register
.
Edited 1 time(s). Last edit at 2019:08:14:19:52:58 by Darraghgirl.
The Bard
21/07/2019 11:38
Thanks for compiling this, even though I was 'outside the tent ' on a good few of the answers I could hardly disagree with the outcomes!
BramleyRoad
22/07/2019 09:37
Good shouts all of them. Thanks

Supporting Saracens for 52 years
Thanks for compiling the awards and publishing the articles. Yes please to Women's awards next season too.
Thanks as always and another yes for the Women to be added
Sorry, only registered users may post in this forum.