TIME TO SAY GOODBYE (again) 2019 - #3 David Strettle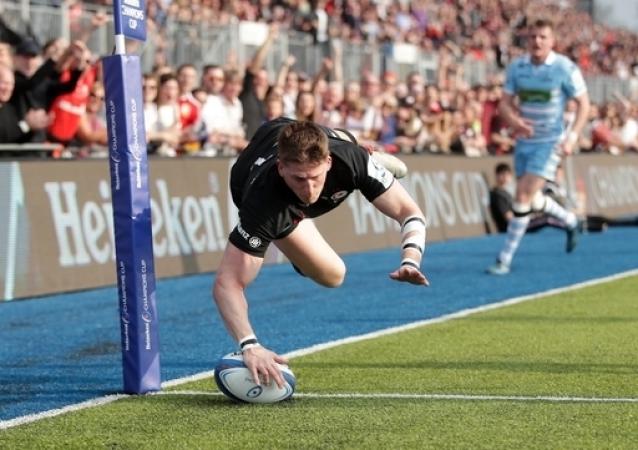 By Darraghgirl
August 25 2019
The end of the 2018-19 season saw the departure of one of Saracens' oldest favourites as David Strettle left the club for the 2nd time – but this time he wasn't going anywhere else, he was retiring. Many felt he was still as good as ever, that he had another season in him, but typical of Stretts he knew it was time and wanted to go while people still wanted him to stay!
David Strettle first joined Saracens in 2010. Hailing from Cheshire, he started his career playing League, only switching to Union when he moved to Lymm High School, the only secondary school in the area which played the 15-a-side game. He was a decent basketball player and was also on the books of Manchester City. He completed a Sports Science degree at Sheffield Hallam University (much to little DG's delight, she is also an Alumnus) and started to play rugby for Rotherham Titans, initially as a fly half. On his debut he scored 3 tries in 10 minutes! He joined Harlequins from Rotherham in 2006 (Quins played that season in the Championship and hence Strettle's talents came to their notice.) The following year he won PRA Young Player of the Year.
Strettle was initially an England sevens player but in 2007 received an unexpected call-up to the senior team for the game against Ireland at Croke Park when Jason Robinson was injured. He marked his debut with a try as England succumbed to the Irish but was retained for the final 2 Six Nations games. He was selected for the England tour of South Africa but a bout of food poisoning meant he missed out on England's heavy defeat. A fractured metatarsal in a warm-up game ruled him out of the 2007 World Cup and he broke the same metatarsal in the first Six Nations game against Wales in 2008 which kept him out of the rest of the tournament. He suffered the same injury yet again playing for Quins and sadly these frequent injuries also lead to an affectionate nickname "Sicknote".
Surgery involving a type of polyfilla repaired the bone (which reputedly resembled chalk!) and he has had little problem since. His last season with Quins was 2009-10 when he again was troubled with injury. He scored 14 tries in 59 appearances for them before a somewhat surprising move north of the river – along with Nils Mordt.
Strettle's arrival was not uniformly welcomed! Comments such as "Yeah, too many fast moving hired guns doing 'the rounds'" and "he's here for the sickpay" were commonplace. 2010 was a new era for Saracens. The end of the previous season had seen a controversial cull of some of Sarries' best loved players overseen by new coach Brendan Venter and CEO Edward Griffiths and the arrival of a number of South Africans including Schalk Brits and Deryck Houghard along with the likes of Jacques Burger. The results spoke for themselves and Sarries had made it to a first Premiership Final. It was undoubtedly this ambition and the chance to play in big games which tempted Strettle to Watford. The incumbent wings were Michael Tagicakibau, Kameli Ratuvou, Noah Cato, James Short & Chris Wyles. (Who would have bet at the time that Wylesy would outlast them all!)
Stretts made his first appearance for Sarries as a substitute against Sale where he scored a try. He repeated the feat scoring against Leeds Carnegie in his first start for the club. 2010-11 was of course a fantastic season for Sarries and Strettle helped the club to a second final at Twickenham scoring 6 tries along the way (including one against his old club Quins at Wembley) and consolidating his place in the team. Saracens won their first Premiership title with a heroic win over Leicester Tigers. His form was good enough to earn him a place in Martin Johnson's World Cup training squad although sadly he didn't make the final cut.
2011-12 saw 3 more tries including one against Quins at Twickenham in the Big Game and 2 more European tries. The following season saw the arrival of Chris Ashton and the formation of most potent wing partnership in England. A friendly rivalry seemed to develop between the two of them, inspiring each of them to score even more! Stretts didn't complete the partnership until the 5th game of the season (a 16-6 win away at Franklin's Gardens). He then claimed his first brace away at Leicester followed by his first hat-trick in a then Premiership record time against Worcester. A try at home to Munster added to his total of 9 for the season – his best so far for the club.
The summer tour to Argentina saw Strett's 14th and last appearance for England when he scored his second international try but England's loss was Sarries' gain. 2013-14 was even more prolific with a total of 15 tries in all competitions. By now Stretts had made the touchline his own. He seemed to know within millimetres where the white line was and was unerringly just on the right side. He made the south east corner his own, scoring so many times on that square metre of "turf". He was able to contort his body in all sorts of ways to ensure the ball stayed in play. Sometimes he seemed to be airborne and the only part of him that was actually on the ground was the hand holding the ball. He scored on his 100th appearance for the club, in a win away at Bath in February.
The 2014-15 season was to be his last in England for the time being anyway. He finally won a well-earned place in Bomber's World Cup training squad although few believed it was anything more than lip-service following another great season. The season started with a hat-trick against Wasps in the double header. More scores followed including a vital try in the LV cup semi-final against Northampton which probably ensured his selection in the team which beat Exeter in the final with Stretts scoring twice. Interestingly he also scored twice in the home victory over Clermont which, added to the 2 tries he scored against them in 2010-11, probably ensured he was well on their radar and when the time came to move on, it was Clermont who claimed his signature. He scored 13 tries in that final season and was a member of the Aviva Premiership winning team, claiming his second winner's medal.
Stretts moved over to France in the summer of 2015, joining Clermont Auvergne where he remained for 3 seasons. During his time there he also acquired a wife, 2 children, a French Bulldog and a Harley Davidson! At Clermont, Stretts joined another England reject, Nick Abendanon, alongside French legends Aurelian Rougerie, Wesley Fofana, Camille Lopez, Morgan Parra and Damien Chouly. Stretts was Clermont's top try scorer in 2015/16 and 2016/17, the year Clermont finally won the Top 14 title. He played for Clermont against Saracens in The European Final in Edinburgh. Stretts' final season in France was more frustrating when injury prevented him from playing a full part. He thought that might be the end for him until his agent received a call from Mark McCall asking if he would be interested in one last hurrah in England. At the age of 34 he returned to London for one final season with Sarries.
Leaving Clermont was an emotional time for Stretts. "After the final game of the season, the departing players address the crowd, which is a test of your French," he explained. "In a game against Ospreys, I'd scored two good tries and the crowd started chanting my name. It was amazing, but I didn't think anything of it until we were in training the next week and the boys said they'd never seen that before, especially for quite a new player. I'm getting goosebumps telling this story! Anyway, it's my turn to address them. I'm holding my little boy Leo, who was born that week, and my daughter Isla, who was 18 months. My wife is there. As I get given the mic, the whole place starts chanting 'Davide!' again. I was happy because they could not hear my French, but that was so special."
Stretts said he knew it was time to retire when he remembered he had played with Andy Farrell, father of Owen who was, by this stage, 27! He also felt old when a teammate had never heard of Martin Offiah or the Patrick Swayze film "Ghost".
"Going to France was a beautiful experience," he said. "I had accepted I would retire there, so to get one more year here, I'm not stupid enough not to appreciate that. I came back because I wanted a challenge. I had a reputation here, a level that people expected of me. I had to show I hadn't just been eating baguettes for three years! I wanted to show I was the player that left and give the coaches some selection headaches. I like to think that's happened.
It did indeed. Stretts showed that he had lost none of his ability in his final season in London. With Liam Williams and Sean Maitland the first choice wings, he often found himself on the bench but injuries and international call-ups gave the old boy more than enough game time. He crossed the whitewash 6 times in that last season, scoring his final try against Saints at Allianz in March. Stretts started the European semi final against Munster (with Sean Maitland absent injured) and was on the bench for the Final in Newcastle but wasn't called upon. He was also on the bench for both the Premiership semi-final win over Gloucester and his last appearance in a Saracen's shirt was at HQ when he replaced Liam Williams for the last 3 minutes of the match.
On retirement he said: "Sport is funny. There aren't many jobs you get worse with age. You can understand everything about it but the body can just give up. Also, in the real world, as you get older you become more high-ranking. Not in sport. If an 18-year-old rocks up and is better, the job is his. That would never happen in an office. That keeps you level and is humbling."
Yes indeed, Stretts was a special player, and Allianz Park will be poorer for his absencenext season.
View a Printer Friendly version of this Story.
TIME TO SAY GOODBYE (again) 2019 - #3 David Strettle
Discussion started by TheSaracens.com , 25/08/2019 19:19
TheSaracens.com
25/08/2019 19:19
This site is not dead yet



Edited 2 time(s). Last edit at 2019:09:19:14:12:28 by Darraghgirl.
Good article. Note Harlequins ground is in Middlesex not Surrey. You may have meant something else by reference to a move north of the river; maybe Stretts had a mansion in Surrey....
~ You never knowingly let the facts get in the way of the story. ~
The Bard
25/08/2019 20:41
What a fabulous piece about another fabulous player. One of the rare breed of truly class players
Another player who always seemed to be enjoying his time on the pitch, and that's always something to put on any layer's credit list.

Innings

Points win matches: tries win hearts and minds.
That's a great write-up.

(Wow, was it really 2010 when he first appeared? !)
TonyTaff
02/09/2019 17:33
A fine account!
Ignore the geographical pedants!
£721.05 (*) donated to the Saracens Foundation due to visits to the Sarries frontpage [
www.rugbynetwork.net
]
Please read and submit articles for publication.
(*) As at October 31, 2018.
Sorry, only registered users may post in this forum.