THE ONLY WAY IS UP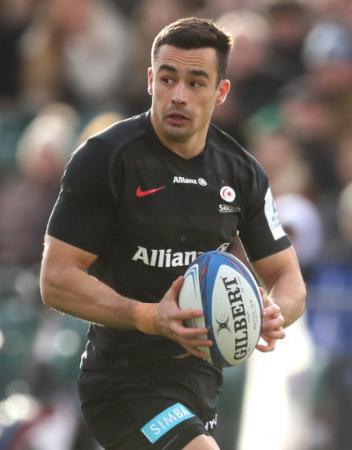 By J O'G
September 30 2019
Finally the first home game of the season. This summer has stretched and madam was extremely happy to see me disappear to the match. Wandering around the ground before kick-off we noticed a nice new white marquee by the entrance; proper changing rooms at last. Bit of a pain for those wanting tickets as they had to walk back and round. Concessions had switched positions, the cash bar now located in the most difficult place to find. I noticed that although season tickets had stayed pretty static, beer was up 50p a pint. Pie and pint was now £9, up from the original AzPrice of £5.50. Almost 20% inflation. Still it was good to be back, nodding and shaking hands and a few Happy New Years.
I had not expected much from the game, when I saw the team sheets last week and Sale had not picked their strongest squad but pretty close to it. Sarries seemed to have kept a similar side with the new Scottish lad at second row replacing Dave's Coaches. I didn't think anyone could be bigger than Joel Kpoku, but he was a significant size increase. Still Sarries starting well, keeping Sale at bay before getting the rub of the green as Sale gave away a string of penalties at the lineout. We thought the young ginger bundle of energy that is Adams-Hale was over, but seemingly held up. However the offence just before was too much for the ref and Sale were down to 14. Still encamped in the Sale 22, the ball went to the backs for once.
During the whole afternoon, Alex Lozowski looked a clear head and shoulders above all the other players on the pitch. He opened up a gap with ease and put Whiteley in on the outside. The scrum-half converted his own kick and soon afterwards Sale were back to a full compliment. The game seemed quite static until Hammersley (who like Lozowski looked a class above the rest) was able to pick up on a loose tackle and similarly to the first try gave one of the de Preeze an east run in. However, Sarries seemed to have worked out to keep the ball moving and soon afterwards picked up a long range penalty to go into the lead again.
However, it was only short lived as again Sale brought forward pressure to bear. They started to play sensible rugby, making use of their much more experienced pack. Kicking to the corner they kept driving away and the new development player they picked up from Wasps in the summer, Cooper-Wooley burrowed over from close range. Shortly afterwards, a stroke of luck for the visitors as Roebuck was following up a fairly innocuous kick-chase. Obatinoyo made a howler of a catch, both knocking it on, but also straight into the stomach of Roebuck who took an early Christmas present and ran past the frustrated full-back to the line. The 12 point advantage at the break was a fair reflection of the play.
The second half started really brightly, Sarries worked out that getting the ball to Loz in space was probably a sensible option. He carved through the defence with ease and slipped the ball out wide. Unfortunately, Gray was unable to quite get to the line. A series of drives for the line followed until again the ball came to Loz. He ran round his player, before slipping Lewington a simple pass for him to run in almost unopposed. It was game on with now only 5 points in it, but unfortunately, it was Sale who responded. If you looked at the team sheet, Sale had a bench where almost every player was better than the starter. Saracens had half of theirs who I had never seen play. I mean Dave's coaches is a decent enough lock, but comparing him with Beamont who is close to England level is a bit of a stretch and he was the best of our bench.
As each replacement came on, Sale's grip on the game tightened. They started to play in Sarries half, squeezing the life out of the youngsters. For some reason, Sarries had not worked out the winning strategy, which was to give the ball to Loz in a little bit of space. Instead, they played kick-chase, but without the chase. Sale just picked up the two tries that their field position and the bigger more experienced men on the park made inevitable. Mcguigan and the other duPreeze dotting down both being converted for probably the right score.
I would say though, that in a year's time, if the sides played each other the result might actually be different. There were a number of new starters who gave a decent enough performance. The Scottish lock (Ed - Hunter-Hill?) had a good first half, tired a bit in the second and was not so good when he came back on for a blood replacement. The prop from Quins (Ed - Ibuanokope?) seemed to me to be quite interesting and put himself around a bit, but the others in our group thought him a bit lazy. Williemse is definitely a full-back playing fly-half. He looked much better when Manu V came on and made the most of some space. The scrum-half from Pirates (Ed - Day ?) almost scored with his first touch, but got cut down just before the line.
All in all a great day out. I was a little disappointed with the ref (Ed - Christophe Ridley) who even though he looks 14, had a couple of performances last year which made me think he was going to be good. I felt he let the Sale senior players work him a bit, milking quite a few penalties. There was a bizarre bit of play I still don't know why happened, because no communication was given. After a number of marginal knock-ons were ignored, Sarries finally got one awarded, although it seems from the touch-judge's intervention. Then Sale got a penalty which I can only assume was for chat. I don't think though we will progress out of this group because Sale are taking it very seriously.
On an amusing note I see BT Sport gave Wasps a losing bonus point from last week
SARACENS
Obatoyinbo (M Vunipola), Segun, Lozowski, Hakalo (Lewington), Gallagher, Willemse, Whiteley (Day), Adams-Hale (Crean), Gray (Pifeleti), Ibuanokope, Kpoku (Hunter-Hill), Hunter-Hill (Day), Clark, Reffell, Christie (Munday)
SALE SHARKS
Hammersley (Williams), McGuigan, L James, Redpath (Hammersley), Roebuck, Curtis (S James), Papier (Warr), Rodd (Harrison), Langdon (Webber), Cooper-Woolley (Jones), Postlethwaite, Philips (Beaumont), J Du Preez, Curry, D Du Preez,
Scorers:-
SARACENS 17: Tries: Whiteley, Lewington; Conv: Whiteley (2); Pen: Whiteley
SALE SHARKS 36: Tries: D Du Preez (2), Cooper-Woolley, Roebuck, McGuigan,; Conv: Curtis 2 Williams 2; Pen Curtis
Referee: Christophe Ridley
View a Printer Friendly version of this Story.
THE ONLY WAY IS UP
Discussion started by TheSaracens.com , 30/09/2019 15:05
TheSaracens.com
30/09/2019 15:05
Many thanks Jeremy for the first review of the season

Any volunteers for sinners next Sunday - It's on TV for those who don't fancy the trip up the M1



Edited 2 time(s). Last edit at 2019:10:10:20:27:59 by Darraghgirl.
Sorry, only registered users may post in this forum.