GARDEN PARTY?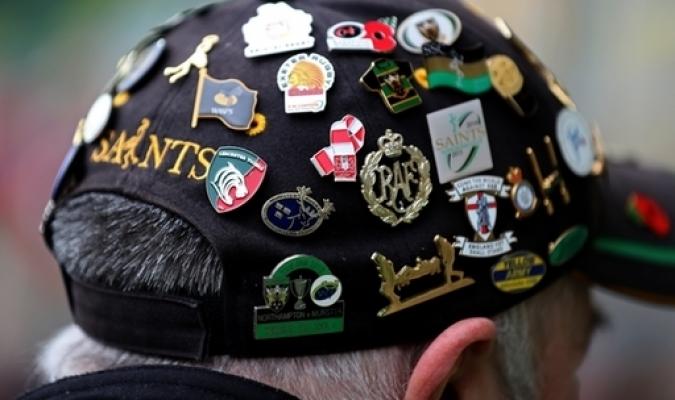 By DG
October 2 2019
The Premiership Cup rolls on to Franklin's Gardens this weekend. It is also our TV debut for this season for those who prefer to stay at home. I suppose the big question is when will we unleash some of our big guns? Not because we care about winning this competition you understand (although it was the only one we didn't win last season after defeat to this weekend's opposition) but because you would think the guys would like a run out before the season proper starts in a couple of weeks. I suspect we will probably wait until next week at home to Quins. They don't take too many prisoners at Franklin's Gardens
I have to say I hadn't realised until now that the format for this competition has changed this year. Instead of the highly confusing business where we are in leagues but play teams for another league, this time it's a straightforward league of 4 where we all play each other – then a random derby fixture on the end just when you thought you might be understanding the rules. So Northampton are actually doing worse than we are in this competition with 2 point from 2 games, we are 3rd with 5 then Wasps are 2nd on 6 and Sale on top with a maximum 10.
Northampton suffered similarly at the hands of Sale (albeit at the AJ Bell) in round 1 but then lost at home to Wasps narrowly last week. They appear to have fielded a far stronger team including Rory Hutchinson, Taqele Naiyaravoro, Alex Waller, Tom Wood & Mitch Eadie with Teimana Harrison on the bench plus Henry Taylor, formerly of this parish, starting at 9. They scored 4 tries but lost Naiyaravoro to a red card (for 2 yellows) near the end. Interestingly I notice another of our former sons, Sione Vailanu, scored a try for Wasps.
I have no idea who Saints will field. They are all but out of the competition but they never like to lose to Sarries. Let us not forget we face Saints at Allianz in the season-proper opener so if nothing else this game is for bragging rights. One thing is for sure – Naiyaravoro has picked up a 1 week ban so he will be in the stands! Will Saints put the youngsters out or will they use this as a pre-season warm up? Along with Taylor, Saints have signed former Sarrie Reuben Bird-Tulloch who could also feature. Will we see Hartley? Questions!
With the departure of Willemse to Japan, the Saracens' fly-half cupboard is even barer. Presumably Manu will start with Loz as back-up (although it seems a bit tough on him as he played 80 minutes last week). I don't see us risking Alex, despite his forays onto the tennis court, until we have to. Will we see any of our other "first teamers" though? I assume Whiteley will continue at 9 as he is captain and this is good experience for him. With Wiggy also away (although after a mauling from the All Blacks he'll be home soon no doubt) I don't see us risking Spenno. If we are sticking with the youngsters I'd rather see Gallagher at full back. I thought Obatoyinbo looked vulnerable under the high ball last week. Lewington may get a start having come on as a sub last week maybe alongside Crossdale. Tompkins might get wheeled out in the centres again (I don't see us risking Captain Marvel) maybe with Charlie Watson who seemed to go well against Wasps.
In the forwards Adams-Hale has worked hard for the past couple of weeks. Maybe Crean gets a start? Pifeleti may start at hooker as we need to be careful with our resources at 2, and maybe Wainwright at 3. Hunter Hill is worth another start maybe with Kpoku if he's fit. If not I guess Dom Day will put in another shift. The back 3 may be Munday, Reffel & Christie. Ben Earl has had an outing but could be on the bench.
For anyone thinking of going, there is a New Look Supporter Village with a Real Ale Bar (sorry no further details!) and a revamped food court. Please note all stadium bars are now cashless and Saints have introduced an eco-cup with the traditional £1 deposit. Before the match you can be entertained by Rio Brass. Car Parking in Claret Car Park is £5 cash.
So who will win? Well I guess whoever wants it most! If Sale get another maximum on Saturday Pool 1 will be all but over in which case we can all treat this game as a pre-season friendly – if such a thing exists between these 2 old enemies. So long as we don't pick up any serious injuries who cares!
Any offers for a reporter???? Armchair???
View a Printer Friendly version of this Story.
GARDEN PARTY?
Discussion started by TheSaracens.com , 02/10/2019 21:56
TheSaracens.com
02/10/2019 21:56
REPORTER WANTED URGENTLY!
It's on TV so you don't even have to leave your front room!



Edited 2 time(s). Last edit at 2019:10:15:19:10:28 by Darraghgirl.
BramleyRoad
07/10/2019 07:52
Harsh red card Fortunately too late on to really matter.
Sorry, only registered users may post in this forum.