ANOTHER WEEK, ANOTHER 50 POINTS ON SAINTS!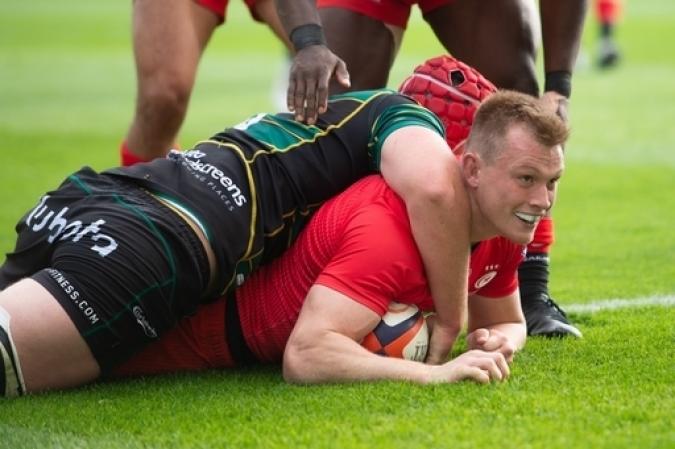 By DG
October 8 2019
Sunday in Northampton brought bright sunshine and a gusty breeze which favoured the home team in the first half. The first few minutes were all Sarries. Loz butchered 2 tries thanks to superb tackles from Henry Taylor with something to prove against his old mates. Segun dropped another pass which otherwise looked like a run in.
Sarries were being profligate with possession. Hopefully they wouldn't live to regret it. Eventually Gallagher touched down in corner but Whiteley missed tricky conversion. Lewington sustained an replaced by Obatoyinbo, never to return (although he looked fine in the stands so hopefully just a precaution). Finally Saints got into the match and although a run from Olowofela was stopped, the forwards maintained momentum and Ribbans scored. Grayson converted for 7-5.
Sarries generosity continued and there was another drop by Reffell with the line begging but Sarries had a penalty anyway for offside giving Whiteley an easy 3. Sarries kicking game was hampered by kicks going backwards once they caught the gusty breeze. Taylor looked very useful for Saints and inspired a period of pressure on Sarries' line. Three 5m lineouts were defended. Hunter-Hill was lucky not to get a card for repeated infringements. An injury to Woolstencroft's elbow looked worrying but strapped up, he stayed on. However Saints breached the defence from the penalty scrum and Taylor scored Saint's 2nd try. Grayson junior landed an excellent conversion from the touchline for 14-8. More indiscipline resulted in another penalty to Saints. They went for the corner but Harrison was careless & dropped the ball under pressure when he probably should have scored. Sean Reffell was injured in the process & left the pitch on a stretcher to be replaced by Isiekwe. Lovely play by Gallagher catching a high ball then regaining his feet and a nice interchange between the backs allowed Segun to go over in the corner for Sarries' 2nd try. Another tricky conversion for Whiteley – same result. 14-13. Almost at once there was a lovely break from Ibuanokope then on by Wray. He could have given it back to Christie for the score however he chose the harder route and went back through Gallagher for Tompkins to score. This time Whiteley kicked the extras for 14-20.
The pressure was back on Sarries when Whiteley's clearance went straight out giving Saints a line-out back in the Sarries 22. A lovely break orchestrated by Taylor sent the ball out to Symons who ran 20m to score Saints' 3rd try. Grayson maintained his perfect kicking record for 21-20. The half ended with a high tackle on Obatoyinbo with Whiteley landing the kick to give Sarries a narrow lead 21-23.
Sarries had the wind behind them in the 2nd half. An early penalty from Whiteley stretched the lead to 5. Good cover from Tompkins saved a try from Olowofela but the referee was playing advantage allowing Saints to plonk the ball on the 5m line but the line out was wasted with a crocked throw and then Sarries won a scrum penalty to clear. Gallagher just beat Olowofela to the Sarries' try line but carried the ball over giving Saints a 5m scrum. Sarries defended their try line ferociously but eventually Ribbans scored the bonus point try which when converted gave Saints a 2 point lead 28-26.
Spencer took the field for Whiteley with 30 mins left with an instant increase in tempo. Obatoyinbo set his wing-mate Segun up for a run in down the right wing. He was hauled up short but managed to off-load to Spencer who scored for the bonus point try. Kicking duties passed to Vunipola who nailed his first kick for 28-33. Sarries other old boy Reuben Bird-Tulloch replaced Olowofela on the wing. His first action was to knee his team-mate Taylor on the nose! Sarries withstood a good period of Saints' pressure, Spencer's game control apparently the glue. Ribbans was probably luck to stay on the field after a very clumsy challenge took Obatoyinbo out in the air. From the lineout Tompkins popped up, shook off 2 Saints' defenders who were clinging to his shorts and scored his second try. Vunipola did far better from the touchline than Whiteley, landing the touchline conversion for 28-40.
Saints were now conceding a lot of penalties which was handing possession back to Sarries in the red zone. Spencer set up another beautiful move when he found Vunipola who ran straight through the Saints defence, dummied Taylor and scored under the post. He converted his own try for 28-47.
Saints were now struggling with the wind and it was one of these high swirling kicks which led to the biggest area of contention. Charlie Watson (who had replaced Gallagher)'s leg was clearly being held by Symons. He tried to get free then kicked out in frustration, his boot landing in Symon's face. The TMO and Craig Maxwell-Keys debated the events and decided that Watson's response was disproportionate and worthy of a red card while Symons received a yellow. Both departed the scene and it was down to 14 a piece for most of the remainder of the game.
Vunipola showed his lack of experience by missing touch with a very simple penalty which would probably have led to another score. It was all getting a bit heated but once again it was Spencer who just slowed things down a bit allowing everyone to draw breath. Loz almost put Vunipola through again but Saints just got back in time. With just a few minutes left, Tompkins picked up a loose ball and motored for the line as fast as his little legs would carry him. The try survived a potential knock on review from the TMO and his hat-trick try stood. Vunipola kicked from in front of the posts for 28-54. Saints got back up to 15 for the last knockings but it was all over by then.
So a very entertaining game. Lots of good tries from both sides and a bit of feistiness as well. Vunipola showed a lot of promise although he looked more assured alongside the experience of Spencer. TV suggested that Goode will hopefully be fit for the real thing in 2 week's time. With regard to the Premiership Cup, all is not lost – Sarries trail Sale by 4 points going into the final game next weekend. Sarries are home to Quins who top pool 2 while Sale travel to Irish who are out of it. A 5 point win would see Sarries qualify as best runner up – just like last year!
Northampton Saints
Hutchinson (Mathews), Olowofela (Bird-Tulloch), Dingwall, Symons, Collins, Grayson, Taylor (Tupai), Van Wyk (Waller), Van Vu'uren (Ma'asi), Painter (Garside), Ribbans, Moon (Bean), Tonks (Brussow), Harrison
Saracens
Gallagher (Watson), Segun, Lozowski, Tompkins, Lewington (Obatoyinbo), Vunipola, Whiteley (Spencer), Barrington (Crean), Woolstencroft (Pifeleti), Ibuanokope (Wainwright), Skelton (Kpoku), Hunter-Hill, Christie, Reffell (Isiekwe), Wray
SCORERS
Northampton Saints (28) Tries: Symons (2), Taylor, Ribbans; Conv: Grayson (4)
Saracens (54) Tries: Gallagher, Segun, Tompkins (3), Spencer, Vunipola; Conv: Whiteley, Vunipola (4); Pen: Whiteley (3)
Attendance: 11,631
Referee: Craig Maxwell-Keys
View a Printer Friendly version of this Story.
ANOTHER WEEK, ANOTHER 50 POINTS ON SAINTS!
Discussion started by TheSaracens.com , 08/10/2019 21:34
TheSaracens.com
08/10/2019 21:34
What do you think? You can have your say by posting below.
If you do not already have an account
Click here to Register
.
Thanks a lot DG.
In other news, Sportnetwork have fixed my account. So I can now post again, as well as moderate! I know, you never noticed the difference
Edited 2 time(s). Last edit at 2019:10:17:20:12:21 by Darraghgirl.
Barty II
09/10/2019 08:05
Honestly can't believe the amount of our 'fans' that have been complaining about Watson's red card on social media. His leg was being held and people seem to thing the "well what was he supposed to do about it?" argument means he had no case to answer. Boot to head under any circumstances is a danger and I can't see how we can have any complaints
Darraghgirl
09/10/2019 19:59
Got 8 weeks reduced to 4 for good behaviour
Sorry, only registered users may post in this forum.