DERBY DAY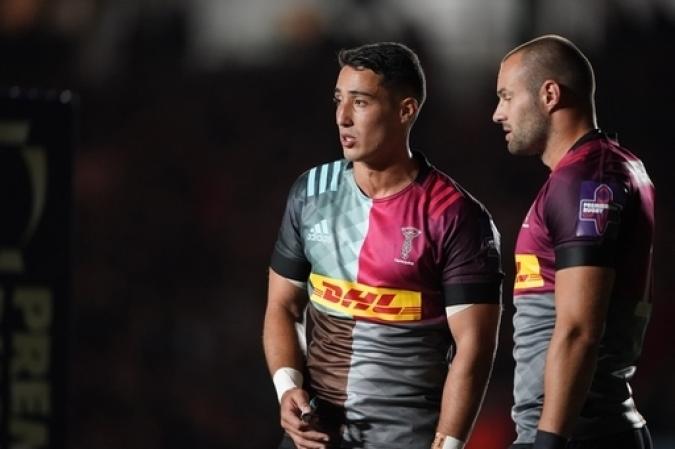 By Darraghgirl
October 10 2019
This weekend sees the final round in the pre-season warm-ups (aka the Premiership Cup) when we welcome the only other true London club, Harlequins, to Allianz Park. This is actually something of a rarity because we nearly always play our "home" game against Quins elsewhere – Wembley, Stratford and now Spurs. In fact the last Premiership match between the 2 at Allianz was back in 2013!
For about half of the Premiership teams, this weekend's game is a "friendly" ie there is nothing in it for them. That is not the case for either of the opponents at Allianz on Saturday. Quins top their group and only need 2 points to be sure of qualifying. Sarries will probably have to settle for best runner up (I don't see Sale slipping up at Irish) but need 5 points from the match to be sure.
So an interesting selection dilemma for the coaches. Quins, like Sarries, have been gradually introducing their first-team players to the team and last week played a pretty strong hand including Mike Brown at 15, Joe Marchant and Ben Tapuai in the centres, Marcus Smith at 10 and Chris Robshaw and Alex Dombrandt in the back row. I assume we will see a strong team on Saturday.
This is the last opportunity for first team players to get a run out but Sarries generally have a history of sticking with the youngsters in this competition. So far we have seen a bit of a mix and match – the core of the team being the youngsters but with a few of the first team squad getting a run out each week (apart from Loz who really does deserve a week off!). One man who will definitely be missing is Charlie Watson after his 4 week ban was confirmed on Tuesday.
So far we haven't seen Alex Goode, Brad Barritt, Dom Morris, Max Malins or Mike Rhodes at all (possibly because of injury?) and Ben Spencer, Ben Earl & Nick Isiekwe have so far only made appearances off the bench. I'm sure Sean Reffell will get the week off and probably Alex Lewington too. So probably the core of the team will remain the youngsters with 3 or 4 first teamers getting some game time as well. Given we should have Figallo & Titi back in a week or so, the front row is looking a bit less vulnerable. I suspect Whiteley will continue ahead of Spencer (as he is the captain) and Vunipola will continue at 10 in case Alex isn't fit for Saints. Maybe we will see something like: Gallagher, Obatoyinbo, Morris, Tompkins, Segun, Vunipola, Whiteley, Adams-Hale, Gray, Wainwright, Isiekwe, Kpoku, Christie, Wray, Earl with maybe Spencer & Barritt on the bench.
Our referee is Anthony Woodthorpe of whom I know very little other than he refereed one of the US Major League Rugby semi-finals this summer. He came through HSRFUR (Hertfordshire Society of RFU referees) so at least he's a local boy!
Once again I suspect the team that wants it most will win but Sarries have something to play for still – and this was the only Cup we didn't win last season!
View a Printer Friendly version of this Story.
DERBY DAY
Discussion started by TheSaracens.com , 10/10/2019 19:27
TheSaracens.com
10/10/2019 19:27
It feels very lonely up here at the moment!
The Eds would desperately like a volunteer or 2 to produce a preview or match report.



Edited 2 time(s). Last edit at 2019:10:20:17:56:10 by Darraghgirl.
Paxton sarrie
10/10/2019 19:51
I will try and have a go this weekend...but cannot promise the literacy heights of previous posters... it will be a north stand view so hope that will suffice...
Darraghgirl
10/10/2019 22:57
Thatís brilliant. Offer gratefully accepted
Sorry, only registered users may post in this forum.