WHERE THERE'S A WILL (SKELTON)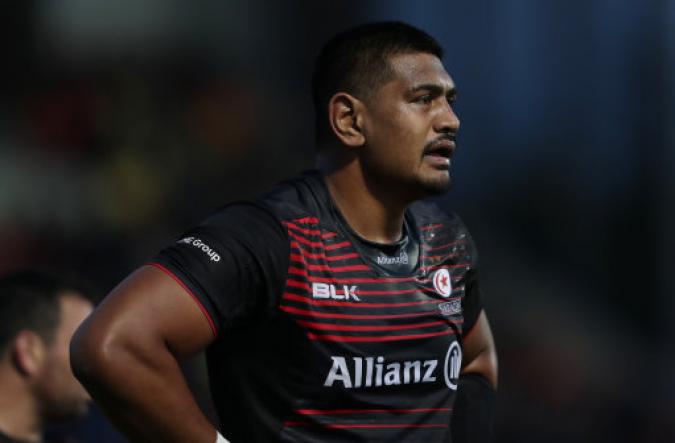 By DG
October 15 2019
I wasn't expecting to do this report but sadly it appears our volunteer hasn't managed to come up with the goods! Given the weather at Allianz on Saturday, and the fact that we sit at the front of the East stand (it may be "gold" but it is certainly wet) there was no taking notes anyway so this brief summary is largely from memory.
We made friends with a family of Quins supporters from Thurrock who pointed out it was tricky for them to get to The Stoop and much easier to get to Allianz ! (So one does wonder why they don't change their allegiance and make life easier for themselves! I like to think we entertained them despite the rain). I was disappointed that yet again the Pudding Van was missing – wasn't it Alex Sanderson's mum or something we ran it? She certainly made exceedingly good puddings! Had to make do with a pretty decent chocolate chip muffin instead.
It was wet underfoot and wet in the air (and in the stands and everywhere else) but there was no wind to speak off as Quins got the game underway. Our Referee, Anthony Woodthorpe, may have been a new face but the Assistant Referee was not and we had an excellent view of the little bald patch on the back of JP Doyle's head.
First blood to Quins with a nice penalty from Marcus Smith before Sarries got going with a lovely try from Rotimi Segun down the left wing (and right in front of us). The guy had it all to do but he still got the ball down in the corner. Shortly afterwards Tompkins made a break into the Quins 22 and off-loaded to Spencer who scored and converted his first try. 12-3 to Sarries became 15-3 with a Spencer penalty and Sarries were definitely on top.
Quins then pulled a fast one when they were awarded a very kickable penalty. As everyone waited around for the kicking tee, Landajo picked up the ball and ran through the sleepy defence off-loading to Mike Brown for a very opportunist score. Smith also converted and it was 15-10.
Shortly after we had the try of the match (definitely); try of the season maybe? I remember Lewington running the ball out of his own 22 then kicking and gathering it himself. The next we knew, Will Skelton was haring towards the Quins 22 with the ball and clearly thinking "what the heck do I do now?" Fortunately Spencer was quickly on his shoulder but Skelton even managed a delightful little dummy pass before sending Spencer over for his 2nd try. Smith landed a penalty on half time to reduce the lead to 22-13. So a pretty satisfying 40. The only concern was the lineout with 2 throws going astray from Pifileti.
The second half was not nearly as entertaining – how could it be? Sarries changed hookers at the interval and took Barrington off and instantly the scrum went pear-shaped. It must be difficult though with a front row who slope upwards in height – Ibuanokope must be a head taller than Crean! To be fair, our young referee didn't really seem to have a thorough understanding of the dark arts and was giving penalties at will first to 1 side then the other. Goode and Barritt made early departures in the second half, their warm-ups completed
Spencer landed 2 more penalties to take the score to 28. Lewington knocked on twice when he really should have scored but once the subs started rolling on, the team lost its shape and it was no surprise that the 4th try never materialised. Near the end, Gabriel Ibitoye, who was, for me, Quins best player, drove over in the corner but Smith couldn't quite land the extras. As the game came to a close we had an interesting back line of Gallagher, Obotoyinbo, Segun, Tompkins, Spencer, Whiteley & Vunipola. The multi-talented Spencer didn't look at all out of place on the wing!
Matt Gallagher gets better every game – if this continues Elliot Daly will be 4th choice full back! Segun is fast and his low centre of gravity enables him to weave his way through bigger defences but his tackling remains a bit of a liability. Vunipola didn't have much opportunity but he let no one down and I think he will provide good cover at 10 until the troops come home. Kpoku replaced Skelton (who was clearly exhausted after his almost-try-scoring exertions) and looked useful alongside Isiekwe. The real concern remains the front row. We urgently need back-up to Jamie George – oh hang on, we bought someone in the summer didn't we only for Eddie Jones to take him to Japan! None of Gray, Pifeleti or Woolstencroft look entirely convincing and the line-out is something of a lottery. Barrington is a good player with Adams-Hale a decent replacement but we are struggling a bit a tight-head. Nothing against Ibuanokope – but he's a tall guy and it seems to unbalance the front row (a bit like the days of John Smit). Welcome back Figallo & Titi – not before time! (even more so if Ibuanokope picks up a ban for a bit of dangerous play – disciplinary hearing tonight!)
So a 4 point win was enough and for the 2nd successive year we go through to the semi-finals as the best runner-up. If we are going to win the competition we will need to do it the hard way – away to Sale and if we win that, away to Exeter or Quins in the final.
But that's in the future, next week the Premiership proper starts. And about time too!
Saracens
Gallagher, Lewington (Whiteley), Tompkins, Barritt (Obatoyinbo), Segun, Goode (Vunipola), Spencer, Barrington (Crean), Pifeleti (Gray), Ibuanokope (Wainwright), Skelton (Kpoku), Isiekwe, Clark, Earl, Wray (Hunter-Hill)
Harlequins
Brown, Ismaiel, Lang, Saili (Northmore), Ibitoye, Smith, Landajo (Saunders); Auterac (Lambert), Baldwin (Elia), Collier (Kerrod), Lamb (Tizard), Young, Robshaw (Dombrandt), Evans, Lawday
Scorers:
SARACENS (28) Tries: Segun, Spencer (2); Conv: Spencer (2); Pens: Spencer (3)
HARLEQUINS (21) Tries: Brown, Ibitoye; Conv: Smith; Pen: Smith (3)
Attendance 5,761
Referee: Anthony Woodthorpe
View a Printer Friendly version of this Story.
WHERE THERE'S A WILL (SKELTON)
Discussion started by TheSaracens.com , 15/10/2019 19:09
TheSaracens.com
15/10/2019 19:09
What do you think? You can have your say by posting below.
If you do not already have an account
Click here to Register
.
Edited 1 time(s). Last edit at 2019:10:24:16:51:11 by Darraghgirl.
A good read DG.

Re Puddings - you can now get them in the Olympic bar.
The Bard
16/10/2019 19:48
A very fair summary. The prospect of Segun having to stop Nairvoro on Saturday is not one I'm looking forward to, however.
TonyTaff
17/10/2019 10:39
Cheers DG. That's some memory you've got there.
£721.05 (*) donated to the Saracens Foundation due to visits to the Sarries frontpage [
www.rugbynetwork.net
]
Please read and submit articles for publication.
(*) As at October 31, 2018.
Sorry, only registered users may post in this forum.