SARRIES STUTTER, SAINTS SATISFIED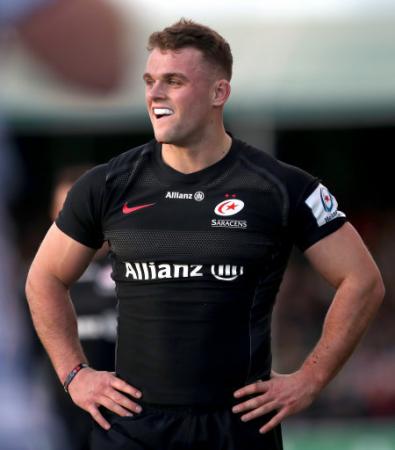 By Innings
October 20 2019
Never late before this game, I missed the fireworks, two minutes walk away, and what seems to have been a well-celebrated penalty immediately after kick-off, whilst walking in from Gate C. However, I was in time for the next penalty, which took the score to 6-0. More interestingly, I was there for Will Skelton's two audition pieces for the World Juggling Championships, a pair of gathers that saw him dextrously passing the ball to himself, hand to hand several times, as he dealt with passes that would scarcely be called accurate.
I had come to AzP with little by way of expectation; after all I had seen a large proportion of Sarries first team doing the nation proud in a very solid performance in Japan only a few hours earlier. Saints DoR, Chris Boyd, would have taken this game to open the season as a preferred option, given his need to win at AzP as a statement of intent, and this was his best chance to get it. Certainly he was shorn of a few key names, including Harrison, becoming a key figure in the Saints' set-up. Like many, I was sorry not to see Hartley, not my favourite player in any shirt, but he has been a key part of the spice between the sides for many a year, and I fear that we shall not see him at AzP, or perhaps anywhere in a rugby shirt, again. Biggar, Lawes, Ludlum and North are strutting their stuff in Japan, but I was not really aware of other key absences. For Sarries, it is easier to look at key names who actually were there on the day. Alex Goode, Jackson Wray and Ben Spencer. Almost no other Sarries starter on the day could, with all goodwill towards them, be considered a nailed-down starter in a fully-fit Sarries squad. Apart from the international exiles, we need Barritt and Rhodes, especially, back.
Any side coached by either MMC or Boyd is going to offer commitment and a certain style. We saw that in this game. Sarries play a predictable game that usually works for them, with periods when there is no attacking benefit in sight, which leads to the kick-chase game that invites the opposition to do better than receive, return or run back at a stifling defence. Saints are learning, and will profit from, a ball-in-hand game, one that shifts the point of the attack at the first setback, that relies on feet on the ground rather than bodies, and which demands instinctive awareness of where to be if acting as a support runner or receiver, and equally instinctive awareness of the passing opportunity, whether before, during or after the tackle.
In the end, however, it was a game in which the players of both sides forced the referee onto centre stage. The error count will be the cause of much discussion on Monday morning, and whilst Boyd will see evidence of players still learning new systems and tempos, MMCV will see youngsters with talent that needs developing into deliverable performance at new levels.
The game itself seemed to be one in which the lead changed hands with every score. There were a couple of moments when one side or the other might have pulled away decisively, but mostly it seemed that every penalty kick, of which there were many, was enough to restore the kicking side's lead. I thought Rotimi Segun shows promise: he brings the real deal in terms of speed and willingness to work, but needs to read the game better, and protect possession more firmly, if he is to push our existing wing options. Matt Gallagher was rather good at 15, took some excellent testing kicks, defended sensibly and his individual game was promising. However, Gallagher and Rotimi together, with a largely subdued Lewington on the other wing, were positionally naïve at times. If the modern game operates the back three as a pendulum, with the 15 as the fulcrum that allows one wing to be up with the game and the other to be supporting the 15 in back-field, at least one of the back three has to boss the operation. Yesterday, there seemed to be times when the right side of the field seemed to be empty and uncovered, inviting Saints to swing the ball fast out to the threatening Naiyaravoro. If he learns to position himself for the attacking run, and gets some defensive skill he will be George North, but at the moment he is Lesley Vainikolo, more threat than outcome. That is not to denigrate his contribution yesterday, but he should be seen as a work in progress, and doubtless his coaches and he will be working on developing the package. He will rarely get the open spaces that he was given yesterday.
If Sarries wish to take some comfort from a game lost, I think it should be in the scrum. Even with some adverse decisions that referee Ian Tempest might have been pushed to explain, I thought Sarries were the better pack. Skelton and Isiekwe, both too quiet in the loose, delivered the heavy drive that we expect, and the distinctly make-shift front row, with the newly-returned Lamositele as the only 'name', were a handful who delivered well, causing Saints often to work with poor ball and under pressure. Jackson Wray usually plays as though he could win games on his own, but of the back row I thought that Earl was the stand out player this time. He is very much in the modern breed, fast, good hands, a decisive tackler and an effective carrier. In saying that I thought he was better on the day than any of the Saints back three, including Tom Wood (was he actually on the pitch?), I may not get much agreement, but for me Earl's game was a highlight.
The game was not improved by the hooker situation. With two hookers in Japan, and Woolstencroft presumably injured, Sarries went deep into the cupboard to start with Pifeleti and with Gray on the bench. The dreaded uncontested scrum disfigured some late minutes, with Pifeleti injured and Gray receiving treatment for a blood injury.
Our half-backs were useful, and Goode operated adequately as 10. However, whatever we gain from him as a ten we lose even more with him absent from the 15 role. That is especially true when the two wings need more leadership than they got yesterday. Tompkins and Lozowski were overshadowed by Hutchinson and Dingwall.
I think that neither coach nor either team will have gone home totally satisfied. The Saints bus will have been very happy that they won an important moral victory and four points, but the coaches at the front will have been mulling over the reality that to beat Sarrie's second XV by the narrowest possible margin is not an indicator if great achievements to come. The Sarrie's bus will have been unhappy to have lost, but the coaches will be aware that this team offers much by way of development potential and that whilst October and early November may be difficult, the club as a whole will anticipate a very different set of outcomes as December approaches.
Gallagher Premiership
Saracens (16) 25
Try: Gallagher Con: Spencer Pens: Spencer 6
Northampton Saints (21) 27
Tries: Ribbans, Hutchinson, Taylor Cons: Grayson3 Pens: Grayson 2
Saracens: Gallagher; Segun, Lozowski, Tompkins, Lewington; Goode (capt), Spencer; Adams-Hale, Pifeleti, Lamositele, Skelton, Isiekwe, Clark, Earl, Wray.
Replacements: Gray for Pifeleti (40), Barrington for Adams-Hale (49), Hunter-Hill for Skelton (76).
Not used: Wainwright, Kpoku, Whiteley, M. Vunipola, Obatoyinbo.
Northampton Saints: Furbank; Collins, Dingwell, Hutchinson, Naiyaravoro; Grayson, Taylor; Waller (capt), Fish, Hill, Ribbans, Moon, Coles, Tonks, Wood.
Replacements: Van Wyk for Waller (54), Symons for Dingwall (62), Sleightholme for Naiyaravoro (62), Painter for Hill (63), Eadie for Tonks (70).
Not used: van Vuuren, Bean, Tupai.
Referee: Ian Tempest (RFU).