SARRIES SUFFOCATE TIGERS' TABBIES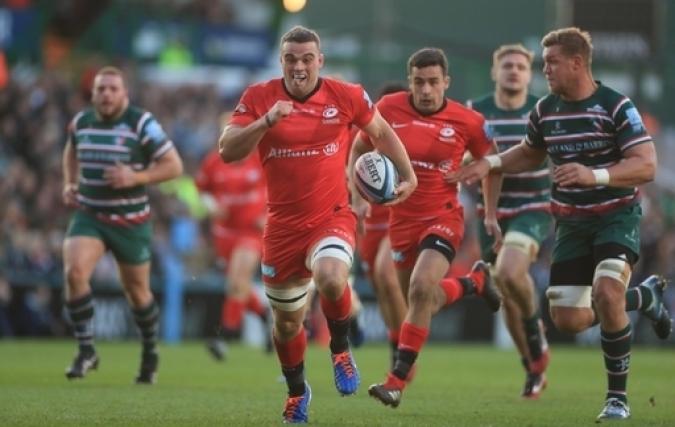 By Innings
October 28 2019
As I write this on Monday morning, I look back on an extraordinary weekend. It began on Friday night with Bath determined to put behind them demolition by Bristol last weekend, and rightly beating a strangely out of sorts Exeter. Then we had the tremendous sight of Eddie Jones's England facing what he calls the best team in the world, literally facing down the All Blacks during the preliminaries, then inviting them to play catch-up rugby for 78 minutes
Both the Sarries and Tigers players taking part there were hugely influential in delivering the result. Come Sunday, and the prospect of a very feisty second semi-final, with Wales and South-Africa (known in this household as ABW, Anyone But Wales) fighting to take the other place, and the losers to face the dreaded combination of the game that nobody ever wants to play against the side that will be determined not to end the RWC in fourth place. Of course, this game could not match the Saturday offering, not least because both sides played as though somehow playing not to lose was good enough to deliver a stirring win. In the end it seemed cruel that Wales lost even the chance of extra time when their captain, Alun Wyn Jones, a titan of the modern era, gave a soft error on the half-way line. That took South Africa down into the reddest of Welsh red zones, where another error gave Wales yet another semi-final defeat. Time will prove that this was the last chance for many of this Welsh side ever to win on the biggest stage of all.
Then it was time to think Sarries. Usually, I use the drive to the ground to worry about whether Sarries can manage another winning performance. The drive to Leicester would have given me plenty of time to work up a real cauldron of doubt, but driving across grandchildren, visiting dogs and visiting family to get to the armchair and remote control gave less time. Nonetheless, and despite Tigers having key absences as well, I feared that Welford Road could not witness an abject display like Tigers at Worcester last weekend. With their own very decent squad of players away as well, Sarries must, surely, face a backlash.
The England game was to have had yet more impact on this game, with Sarries selected scrum-half Ben Spencer hooked by the Eddie Jones crook after the injury to Will Heinz on Saturday. Not to worry, Wiggy was back from coaching Canada and Ealing Trailfinders.
The game started very fast, and fairly early indications were that referee Tom Foley would have to use the finest judgement to differentiate between exact interpretation and looking for a decent game. Both sides were, at times uncharacteristically prone to error. However, there were also some early stirring passages of play, not least the 25 or so phases that saw Tigers threaten the Sarries try-line again and again, in a series that reminded me of that epic battle at Twickenham when a similar number of Tigers phases ended with a Sarries turnover and their first Premiership title. The memory of that moment was gone when a Sarries over-zealous defender gave a penalty that started the scoring. Not to be flustered Sarries then dominated from the restart and were soon addressing the Tigers try-line with equal determination but greater accuracy, eventually delivering a run-in for Nick Tompkins. Not an easy score, but the Tigers guard was on walkabout and the cover defence could not cover everyone.
From then until half-time, Sarries would have been recognisable anywhere, in any shirts. Lose Jamie George, step up Tom Woolstencroft. Lose George Kruis and Maro Itoje, step up Will Skelton and Nick Isiekwe. Lose Owen Farrell, step up Manu Vunipola. Lose Alex Goode, and Matt Gallagher steps in equally seamlessly. The coherence, total commitment to the play-book, and trust in colleagues to be there, doing the right thing were all keys to unlocking the Tigers front door.
As half-time came around, a little passage of play was debated. Nick Tompkins threaded a grubber through into the Tigers' in-goal area, but was bustled to the ground very quickly afterwards. Alex Lozowski was very quickly through, but just unable to make the vital contact with the ball. Had Tompkins himself been in a position to score? Apparently not; other cover was there, so a possible penalty try and card became a simple penalty, under the post, slotted by Alex Lozowski. 3-10 and time for oranges.
Shortly after the break, a top-drawer effort by Ben Earl saw he take a short pass, slide through the hole where the guard was on walkabout, again, accelerate, brush off a couple of weak tackles and use his considerable sprint speed to dot down exactly between the uprights. Alex converts and Tigers down at 3-17, decide to give the game a go. Sarries are actually attacking again for a third try when a too-hopeful pass by Manu Vunipola gives fairly easy intercept, gratefully taken by the very useful Adam Thompstone, who has much of the pitch to cover before redressing the scoreline a little, to 10-17. This galvanises the crowd and players, and from now on there seems to be the possibility that a surprise could emerge. They press the Sarries line hard, and but for some poor execution, not helped by intense lack of air to breathe as the Sarries boa constrictor defence squeezes the air from Tigers' space, a score or two might have come their way. Instead, another Wiggy kick, truly a significant factor all afternoon, a fast chase by Sean Maitland, a bobbling ball off his head, and inevitably Ben Earl there to gather and sprint in from 25 metres. 10-24.
A few last-minute flourishes from Tigers, but error-strewn again, and game over. Tigers sit today in 12th place, the only club without even a bonus point to their name. They are a strangely unenergised side, spending great amounts of energy arguing with the referee and his assistants, but scarcely seeming interested in communicating with each other. Sarries move to fifth, level on points with Chiefs and Quins, but with differential advantage.
Before the game, I seem to recall hearing a comment that Tigers and Welford Road are such a big club, the beating heart of Leicester, that whilst flirting with relegation last season was unthinkable, doing the same again this time would be impossible. As he was speaking, I thought of another game that was played on Friday night, when Leicester City won 9-0 away from home, the greatest margin of victory ever recorded since the Premiership was instituted. I would suspect that the beating heart of Leicester is far more defined by football than by rugby, but the comment caused me to wonder whether Leicester Tigers are simply still living off past glories, seeing a place at the top table as a right, and Leicester Tigers as hereditarily entitled to glory. Perhaps somebody should have taken them down the road during the pre-season, to train at Coventry and Moseley, two local clubs that both once had that mentality. There are rumours that the latest ride-in saviour is to be Steve Borthwick. If that is indeed true, many professionals at Welford Road will soon discover what work ethic and professionalism really mean. Some will not like the learning.
As a final thought, I tried to use the phrase 'Tigers clawless" in this report, but spell-check insisted on "Tigers clueless'. What does my PC know that I do not?
Leicester Tigers: Worth; Thompstone, Viljoen, Eastmond, Holmes; Reid, White; Bateman, Kerr, Heyes, Spencer, Green (capt), Liebenberg, Reffell, Thompson.
Replacements: Wells for Spencer (8), Hardwick for Eastmond (26), Harrison for White (52), Kalamafoni for Reffell (52), Leatigaga for Heyes (57), Olowofela for Thompstone (67), Gigena for Bateman (67), Clare for Kerr (67).
Saracens: Matt Gallagher; Sean Maitland, Alex Lozowski, Nick Tompkins, Alex Lewington; Manu Vunipola, Richard Wigglesworth; Jonah Barrington, Tom Woolstencroft, Titi Lamositele, Will Skelton, Nick Isiekwe, Calum Clark, Ben Earl, Jackson Wray (capt).
Replacements: Adams-Hale for Barrington (53), Taylor for Lozowski (57), Kpoku for Skelton (64), Wainwright for Lamositele (70), Segun for Lewington (78), Whiteley for Wigglesworth (78), Gray for Woolstencroft (78), Hunter-Hill for Clark (78).
Scorers: LEICESTER (10) Try: Thompstone; Conv: Reid; Pen: Reid SARACENS (24) Tries: Tompkins, Earl (2); Conv:Lozowski (2) Vunipola; Pen: Lozowski
Attendance: 18,533.
Referee: Tom Foley (RFU). I though he and his assistants were good today, clear, decisive and on top of the situation.
View a Printer Friendly version of this Story.
SARRIES SUFFOCATE TIGERS' TABBIES
Discussion started by TheSaracens.com , 28/10/2019 13:42
TheSaracens.com
28/10/2019 13:42
Thanks Innings, excellent report



Edited 2 time(s). Last edit at 2019:11:07:09:52:44 by Darraghgirl.
TonyTaff
28/10/2019 17:24
Excellent analysis, thanks.
£721.05 (*) donated to the Saracens Foundation due to visits to the Sarries frontpage [
www.rugbynetwork.net
]
Please read and submit articles for publication. (*) As at October 31, 2018.
Sorry, only registered users may post in this forum.