ACTIONS SPEAK LOUDER THAN WORDS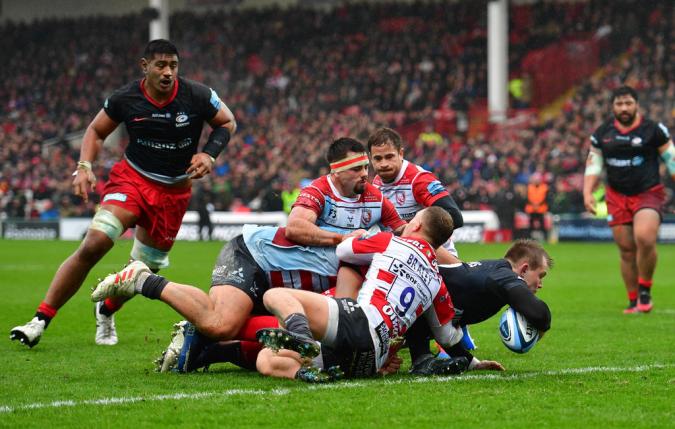 By J O'G
November 11 2019
I should confess that despite having a ticket and being in the West Country on Saturday I didn't go to the game. I was really quite annoyed, upset, discouraged during the week with the news. The puerile antics of the Gloucester management made me feel not unsafe, but probably likely to get into an argument or worse. Not trusting myself I didn't go, but watched on TV accompanied by the odd whatsapp messages from the ground. I'm glad I didn't go, the eventual result would have got me making some sort of vocal statement I probably would have regretted later on. It was pouring down twenty miles north but no wind so I was surprised that it seemed blustery on the TV. Still it was very wet and I was glad to be inside with beers in the fridge.
The game started evenly enough and Gloucester seemed lively. They were working their way upfield reasonably well but seemed to be lacking in the final section of the pitch. The match up between Golden Bracelets and Manu at 10, seemed a little one sided on paper, but as seems normal with the wonder kid he finds the close defence of Saracens to oppressive for him. Like the last three times we have played Glaws, Cipriani went missing all afternoon and has to be an early candidate for the Albanese award next summer. Twice Gloucester worked a penalty advantage around the edge of the 22 and twice Cipriani made a pig's ear of it. The first time he passed into the back of his centre and the second time overcooked the cross kick.
Despite seeming under the cosh for the first quarter of the match, Sarries seemed to have Gloucester's attack under control. The defence was excellent and when the ball was with the men in black, Wiggy was spot on with his box kicks; most of them were contested leaving no time for the Gloucester backs to do anything with their possession and in a couple of cases were retrieved. Eventually Sarries did manage to get hold of the ball in the Gloucester half and were awarded a penalty. It was however outside Manu's range but after the 22 was collected and run back, a short period of possession for the away side around the 22 ensued. Glaws did manage to get the ball back, but then knocked on in front of the posts. An away scrum penalty and no way Manu was missing from there.
This seemed to galvanise Sarries who returned to the Glaws half and were awarded another penalty for offside. It was wide out and kicking to the corner the rumble went on from the lineout. In what became a regular feature of the play, the lineout drive was brought down, but after trying again the away side got close before Nick Tompkins drover over from a ruck twisting his body well. Sometimes it works out better if the first few drives fail because the try is eventually scored by the posts and here it was close enough not to worry Manu. Shortly after the restart there was a sloppy bit of defending after hounding Gloucester almost behind their posts. Morgan, who I though was Gloucester's best player overall noticed the lack of guard and burst away running twenty yards before being tackled. The ball came back quickly and Glaws switched quickly to the other wing where a 3 on 2 was worked well to allow Marshall to run into space from around his 22. As Gallagher approached he chipped over, had a nice bounce and chipped on twice again before dotting down wide out. Great control shown with the feet under pressure and managed to get to the ball just before Maitland almost got there from the other wing.
Fortunately, Cipriani carried on his bad day with the boot and missed the conversion. Shortly after the restart Sarries pressed again and a clever chip from Manu was botched by Woodburn and from the resulting scrum another penalty was awarded. Again it was close enough to the posts for Manu to slot easily. Glaws attacked again but managed to botch up another cross field kick taken easily by Gallagher. A big kick upfield followed and Glaws found themselves deep in their own 22. They cleared, but with the last passage of play Glaws offended twice more in keeping Saracens out. One of the penalties on offer was again under the posts, so Manu finished with 3 out of 4 kicks for a 5-16 first half lead. There were four bits of possession in the opposing 22 by Sarries in the first half and all four resulted in points. Glaws by comparison scored no points from their four visits, their only score in fact from their own 22.
The second half was a turgid affair for the first twenty minutes, with Sarries happy to keep kicking the ball to keep Gloucester close to their own 22 and trusting their defence to keep Glaws pinned there. So it proved with any Cipriani kick being easily fielded and run back under no pressure before Wiggy launched another high kick to land just outside the home 22. As a Saracen supporter I'm sure you are pretty used to this sort of play. It really annoys the home side who don't progress and it makes the home support a bit quiet. Until Sarries won a penalty they could kick to the corner. From first look a try was awarded despite Balmain joining the back of the Saracens drive, not noticed by Maxwell-Keyes. For some reason I could not ascertain the try was chalked off but on the replays, Balmain's side entry was also noted. Another penalty to the corner resulted in the lineout jumper being taken out. I think there was a final warning to the cherry and whites and it seemed to do the trick because from the next lineout only fair defence was used. It wasn't enough to stop Earl dotting down at the back of a ten man drive. Shortly before this there was a shearing in a scrum and seemingly Adams-Hale ended up taking on all 8 Glaws forwards. He went down hard and was replaced by Barrington who won the penalty that was kicked to the corner. I'm worried about our prop cover, because I don't think Adams-Hale will be playing any time soon.
Manu again had two goes at the conversion. His final lift to tiptoes, starting the defence at a run, just like last week. Despite that he still tried to kick it, missed to the left and from the retry missed in exactly the same way. Still a 5-21 lead was a handy position to be in especially as Gloucester seemed toothless. This changed when 36 came on for Golden Bracelets and there seemed more purpose. Gloucester kicked to the corner for probably the fourth time in the match but this time eventually came away with the score. Sarries offended I think 7 times, for a variety of offences. The initial lineout and from a scrum twice after that was taken instead of a lineout again. The crowd was baying for a yellow card, but the Sarries offences in defending their line pretty well matched to Glaws earlier on; although in two stints. Again it was after a final warning that the try came, but 10 minutes or so was eaten up in getting the ball over the line and there wasn't enough time left for Gloucester to win and I think they knew it. To be fair to Maxwell-Keyes a few of the Saracens offences were technical in nature.
With only six minutes left Sarries managed to keep the home side pinned to the corner and as the last few minutes rolled away the crowd reacted as if they were at Northampton, leaving early and in number. At the final whistle only the shouts of a few away supporters could be heard. All in all an excellent response to the travails of the week. I would imagine the total Sarries wage bill of the away 23 would be half that of the Gloucester 23. Possibly not even as much as they are paying Golden Bracelets on his own.
Gloucester Rugby:
Woodward, Marshall, Harris, Atkinson, Thorley (Banahan), Cipriani (Twelvetrees), Braley (Simpson); Hohneck (Rapava Ruskin), Marais (Fourie), Balmain (Ford-Robinson), Clarke, Grobler (Ackermann), Kriel (Polledri), Ludlow, Morgan
Saracens:
Gallagher, Maitland, Taylor, Tompkins, Lewington (Segun), Vunipola (Lozowski), Wigglesworth (Spencer), Adams-Hale (Barrington), Gray (Singleton), Lamositele, Skelton (Kpoku), Isiekwe, Clarke (Hunter-Hill) Earl, Wray
SCORERS:
Gloucester (12) Tries: Marshall, Ludlow; Conv: Twelvetrees
Saracens (21) Tries: Tompkins, Earl; Conv: Vunipola; Pens: Vunipola (3)
Attendance: 13,454
Referee: Craig Maxwell-Keys
View a Printer Friendly version of this Story.
ACTIONS SPEAK LOUDER THAN WORDS
Discussion started by TheSaracens.com , 11/11/2019 16:48
TheSaracens.com
11/11/2019 16:48
Thanks Jeremy



Edited 2 time(s). Last edit at 2019:11:21:19:07:31 by Darraghgirl.
london pride
12/11/2019 10:05
Good report Jeremy, as I posted elsewhere, This was I think,the bravest performance I have seen by a Sarries team for a long, long time.Lets hope Alex Sanderson is right and Sarries can use the 'Hate' (Awful word and I dislike using it) from others to their own advantage and continue to put in displays like that.



Edited 1 time(s). Last edit at 2019:11:12:10:06:47 by london pride.
Sorry, only registered users may post in this forum.