RACING TO 6?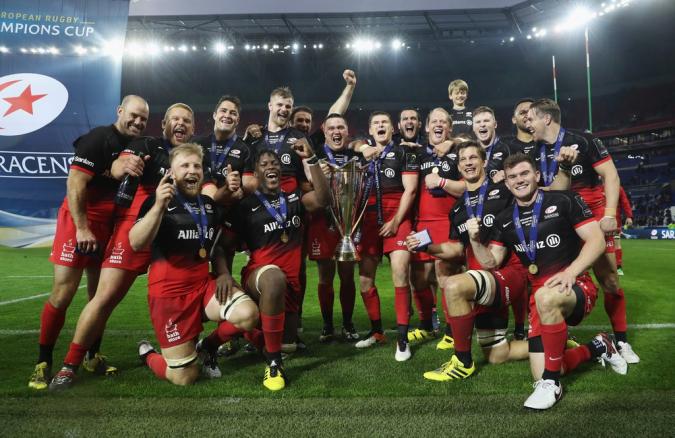 By myleftboot
November 13 2019
Quite remarkably, a win at Le Defense arena would give Sarries a remarkable record of six in a row against Les Ciel et Bleu. These include two of my most treasured awaydays. Obviously Lyon in 2016 is etched in all our memories. Less so maybe, December 2010 in the rather less salubrious, snowbound Stade Yves du Manoir. I couldn't tell you much about the game other than Brad scored in front of me. I can inform you the cameraman deserted his post under a barrage of snowballs, and the number of offers to spice up ones coffee was truly staggering! In many ways that hard fought win in hostile environs, I often look back and think of as one of the key steps in our development as a true European force.
Onto the present, and the return of many of the World Cup stars last weekend resulted in a big turnaround in form. A derby win, with a hat trick from the mercurial Teddy Thomas, lifted them clear of the dropzone, leaving Stade rooted to the bottom. We can expect much the same starting XV with them at home,
Ben Arous, Chat, Oz, Ryan, Palu, Lauret, Claasen, Chouzenoux, Machenaud, Russell Chavancy, Vakatawa Thomas, Dulin, Imhoff.
Being Racing, there is no shortage of reinforcements. Gomes Sa and a pair of Georgians up front, Le Roux should be fit to inject a bit of violence to the second row or flank. Diaz Bonilla a rather interesting Medical Joker I was surprised was omitted from the Argentinian World Cup squad after driving the Jaguares to their best Super Rugby season yet, arrives to help out at ten, and Simon Zebo is ready to sprinkle his stardust across the backline. Two major absences, Ben Tameifuna has been sent to WeightWatchers after managing to gain 20kg over the World Cup, and the sublime Leone Nakarawa is, er, building a house? Hopefully that, and not doing a Caucau.
As for Sarries, recent comments from Mark McCall, and the non-attendance at last weeks presser would suggest all bets are off. The stated desire to concentrate on the League is one thing, the desire of our returning World Cup heroes to start righting wrongs another. I suspect a squad much the same as last week, with a few more reinforcements from those who exited at the semis would be the best guess, especially Rhys Carre to replace the unfortunate Mr Adams Hale, would be the most likely. The way things are unravelling, I would not be shocked to see the Globetrotters out in force. Feel free to edit below the line later this week!!
View a Printer Friendly version of this Story.
RACING TO 6?
Discussion started by TheSaracens.com , 13/11/2019 11:52
TheSaracens.com
13/11/2019 11:52
Thanks Kevin for an excellent preview
Looking forward to a weekend in Paris



Edited 2 time(s). Last edit at 2019:11:24:20:18:21 by Darraghgirl.
TonyTaff
13/11/2019 15:55
Great preview! I miss my digest of Top 14 news.
£721.05 (*) donated to the Saracens Foundation due to visits to the Sarries frontpage [
www.rugbynetwork.net
]
Please read and submit articles for publication.
(*) As at October 31, 2018.
The Bard
13/11/2019 19:15
It was always going to be fascinating even before all of the twists and turns. I heard Max Malins was close last weekend, but whether he'd jump straight ahead of Manu remains to be seen.
Not sure why Wolfie was out of the squad last week, but he could come back into contention.
The fight for the centre jerseys also looks pretty intense.
With Racing along with just about every French team, you always get 30 minutes when they've dozed off so we must make the most of our chances during these periods.
Surbiton Sarries
14/11/2019 16:38
Referee: Andrew Brace (Ireland)
Assistant referees: Stuart Gaffkin (Ireland), Paul Haycock (Ireland)
Television match official: Brian MacNeice (Ireland)
Citing commissioner: Stefano Marrama (Italy)
Sorry, only registered users may post in this forum.