MUNSTER MASSIVE INVADE BARNET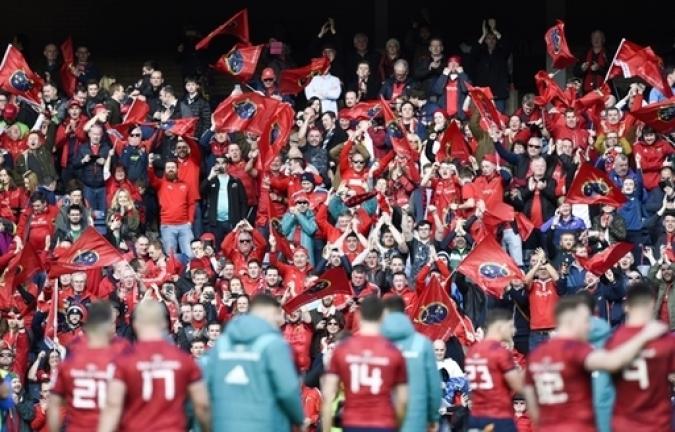 By myleftboot
December 12 2019
It seems a very long time ago when we enjoyed the hospitality of the Mighty Munster at their second home of Musgrave Park for a friendly in 2007. I recall Paul Warwick seemingly winning the game single handedly, and a pub crawl of the ground with an affiliate club having their clubhouse in each corner shortening many travelling fans night on the town! After that came a torrid time at Coventry the season that followed, my first, heart-breaking taste of the rarefied atmosphere of H Cup knockout rugby, and the pantomime villain Alan Quinlan getting the better of HRH to steal victory. Since then, until the recent double knockout, generally the home team has won. Here's hoping!
Munster come to us this weekend gunning for top spot, desperately in need of the head start the Munster roar gives this far from vintage squad. Every week under Larkham you suspect will add more variety in attack, but with Carberry still a week or two away from a return, and still no date suggested for Bleyendaal's return, one suspects, especially with Van Graans concern in interviews this week about how they might cope with a windy Allianz Park, it's going to be the bog standard Pump and Thump from them. Botha picked up three weeks for a forearm smash to the Duracell Bunny, but Cloete should be fit to replace him. More of a concern would appear to be Kilcoyne's absence if they plan to bash us. O'Mahony needs to put in a big one with the Irish Captaincy seemingly up for grabs but he so often resorts to just niggle and whinge against us.
Simple pride would dictate a slightly stronger Sarries team this week. On a more even surface, and some precious minutes under his belt last week, Max Malins will surely have a bigger part to play. With similar conditions fairly likely, Jamie George seems pretty nailed on this week, with many wise heads suggesting straighter arrows could have seen us upset the odds last week. If the sides were unchanged, you would probably be looking at a close win for the home side. The only problem would be who would feel most at home with the typical Munster hordes not likely to be that affected by the proximity to Christmas. With the expected reinforcement hinted at by Mark McCall this week, we can hope for a win. By more than seven would be good, but if the wind behaves, who knows, it ain't over til its mathematically impossible!
View a Printer Friendly version of this Story.
MUNSTER MASSIVE INVADE BARNET
Discussion started by TheSaracens.com , 12/12/2019 16:07
TheSaracens.com
12/12/2019 16:07
Thanks Kevin, as you say it's not over until the fat lady sings...…….. on second thoughts let's not go there!



Edited 2 time(s). Last edit at 2019:12:21:22:54:43 by Darraghgirl.
Nice preview, and not much to argue with.

Dunno about straighter arrows from Jack last week - shorter ones would have been more productive I think. With wind making it almost impossible to land a box kick ahead of the ruck, throwing long did seem particularly daft.

With vital prem games fast approaching and needing to win the two at home (no expectations of a win at Exeter) - I'd imagine that our WC lads need some proper game time - either an hour from the start, or 30 minutes from the bench, to shake off any ring-rust. I wonder if Mark is thinking along those lines. We'll know soon enough - when is the 23 announced?
People are saving their money coming up to Christmas. I think there's only about 20,000 traveling.
BlackheathSaracen
13/12/2019 10:49
Thanks for the interesting preview.

Looking forward to seeing the team selected almost as much as the actual game. As a crowd we'll need to be in fine voice to support whatever team is selected and hopefully the Munster supporter can restore some of their previously great reputation as travelling fans after the fairly unpleasant atmosphere in the European Semi-Final last season.

Minimum the team needs is a win with nothing for Munster which will we be a challenge. A TBP idea but a Mun-umental challenge!
Sorry, only registered users may post in this forum.