MUNSTER RED-FACED, SARRIES IGNITED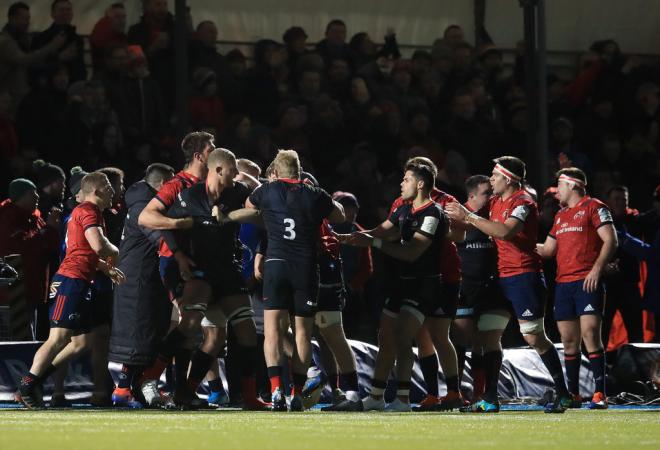 By Innings
December 16 2019
Regular readers of my reports know that the touchstone for definition of dreadful rugby is the infamous game on Boxing Day at Vicarage road against Quins, when a draw was over-generous to both teams, and going away with nothing to either would have been more that they deserved. Well, I have seen this weekend the iteration of that definition. Two sides set out on the road to cementing their chances of European knock-out rugby, but by hoping not to lose, rather than by winning. As a result, we, the poor spectators were treated to the most turgid, uninspired and unambitious rugby served up in a long time.
If you were not there, or have not watched a recording, let me offer you an alternative. On a windy and cold day, with a watery winter sun, take a stool, a pot of creosote and a brush. Find a fence, paint it, sit on the stool and watch the creosote drying for an hour. Alternatively, find a TV, a channel showing sumo and then for an hour watch large men run into each other and fall over. Even after watching the game, and then a recording, I can find no redeeming feature of the first 60 minutes. Munster scored two penalties, Sarries scored one, several Munster players were injured, and the game could have been played in an empty arena for all the enthusiasm that we in the crowd could awaken. The Munster famously noisy supporters, always able to find more than their allocation of tickets, tried to raise a bit of passion, but the depressing fare on offer affected even them. The highlights reel will have only the 35th minute shot of Mark McCall to justify its title. MMC rarely displays great emotion, so it was indeed a highlight to see him either furious / baffled / despairing (select option according to choice) as he prowled the side-lines waiting to arouse his players at half-time.
I chatted with a couple of Munster supporters at half-time. One explained that he was combining the trip with a family visit, which made the journey and stay a particularly expensive way to waste his Saturday, given that he had paid excess baggage charges to bring over family presents. Neither of us could offer any reason for the display, except that both teams had forgotten that the safest way not to lose is to score lots of points.
As the second half reached its mid-point a sudden and serious scuffle broke out, by the ten-metre line, almost under the coaches' boxes. Within seconds, all 30 players, many benchers, and a fair few other interested parties were pushing, hand-bagging and expressing themselves. The scuffle lasted a minute or two, with referee and his colleagues totally ignored as they sought to control the situation. Penalty against Owen for joining in, but no score from it. I shall come back to the outbreak, after the game. For the next and final quarter, Sarries played with a ferocity and edge that had hitherto bee entirely lacking. Two tries arrive, a clever burrow through by Mako, then a brilliant one-handed, back-door off-load from Mako to Sean, that put the latter untouched into the corner. Convert one, not the other, game over, 15-6. Sarries now still third in the table, with Racing leading the pool on 17 points, Munster second on 11, Sarries third on 10, and Osprey a distant last on 1.
Getting home, I treated myself to the recording of Leinster against Saints. What a difference! Leinster played the complete hand, dominating in all phases, scoring seven tries at ease, and demonstrating that whilst Saints at this level, can score plenty of tries, with three of their own, they cannot win if their defence leaks seven. I mentioned recently that Naiyaravoro looks the complete player going forward but that his defence is suspect. Sadly, it is no longer under suspicion; the case is closed, and not in favour of the player's defensive skill. However, overall, the game made rich fare after the starvation rations at AzP, and proved why Leinster attract such passionate and vocal support. Justly, they are now the first team ever to have qualified with only four matches played, whilst Chiefs achieved the same progress at home against Sale Sharks a day later.
And in the cold light of rational thought, what cause the scuffle at AzP? It is alleged that the Munster team doctor wanted to invite Jamie George to join him for a drink in three days' time, calling out that he'd see him at the Fat Duck, in Bray, next Tuesday.
In the noise and bustle of the moment, Jamie heard something quite different. Not realising that Bray is both a village in England with a famous restaurant called the Fat Duck, as well as a town in Ireland without a famous restaurant, the two parted company with some misunderstanding. From such misunderstandings, wars are created. Hence the scuffle. Of course, the alleged perpetrator of the invitation apologised as soon as the situation was clarified, but EPCR has announced that they intend to investigate why any Munster medical man could possibly expect a Sarries star player to travel to Bray in Co Wicklow whilst knowing that the Fat Duck is in Bray, England; after all it is exceptionally expensive and only the best is good enough when Sarries players are involved. I expect this story to have an effect on the staffing arrangements of the Munster medical room.
So, all in all, a thoroughly poor afternoon at AzP, apart from the result for Sarries, a thoroughly good afternoon for the 40,000-plus spectators fortunate enough to have been in Dublin to watch a truly thoroughbred team go through its paces at the Aviva Stadium.
Heineken Champions Cup Pool 4
Saracens (3) 15
Tries: Maitland, M Vunipola Con: Farrell Pen: Farrell
Munster (3) 6
Pens: Hanrahan 2
Saracens: Malins; Maitland, Lozowski, Tompkins, Daly; Farrell (c), Wigglesworth; Mako Vunipola, George, Koch, Kpoku, Kruis, Isiekwe, Earl, B Vunipola.
Replacements: Woolstencroft, Barrington, Ibuanokpe, Clark, Wray, Spencer, Manu Vunipola, Taylor.
Munster: Haley; Conway, Farrell, R Scannell, Earls; Hanrahan, Murray; Cronin, N Scannell, Ryan, Kleyn, Holland, Beirne, O'Donoghue, Stander.
Replacements: O'Byrne, O'Connor, Archer, Wycherley, O'Donnell, McCarthy, Goggin, Cloete.
Attendance: 8,500
Referee; Pascal Gauzere
View a Printer Friendly version of this Story.
MUNSTER RED-FACED, SARRIES IGNITED
Discussion started by TheSaracens.com , 16/12/2019 10:03
TheSaracens.com
16/12/2019 10:03
Thanks to Innings for providing short-notice sickness cover in the reporting department



Edited 2 time(s). Last edit at 2019:12:23:18:47:06 by TonyTaff.
TonyTaff
16/12/2019 12:35
Very witty. Perhaps the dire fayre brought out the best?!
£721.05 (*) donated to the Saracens Foundation due to visits to the Sarries frontpage [
www.rugbynetwork.net
]
Please read and submit articles for publication.
(*) As at October 31, 2018.
Racing, not Clermont...Ö

It's not the size of the dog in the fight, it's the size of the fight in the dog.
Quite so.

Innings

Points win matches: tries win hearts and minds.
The Bard
16/12/2019 22:12
Itís what happens when you have two teams whose defence is in much better shape than their attack meet. The constant resetting of scrums didnít help either.
Worth mentioning the pleasing sight of the scrum being used as an offensive weapon, not merely a restart, leading to Mako's try. Cheered us up in the North Stand no end.

Successful hills are here to stay
Everything must be this way
Gentle streets where people play
Welcome to the Soft Parade



Edited 2 time(s). Last edit at 2019:12:17:10:33:16 by TonyTaff.
Sorry, only registered users may post in this forum.