BEAR BAITING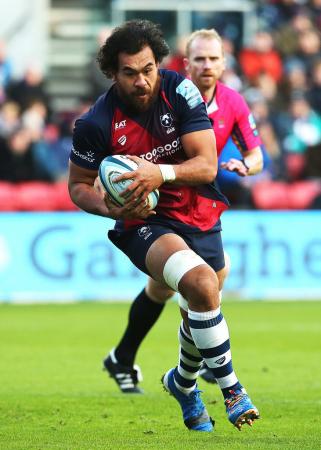 By Darraghgirl
December 19 2019
So this Saturday we are back to the nitty gritty with the arrival of Bristol in the Gallagher Premiership. In this topsy-turvey season, Bristol currently sit in 2nd place just 2 points behind Exeter Chiefs with 17 points from 5 games – 3 wins, 1 draw and 1 loss. Interestingly Saracens are 35 points behind Bristol!
In 2018 Bristol returned to the Premiership and went through a big re-brand, calling themselves Bristol Bears. Owner Steve Lansdown's chequebook came out and the club signed such star names such as Charles Piutau, John Afoa & Harry Thacker along with South African Hooker Shaun Malton, Wallaby scrum half Nic Stirzaker, French prop Yann Thomas, Irish second row Aly Muldowney, Kiwi flanker Jake Hennan & Samoan prop Jordan Lay. The 2019/20 season saw more changes with the departures of Nick Fenton-Wells, Jack Lam, Joe Latta, Sione Faletau, Tusi Pisi & George Smith. In their place Bristol have been relatively frugal recruiting Nathan Hughes and Dave Attwood to their armoury (and next season they have of course landed Semi Radradra).
Coach Pat Lam learned his trade at Auckland Blues and Manu Samoa before joining Connacht for the 2013/14 season. He moved to Bristol in 2017 just as the club had returned to the Championship after 1 season at the top. He was joined by Australian Luke Morahan and All Black Steven Luatua (now club captain). Lam brought Bristol straight back up and the club made a decent fist of last season finishing 9th on 51 points which included an away win at Franklin's Gardens and a victory over Saracens at Ashton Gate.
Interesting facts which link the 2 clubs: –
· Gavin Henson spent time at both clubs!
· Sione Tonga'uiha (remember him) declined to come to Sarries but did come to Brizz
· Both clubs have ground-shared with a football team
· American former Sarrie Thretton Palamo joined Bristol in 2016
· Former Saracens captain Steve Borthwick coached Bristol briefly in 2015
For Saracens, every Premiership game right now is a must-win but home games even more so. As we know well, amassing a squad of world-class players does not guarantee success. However Bristol have a lot of quality in their ranks and will be no pushover. Nathan Hughes said earlier this week: "There is belief in this team, and we talk about it all the time – 23 playing as one Bristol Bears team". Bristol are coming off a good double against Stade Francais in the Challenge Cup at the weekend. Their last Premiership game was a less satisfactory draw at home to Irish.
Bristol have some injury worries at the moment especially around the front row with Jake Armstrong, Lewis Thiede, Jordan Lay, Nick English, Shaun Malton, Yann Thomas, Dan Thomas, Siale Piutau, Jack Bates and Luke Daniels all likely to be absent but John Afoa & Charles Piutau should be fit. Debate on the Bristol fansite is between sending a weaker team and resting the big guns for softer targets or coming to Allianz with all guns blazing. Assuming Lam goes with the latter, I would expect to see something like:
C Piutau, Morahan, O'Conor Bedlow Leuia Madigan Stirzaker, Woolmore, Thacker, Afoa, Attwood, Vui, Luatua Hennan Hughes
As for Saracens – we have to target our home games with a strong squad. Over this Christmas period we have 2 home games (Bristol & Worcester) which even in today's climate we should expect to win (and at least one TBP) plus an away game at Exeter. It wouldn't surprise me to see strong teams at Allianz and the Academy lads making the trip to Sandy Park (assuming Exeter have decided to play us). Second guessing Mark McCall is a mug's game but here goes:-
Malins, Maitland, Taylor, Barratt, Segun, Farrell, Spencer, Carre, George, Koch, Itoje, Kruis, Isiekwe, Earl, Wray.
Apparently the game is a sell out so we'll all be there in our Christmas jumpers and Santa hats wishing everyone compliments of the season. Referee is Tom Foley. I shall say no more.
For Saracens, these are all must win games. Not just that but we have to look for a try bonus in our home games too. Let's hope for an extra special Christmas Present from the lads on Saturday. Merry Christmas everyone.
View a Printer Friendly version of this Story.
BEAR BAITING
Discussion started by TheSaracens.com , 19/12/2019 09:52
TheSaracens.com
19/12/2019 09:52
What do you think? You can have your say by posting below.
If you do not already have an account
Click here to Register
.
Edited 1 time(s). Last edit at 2019:12:27:09:10:38 by Darraghgirl.
Sara'sman
19/12/2019 10:16
Interesting as always DG - not sure Borths even managed to put on his tracksuit before Jones came calling. Bristol are playing a very attractive game and, like last year when they led till the Smith red (which I thought correct at the time and still do despite the ruling), will pose a threat whenever the game becomes loose. I too think we'll go all out, though perhaps with Daly and Billy too - Storm playing Braves on Sunday.

Elsewhere I'm wondering what team Baxter will put out this week - might suit him to rest many of his first choice against Tigers!
Yann Thomas is from Bristol (the only French connection is that he played for Rouen for one season before Bris brought him home).
Malton, Stirzaker, French Muldowney, Hennan and Jordan Lay not big names when signed and none has YET to be one first choice (but great 2nd/3d choice currently).
I think the story is more about young British players (many from Bris academy) establishing themselvres in the first choice squad - O'Connor, Sheedy, Uren, Randall, Woolmore, Dan Thomas, Protheroe and now Bedlow and Fricker. The team is a mixture of such players plus some more pricey star-dust.
myleftboot
19/12/2019 18:12
I like Pat Lam, and like the way Briz are developing, both their staff and playing style. I'd like to see them come to Allianz full diddly. If they have any ambitions on silverware, these are the games they have to get in the habit of not looking at as dead rubbers. If correct, Woolmore/Thacker looks like a clear target at the scrum, and the 9/10 channel, Madigan has that tag for a reason!
Madigan looking as if 3rd (or even 4th) choice this season - it's Callum Sheedy you'll be facing if we do come full diddly
Scrum-time has been very good last season and this one in the main - but Sarries offer the biggest test when packing down at the scrum so will be interesting to see what happens. Let's hope we knacker your forwards out in open play so they need a breather during the scrums.
Prop Joe
19/12/2019 20:35
Woolmore/Thacker looks like a clear target at the scrum, and the 9/10 channel, Madigan has that tag for a reason![/quote]


If there are weaknesses to Woolmore's game it is not at scrum time. He was a Championship prop with Jersey a couple of years ago who beat us up at scrum time. There has been talk of Ellis Genge returning to Bris but many fans on our site are more than happy with Woolmore. Hope I don't jinx him but would not be surprised if he features for England in future ( obviously behind our old boy Mako). Thacker can be phenomenal in the loose but because of his size is not the greatest scrummager.



Edited 1 time(s). Last edit at 2019:12:19:20:36:51 by Prop Joe.
myleftboot
19/12/2019 20:38
Best team wins Rich! Yeah, Sheedy is growing up the right way, shame for Madigan, but that's the way it rolls. I've been surprised how well your scrum has operated, but, yeah, if Koch and Jamie are attacking that side, oof! Everyone looks at the super stars, it's the ones people outside your support don't know tend to be the really vital ones, especially when it gets really muddy over Christmas!
You're so right myleftboot - and that is why Worces continue to surprise us oppo fans and (perhaps) other teams.
Sara'sman
20/12/2019 17:17
Quote:

Sara'sman
Elsewhere I'm wondering what team Baxter will put out this week - might suit him to rest many of his first choice against Tigers!
"The visitors are resting international stars Alec Hepburn, Luke Cowan-Dickie, Sam Simmonds, Nic White and Jack Nowell completely, while Aussie lock Dave Dennis is only named amongst the replacements for tomorrow's game."
From
here
. I don't think Rowe and Baxter will be too upset if Ex don't win against the 11th club this week, provided they defeat the bottom one next of course!
Sorry, only registered users may post in this forum.