ALL SHIP-SHAPE AND BRISTOL FASHION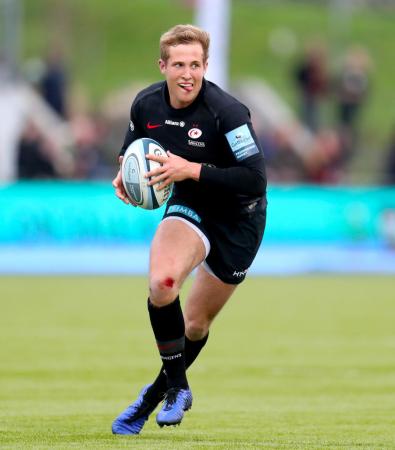 By DG
December 21 2019
The last Saturday before Christmas and those who could escape Christmas shopping gathered at Allianz for the final Premiership game of the decade. Father Christmas was there of course accompanied by a throng of circling gulls, as if he had arrived by trawler not sleigh. There was a distinct lack of mince pies on offer – maybe victim of the austerity drive to pay the fine? But there were Santa hats a plenty, Christmas jumpers, tinsel and Jeremy Secomb, our very own west end musical star singing Christmas songs.
There was confusion at the kick-off – surely someone knew who won the toss? Bristol started with the ball only to hand it over to Faz who kicked off into a surprisingly strong breeze. The first 5 minutes consisted of a lot of kicking with Sheedy's attempts going noticeably further than Faz's. Foley made a right dog's breakfast of the first scrum (if they can't get it right on an artificial pitch god help them in the mud at every other ground) and in the end Bears got a free kick on the umpteenth Saracens put in. Malins made the first of several delightful breaks; Daly kicked the ball on but the bounce took it into touch instead of towards the try line. Bears threw a long lineout (why don't we ever seem to anticipate these?) and the danger was cleared. This time it was Maitland who put Ben Earl free but he was hauled down on the 5m line and just knocked the ball forward. Another scrum took forever. Foley had stern words with the hookers. Jamie looked bemused. Finally the scrum was completed.
Then it all went wrong. Andy Uren intercepted a lazy pass and set off for the Bristol try line. Daly showed a neat turn of foot and tackled the scrum half close to the try line. Bristol recycled the ball and after a few drives the ball was chipped out to Morahan on the wing. Faz didn't seem to get off the ground allowing the Aussie an easy catch and a score in the corner. Sheehan kicked a neat conversion and against the run of play Bristol were ahead.
Once again Malins showed his pace, breaking into the 22 and offloading to Spencer who was hauled down a few metres short. Brizz knocked on and Sarries had a scrum under the posts. Once again it seemed to take ages (sorry but one has to blame the referee) and ended in a free kick to Sarries. While Bristol were thinking about resetting, Billy tapped from the back, got the ball to his brother who with the help of Jamie George was driven over. Faz kicked the extras and we were level at 7-7.
The brightness of the previous few minutes was then extinguished like a Christmas candle. First an attempted clearance was charged down and went over the dead ball line. From the restart Sarries offended and Sheedy went for the posts to put Bristol back in front. Sarries continued to play in a fug. A careless grubber from Faz was intercepted by Sheedy who in turn booted it downfield the other way. Spencer chased but just knocked the ball back with his hand. It bounced awkwardly as Spencer and Fricker both lunged desperately for the ball. Foley went to the TMO. It looked like maybe Fricker touched it first but the ball was over the dead ball line. The TMO agreed. No try. Scrum 5 Bristol. This time penalty to Bristol which was kicked to extend the lead to 7-13.
It started to rain which means my notes are illegible for the next few minutes. Sarries attacked the Bristol try line. Did Itoje get the ball down? TMO again – held up: so Sarries' scrum. 5 minutes left in the half and Sarries are besieging the Bristol tryline. A penalty in front but bravely Faz turned down the points and we had a scrum. A free kick again. Billy tried to reprise his tap off the back but Bristol turned the ball over. This time a Bristol scrum in the same place produced a Bristol penalty. A collective groan from the crowd. 3 points gone begging then.
Sarries managed to steal the lineout and were back on the 5m line. Sarries' scrum and this time the penalty to the home team. Again Faz turned down a certain 3 and put the ball in the corner. Bristol offended at the maul. Malins broke and almost put Maitland in but he was just short. So we go again. Another kick to the corner. Another maul. Another penalty. Not even a warning from Mr Foley to Luatua. The crowd are not happy. And again. Back in the corner. Another maul, another penalty conceded and finally, with encouragement from Brad and the crowd, Foley spoke to Luatua. So we go again. The clock is nearing the red. Another maul, Foley's arm out again but this time the ball came out to Malins who scored under the posts giving Faz an easy conversion. We watched Foley. Surely there should be a card? But no everyone trooped off for oranges and mulled wine. One felt that had Malins not scored, the card would have been waved so why should Bristol be let off? Ask Foley!
The phrase "game of 2 halves" is used a lot but I would love to know what went on at this half time. Did Santa sprinkle some stardust. Did the elves work a bit of magic? Did the reindeer use their antlers? Whatever, the team which emerged for the second half bore no recognition to the one which had departed 15 minutes earlier. True Sarries had the wind behind them but if anything the breeze had dropped a bit. Within seconds Earl had won a turnover and Tompkins broke free and scored under the posts. Another easy conversion and Saracens lead was suddenly 21-13.
Sarries now had the bit between their teeth. Bristol had a lineout on their 5m line. Yet again a long throw seemed to catch Sarries napping but Billy fielded the kick and Malins produced another bewitching run. Foley was playing advantage again but this time Ben Earl broke free and scored the bonus point try. Faz converted for a comfortable 28-13 lead. From the restart Sarries were once again on the attack. Bristol conceded 2 more penalties and finally, after howls of derision, Foley found his yellow card and sent Harry Thacker to put his feet up for 10 minutes.
The changes began. Wiggy, Skelton & Titi replaced Spencer, Kruis & Koch. Bristol were forced to take Fricker off to bring on Capon, their replacement hooker. Sarries took a while to make the most of the numerical advantage but eventually Maitland made an excellent run down the wing and off-loaded to Malins via a Bristol head for the 5th try. The TMO had a good look but Maitland, like the class winger he is, knew exactly where the touchline was and offloaded the ball in the split second before he touched the whitewash. Faz missed the extras but it was now 33-13. Mako and Jamie wandered off to be replaced by Carre and Singleton.
Foley had called 2 lineouts not straight earlier in the game but missed a horror from Capon and then penalised Itoje. Justice was done when Itoje played havoc with the subsequent Bristol lineout. Daly's long probing kick took Sarries back to the Bristol 5m line. Wray, on for Billy, got the ball to Malins who lobbed on to Maitland but he was just short. Barritt emerged from the ruck and with a superb leg drive took the ball and 2 Bristol defenders over the try line. Faz converted for 40-13.
Maitland departed, worryingly holding his shoulder, along with Faz, leading to a reshuffle with Daly going to fullback, Taylor and Lewington on the wings and Malins to 10. There was a superb 1-handed take from Daly and a lovely chip ahead from Malins which produced yet another penalty following pressure from Earl. Sarries won a line out. Barritt chipped ahead and Tompkins swooped, collected the ball with 1 hand and scoring under the posts. Another long examination from the TMO but Tompkins was onside so the try stood. Daly kicked the extras for 47-13. It looked like Brad had got on the scoresheet again but the "try" was chalked off because of a double movement. The game ended with Bristol trying to attack but being forced backwards, mainly by Itoje who was still tackling as strongly on the 80th minute as he was on the 1st.
So all in all a good win. A very underwhelming first half but the team got it together at half time and looked like a different outfit in the second half. Going into the festive season, we are now -13. (Interestingly without the deduction we would be top of the table, 2 points clear of Exeter).
Malins was outstanding and deservedly won man of the match but Ben Earl was a close second. The future of the club is bright.
Wishing everyone – players, coaches, staff, pioneers, supporters and everyone else, a very Merry Christmas and a Happy New Year. We can do this!
SARACENS
Malins, Maitland (Lewington), Tompkins, Barritt, Daly, Farrell (Taylor), Spencer (Wigglesworth), M Vunipola (Carre), George (Singleton), Koch (Lamositele), Itoje, Kruis (Skelton), Isiekwe, Earl, B Vunipola (Wray)
BRISTOL BEARS
Piutau (Lloyd), Morahan (Randall), O'Conor, Bedlow (Leiua), Fricker, Sheedy, Uren, Woolmore (Lay), Thacker (Capon), Afoa (Lahiff), Joyce, Vui, Luatua (Hamilton), Heenan, HugheS
SCORERS
Saracens Tries (7):- M Vunipola, Malins (2), Tompkins (2), Earl, Barritt; Conv: Farrell (5) Daly
Bristol Bears Tries: Morahan; Conv: Sheedy; Pen: Sheedy (2)
Attendance 8,500
Referee: Tom Foley RFU
View a Printer Friendly version of this Story.
ALL SHIP-SHAPE AND BRISTOL FASHION
Discussion started by TheSaracens.com , 21/12/2019 22:53
TheSaracens.com
21/12/2019 22:53
wishing everyone a very merry Christmas and a happy new year



Edited 3 time(s). Last edit at 2019:12:30:18:01:19 by Darraghgirl.
The Bard
22/12/2019 08:00
An excellent festive review! We seem to be breeding outstanding second rows and full-backs at the moment! If you'd gone along as a neutral to see a masterclass from world class full-back you might be forgiven for muddling up who was who!
Sara'sman
22/12/2019 10:06
Well that's my early Christmas present delivered - thanks guys, great viewing. Even before our late try in the first half I felt confident that we'd brought our A game and should win. Perhaps our kicking was off a little, Ben having to adjust with poorly presented ball at times and Bristol's tackling and covering impressive, but our scrum and especially lineout was dominating and we were winning collisions in both defence and attack, playing into the Allianz Gale. Some delightful attacking too, often with Malins at its centre.

Was there an underused tactic employed to great effect in the second half? Quick, short pop passes and inside balls used to great effect. Defence was immense with everyone pushing Bristol's carriers backwards time and again. Is there a better lineout than George throwing to Kruis/Itoje/Isiekwe - KrItIs?
I sort of added up that in the first twelve minutes, excluding time with the clock stopped, there four scrums that in aggregate took over five minutes to execute. Tom Foley may love the pedantry of perfection, but the game has to sort this if it has any chance of becoming a mainstream sport. watching the formation and re-formation of "Cro...uch........ Bi...ind....... Se...et," whistle and start again is not what anyone pays a pound a minute to call a spectator experience. Ball in play time is normally less than half the 80 minutes: referees have a responsibility to speed up the game, not to pamper players who need a sneaky breather.

Equally, what is the point of telling the scrum-half to "Use it" if you then allow him a further full allowance of time to get round to twitching his head twice and eventually picking up the ball? A quick law change that gives him, say, eight seconds from the time his foot or hand first touch the ball would stop this poncing about and trying to milk penalties.

Innings

Points win matches: tries win hearts and minds.
Quote:

Innings
Equally, what is the point of telling the scrum-half to "Use it" if you then allow him a further full allowance of time to get round to twitching his head twice and eventually picking up the ball? A quick law change that gives him, say, eight seconds from the time his foot or hand first touch the ball would stop this poncing about and trying to milk penalties.
Scrummy is currently allowed 5secs from the ref's call of use it, letting him have 8secs would seem to defeat the purpose.
Totally agree that everything needs speeding up from scrums to the line-out huddle and stroll into position. What to do about is not so simple though. Its easy to blame the ref but if the props keep infringing to try and gain an early advantage what is he to do ? It must be so difficult to 'guess' which side is the guilty party and most times I would suggest they are both guilty of something. I thought about stopping the clock between the awarding of a scrum until the ball is successfully put back into the scrum. It may not speed things up initially but it would make the fat boys think a bit harder if there was another 20mins still to play when otherwise the game would be over.
Sorry, only registered users may post in this forum.