Chiefs do their thing - sarries don't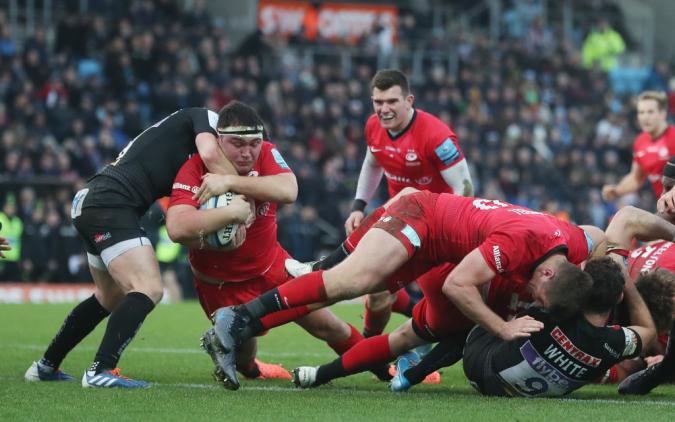 By Innings
December 30 2019
This was a game with more sub-plots than a struggling TV soap opera desperate to earn Christmas ratings. Every journalist had their own strap-line, of which my favourite was to bill the game as 'Sinned Against v Sinners'.
Even before the game, I noted three little pointers to how that game might affect interested parties. Jack Nowell was evidently pleased to see and welcome England team-mates Jamie and Elliot. Mr Tony Rowe was a picture of ill-will towards his visitors, but his crowd were apparently of the opinion that spats between club owners do not preclude the paying public from applause, however light, as the visitors take the pitch.
The weather was just right for Sandy Park, dry in the air, drying well underfoot and a strong breeze coming, as is traditional, up the estuary. Sarries seem to have won the toss, and as usual opted to play into the breeze.
In truth, much of the drama was written and revealed in the first ten minutes. Owen played as flat as you like, and offered himself the problem of never having time to manage the back line, because Chiefs had clearly decided that stopping distribution would negate the threat of Sarries backs. The tactic began well, because on about six minutes, a woeful pass by Owen ran behind the back line and bobbled on for Nic White to gather and score. This opener was wake-up call, and Sarries responded by working the ball into Chiefs' half, where two penalties offered Owen a six-point recovery. One can claim wind damage, but it is reasonable to expect a front-line international kicker to score both. He got neither.
The remainder of the half was one in which Sarries could and should have redressed the score-line, with six visits to the Chiefs' red zone, for no return. They were held up, knocked forward, not released in the tackle, and any other reason that you care to mention. Chiefs were wholly responsible, with their defence working harmoniously and with efficiency that Mark McCall must have appreciated.
Totally unsurprisingly, a second Chiefs' try came ten minutes after the break, giving Sarries 14-0 to overturn, not an impossibility now they had the wind behind them.
The second half was frankly poor by Sarries, and two incidents demonstrate that poverty. Wayne Barnes had to call Owen over, to explain the need for himself as the referee to referee, and for Owen to revert to playing rather than trying to do Wayne's job for him. Not long afterwards, Billy found himself equally in a bad part of Mr Barnes' book. Billy got into a pointless argument, but then lost the plot by failing to back away despite being told three times to do so, followed by a warning that if he stayed where he was he'd go to the bin. If Billy's team-mates had not led him away, looking like a completely lost child, I think Billy would, correctly, have been in the bin less than a minute later. The expression of bewilderment on his face summed up much of Sarries' game.
In between the diversions, we saw the unusual picture of a club scrum dominating a pack that contained four current England internationals, a South African world cup winner and assorted other internationally experienced players. A pedantic referee might well have treated the Sarries pack more harshly. The line-out was a lottery for both sides as well.
As the game wound down, a minor handbag sale on the side-lines escalated into a significant melee. Players, bench players, team support staff and others seemed to be involved, but Mr Barnes decided that the ignition was provided by Harry Williams, a starter but now substituted, flying in from the bench to join in. Red card for Harry, joked about by Tony Rowe, but it may be Harry's good record and biscuit discipline that get him only a single match suspension.
As always, the confusion of substitutions, blood and HIA replacements and returns, made the task of knowing who was playing where in latter stages of the game ridiculous. But, with the line-out fragile, why did MMC not use George Kruis?
Sarries do score right at the end, but even that took a decision by Mr Barnes to award a penalty try after yet another Chiefs' player came into a driving maul from the side.
So, 14-7 at the death gave a single point for a difficult fixture. As MMC said, not a disaster, but the gap to the 11th place has widened again, with Wasps winning easily in tenth and Tigers drawing in 11th.
For me, there was only one MotM. Nic White was horrible, and in the best tradition of horrible scrum-halves, he chased, harried, bullied, encouraged, scored a try and prevented his opposite numbers, nine and ten, from finding rhythm or accuracy. What more would any one need from their nine on a day like that?
Finally, do you wonder why rugby remains a minority sport? Ask no more:
The laws of the game mandate time limits for penalty and conversion kicks. That law is never, but never, enforced.
Does it need to take as much as three minutes for a scrum to set, re-set and then collapse for a penalty that nobody can ever explain?
Does a lineout have to involve a huddle, re-tied shoelace, followed by a ballet that would look better on the stage at Covent Garden?
Does every scrumhalf have to spend as much as ten or fifteen seconds preparing his clearance kick, with the old caterpillar back in fashion?
The game is slow, rarely really flows beyond four or five phases, and referees treat the laws about time allowed as unnecessary pedantry. People pay to be entertained, and these aspects of the game are not entertainment. World Rugby likes fiddling with the laws of the game, but could they do better by insisting that referees enforce the laws that are there already? If professional rugby wants to develop, it needs to think more about the paying public and less about the waffling pundits who love the breaks in play as excuses to air their own voices.
Exeter (7) 14
Tries: White, Vermeulen Cons: J Simmonds 2
Saracens (0) 7
Try: Penalty
Exeter: Hogg; Nowell, Whitten, Devoto, Woodburn; J Simmonds, White; Hepburn, Cowan-Dickie, Williams, Dennis (capt), J Hill, Ewers, Vermeulen, S Simmonds.
Replacements: Taione, Moon, Pieretto, Kirsten, Armand, Maunder, Steenson, S Hill.
Sin-bin: Williams (25 mins), Ewers (79 mins).
Red card: Williams (77 mins).
Saracens: Malins; Maitland, Taylor, Barritt (capt), Daly; Farrell, Spencer; M Vunipola, George, Koch, Itoje, Skelton, Isiekwe, Wray, B Vunipola.
Replacements: Singleton, Carre, Lamositele, Kruis, Earl, Wigglesworth, Lozowski, Tompkins.
Referee: Wayne Barnes (RFU).