SALING INTO THE WIND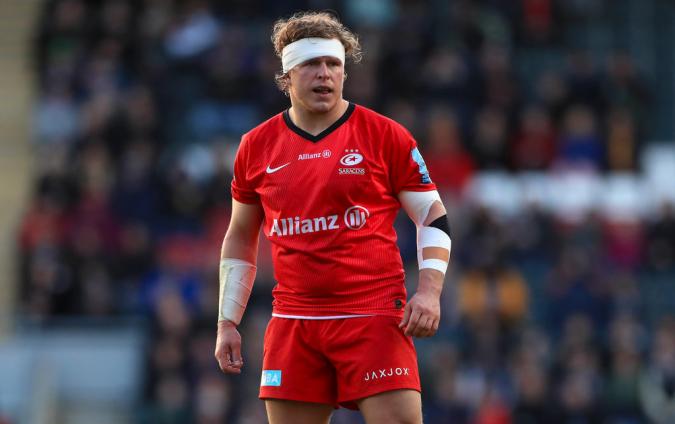 By DG
February 16 2020
This was the first home Premiership game since our inevitable relegation was confirmed and the weather forecast was awful with the arrival of Storm Dennis so I did wonder what sort of attendance and what sort of atmosphere we would find at Allianz Park. Well it was very wet and windy but there was a surprisingly good crowd who, despite the elements, were in good voice. Another pleasant surprise was the appearance of Wayne Barnes with the whistle – a rare guest to Barnet and so much the better because of that. In fact it was a pretty strong refereeing team all round with 2 other referees, Tom Foley & Hamish Smales, running the lines. Advance apologies for any reporting inaccuracies – I was having to make notes under a very wet groundsheet which was keeping my legs dry but the pages got increasingly soggy and illegible as the game went on.
On paper, the Sale team looked stronger although the continued absence of Faf de Klerk was bound to be a factor and it was nice to welcome back Chris Ashton for, I think, the first time since he left for Toulon. The Sarries team was "best available" given International call-ups, injuries and suspensions but the presence of Brad Barritt in the centres is always reassuring as was the return of Alex Goode, this time at full back with Manu Vunipola deservingly being trusted with the 10 shirt.
Sale chose to start with the wind (which probably suited Sarries down to the ground). Manu kicked off into a howling gale. His kick barely made the 10m, having travelled almost as far backwards as it went forwards. The flight of the ball proved to be a lottery all afternoon as no one had any idea where it was going to land. In the end Whiteley managed to grubber kick it into touch on the edge of the Sale 22. The Sale line out went straight over the top and into the grateful arms of Rhys Carre who powered over the line for a score within a minute. £1000 to Michael Fatialofa's fund. Alex Lewington was the unlucky man who had to lay on the floor and hold the ball for Manu's attempted conversion. The way the goal posts were swaying in the wind must have made him wonder if he was drunk. In the end it was a very decent attempt but just slid wide. But 5-0 was an excellent start.
Sarries tried to milk a penalty at the scrum but Barnes wasn't having that and eventually it was Sale who won a kickable penalty which Rob Du Preez judged perfectly. Manu replied with an excellent 3 points of his own after some strong carries from Woolstencroft and Kpoku, this time Whitely doing the job of ball-holder. Sale's restart ended up over the dead ball line and another penalty was conceded shortly after. Once again Whitely held the ball, rolling forward to gain a metre or 2 – but nothing escaped the beady eye of Mr Barnes and Whitely had to roll back. It didn't matter because this time Loz kicked superbly into the unpredictable gale for 11-3.
Sarries' kicking game into the wind was well managed, keeping the ball hard and low. Whenever the ball got any altitude, usually from a Sale boot, it was a complete lottery as to where it would land. Both full backs however were very solid, given the extremely testing elements, and once again I was forced to wonder why Eddie continues to ignore Alex, and he could do worse than consider the impeccable Simon Hammersley who was superb all afternoon. The line out was also a complete lottery and from one of these Alex Lewington made a good break towards the line, being tackled just in time. He off loaded to Whiteley and there was a strong suspicion of a knock on but Barnesy let it go. In the end the move broke down but we went back for a Saracens penalty and once again Manu, with the help of Whiteley, obliged. It looked like Sarries would go in at half time 14-3 ahead, a very useful lead given they would have the benefit of the wind in the second half. Sale took a line out with seconds to go, everyone went to sleep, Hunter-Hill left a gap which Byron McGuigan took advantage of and Sale were over. Rob Du Preez once again judged the wind perfectly and Sale would have been far happier at 14-10.
Loz didn't appear for the second half (he had appeared to take a knock at the end of the first half) and was replaced by Taylor sporting a fetching ponytail – which lasted about 5 minutes. It soon became apparent that Sale were really struggling with the breeze. They continued to hoist towering box kicks which went backwards, sideways, occasionally forward but rarely landed in Sale arms. Good work by Carre and Wray found Alex in the Sale 22. His perfectly judged lob was chipped on by Barritt out to Segun on the wing for try no 2 in the corner (and £2000 now to Michael Fatialofa's fund). Manu landed a really classy conversion for 21-10. Better still, Sarries were awarded a penalty from the restart. You really can't mess with Mr Barnes! Apparently he awarded Sarries the penalty after a misdemeanour by Byron McGuigan during the scoring of the try was compounded when McGuigan asked our Wayne what he'd done wrong! Manu put the ball down on the halfway line then kicked the goal like he'd been doing it all his life. Who needs Daly?
Changes started with Baz replacing Carre (who had done very well) and Spencer replacing Whiteley. Sale were really at sea with the wind and an attempted clearance from their 22 was charged down by Isiekwe who followed the ball over the line and just managed to fall on it before he and the ball sailed over the dead ball line. Barnes asked the TMO to check but the try was awarded. (£3000 for the Michael Fatialofa fund). Spenno's turn to hold the ball and he clearly didn't have Whiteley's touch because this time the ball cannoned off the swaying posts but fell the wrong side of the line.
From the Sale restart, the ball eventually made it towards the Sarries' 22 (for the first time this half I think, such has been Sarries' domination since half time). An attempted clearance was charged down by a Sale player and it looked like almost a mirror image of the Sarries' try but the ball bounced against the bottom of the post and Alex Goode showed his class, picking up the ball with one hand without breaking stride, beating the Sale attacker and clearing the ball. He is such a natural talent this guy.
Lots more changes including Crossdale (making his premiership debut) for Lewington, Reffell for Kpoku and for Sale, Denny Solomona for Ashy who had been largely anonymous on his return to his former hunting ground. Sarries continued to turn the screw, winning a series of penalties deep in the Sale 22. We wondered how many different penalty offences there are in the Laws of Rugby, because Sale went through most of them – and Mr Barnes knows those laws like the back of his hand and wasn't giving an inch. Eventually after huge pressure on the Sale line, Baz scored the 4th try. (Bonus Point! Not that it matters – but more importantly £4000 to Michael Fatialofa). A superb conversion from Manu made the score 36-10 with about 10 minutes left. More changes with Singleton and Ibuanokpe completing a new front row and Andy Christie replacing Wray. There was a huge crash as some beer barrels blew over. Sale managed to concede a penalty for crossing (another new offence) and Alex finally missed a high ball – noteworthy in itself on a difficult day for full-backs. Sale were starting to find their feet (how often does this happen when there are mass substitutions). They took a quick tap penalty and James found Dan Du Preez who scored Sale's second try. Brother Rob kicked the extras for 36-17. Sale seemed rejuvenated and pressed into the Sarries 22 for really the first time in the half forcing a scrambled defence. McGuigan broke free. Goode managed to get back and tap tackle him but couldn't stop the off-load to Rob Du Preez who scored Sale's 3rd. A drop conversion failed but Sale had clearly realised they had a couple of minutes to rescue 2 points from this – a 4th try bonus and a finish within 7. Manu made a rare mistake kicking the restart over the dead ball line. We came back for a Sale scrum. Sale made some progress but in the end Nick Isiekwe secured the turnover and joyfully kicked the ball out for a very well deserved and, to be honest, unexpected win.
I had wondered quite what sort of performance we would see from the boys today, given the game was, to us at least, meaningless but to be honest the commitment and the standard of play, especially given the elements, was faultless. For a minute I even got quite excited about the bonus point try! Both teams played far better than England and Scotland last week in arguably worse conditions but it was Sarries who mastered the wind best, due in no small measure to young Manu Vunipola, a star of the future. He kept his nerve, kicked superbly and ran the game so well that we really didn't miss Owen. Whiteley also used the wind far better than his Sale counterpart. As mentioned previously both full backs were superb. Chapeau! Tom Woolstencroft was the official Man of the Match but really any one of this team could have been chosen
Just to finish – we have sadly lost one of our regular reporters. Future match reports will be very hit and miss unless we get some new blood. I can do most of the home games but away fixtures will probably remain silent. We Mods have had a tough time keeping this Board running and usable over these past few months. But we really need your help so come on guys and gals. Please can we have some volunteers to cover future games (especially away fixtures given the BT boycott). We would also be delighted to hear from anyone who feels they could join our dwindling band of Mods to help with publishing and maintaining the Message Board. Club and Supporters face challenging times but our boys showed us today they are up for the fight. We need to support them too. Over to you.
Saracens:-
Goode, Segun, Lozowski (Taylor), Barritt, Lewington (Crossdale), Vunipola, Whiteley (Spencer); Carre (Barrington), Woolstencroft (Singleton), Koch (Ibuanokpe), Kpoku (Reffell), Hunter-Hill, Isiekwe, Clark, Wray (Christie)
Sale Sharks:-
Hammersley, Ashton (Solomona), James, Van Rensburg (James), McGuigan, R Du Preez, Cliff (Warr); Harrison (Oosthuizen), Webber (Van der Merwe), John (Cooper-Woolley), Evans (Phillips), J Du-Preez, Ross, B Curry (Wilson), D Du Preez.
SCORERS:
Saracens (36) Tries: Carre, Segun, Isiekwe, Barrington; Conv: Vunipola (2); Pens: Vunipola (3), Lozowski
Sale Sharks (22) Tries: McGuigan, D Du Preez, R Du Preez; Conv: R Du Preez (2); Pen: R Du Preez
Referee: Wayne Barnes RFU
View a Printer Friendly version of this Story.
SALING INTO THE WIND
Discussion started by TheSaracens.com , 16/02/2020 12:57
TheSaracens.com
16/02/2020 12:57
What do you think? You can have your say by posting below.
If you do not already have an account
Click here to Register
.
Edited 1 time(s). Last edit at 2020:02:26:21:11:06 by Darraghgirl.
TonyTaff
17/02/2020 09:01
Sounds like a superb performance.
£721.05 (*) donated to the Saracens Foundation due to visits to the Sarries frontpage [
www.rugbynetwork.net
]
Please read and submit articles for publication.
(*) As at October 31, 2018.
The Bard
17/02/2020 18:56
It really was a heart warming performance that should set us up well for the next few games.
An unexpected bonus was getting a chance to sing along to 'My Way' courtesy of Nick Isiekwe! He really should be made to score a try at every home game!
Sorry, only registered users may post in this forum.