BACK TO WINNING WAYS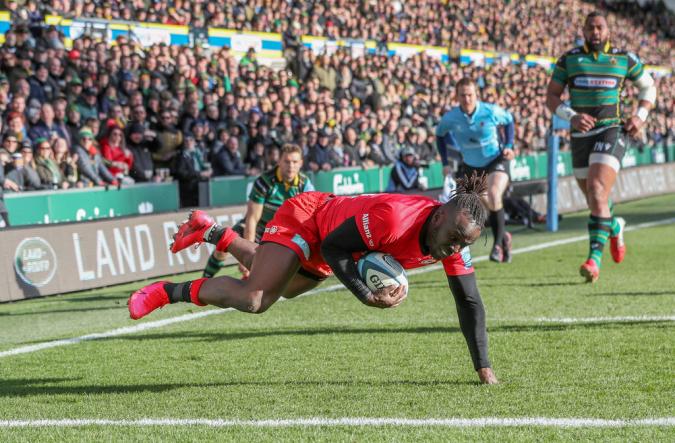 By JL904
March 5 2020
So Round 12 of the GP sees the boys on the road again - to the Gardens. Ourselves and Saints were both recipients of proper towellings last weekend at the hands of Wasps and Exeter respectively, so both sides were looking for a vast improvement in both attack and defence.
We had the benefit of a couple of players released from International camp - Ben Earl (who presumably Eddie thought needed playing time) and Nick Tompkins (especially helpful as Brad wasn't available). Big Will was back after suspension, Wiggy came in for Whitely and Titi Lamositele meant Vincent Koch started on the bench. Other than those five it was the same starting line-up as last week.
A whirlwind start saw the first try with only three minutes on the clock. A box kick from Wiggy wasn't caught cleanly, and after bobbing about on the floor was picked up by Saints. A couple of slick passes ended up with Frazer Dingwall scoring a try - Dan Biggar's missed conversion being his first failure from the tee this season.
Saracens were still wondering how they'd gone behind when just a couple of minutes later Saints won their own lineout around our 22. The defence looked well set as play came infield, but somehow Dan Biggar gave a short pass to Harry Mallinder running at full pace, who went through the narrowest of gaps to score without even being touched. No mistake with the conversion, and at 12-0 down after just 5 minutes it looked like they were in for another torrid time.
The restart saw Saints pinned back around their 22 for a few minutes and neither side was making much headway until Segun (not for the first time) showed why he is such a special young talent. Receiving a pass from Tompkins he danced past two defenders, leaving them on the floor having just about getting a fingertip on him diving at his shadow. Manu missed the conversion, but slotted over a penalty goal awarded shortly afterwards - this awarded for a Northants defender tackling on the ground when Saracens were looking dangerous from a scrum 30 metres out. Fifteen minutes gone and it's saints ahead by 12 points to 8.
Five minutes later we had the first casualty of the match. Biggar chased a Reinach box kick and outjumped Manu V. Sadly he landed on his braced leg and his match was done. Purely accidental, but he looked in severe pain. At the scrum restart, Lamositele was pinged, giving Saints a penalty which they kicked to the corner and then messed up their line out. It wasn't too costly, as Titi was adjudged offside in front of the posts. Mallinder made no mistake from the tee, taking the score out to 15-8 with 25 minutes played.
Moments later there's yet more drama - Mr Carley blows up after seeing Jackson Wray has probably taken a blow on the head in a ruck defending our 22. He goes off looking groggy, as does super Dunc (HIA confirmed by commentators, but the reason wasn't obvious from TV coverage). Another scrum restart - Reinach, running hard off the back passes to Dingwall. Wiggy saves a certain try by tackling him just a meter short, and the ball comes loose. Tonks is first to it - all he has to do is pick and flop over but somehow manages to knock on in the act of scoring. Meanwhile in the melee, poor old Alex Goode has taken a clattering, so off he goes wobbling like a drunken sailor.
Still to reach the half hour mark and we have three subbed off for head injuries and Saints have Dan Biggar off with his leg injury - but whilst there's an edge to the game it's far from dirty. There's no more incident as the last 10 minutes play out. Saracens finish looking slightly stronger, but it's all a bit scrappy. That said, whilst the 15-8 scoreline is probably a fair reflection of possession, carries, meters made and tackle stats, I'm not sure it really reflects the play itself - Saracens took ten minutes to wake up but rarely looked in trouble after that.
When play resumed after half-time oranges ~ (I'm not really showing my age here :-) ~ we had the first of what would be four yellow cards within the first couple of minutes. An attack on the right wing outside the Saints 22. In a tackle, the ball is offloaded to Wiggy, who turns and gives an old-fashioned diving pass. He's literally a couple of feet from the ground at most when Lewis Bean dives on top of him, swinging his right arm to the head. The crowd aren't happy that their player is having a rest but goodness knows why. A card every single day for that ... and players have been sent off/cited for much less.
Moments later Saints were down to 13. The penalty conceded by Mr Bean resulted in a 5m lineout which was taken cleanly. Wiggy had a little dart and looked to pass to Tompkins or Segun who were both lurking outside. Taqele Naiyaravoro had a rush of blood and stuck an arm out in the act of tackling and earned himself a spell in the naughty chair. A covering defender meant no penalty try, but I'd have backed either of our boys to make the score. Another lineout, can we make it count this time? We get advantage from an early contact in the air, Titi grounds the ball, but TMO shows that he was actually tackled just inches short. Mr Carley informs the home side that he's getting irritated by their constant chuntering - the pressure is starting to tell now. A third lineout (from the penalty advantage) - and this time Jack Singleton makes the extra men count as he's driven over. Manu's conversion levels the score at 15 apiece.
The restart is gathered and Wiggy's exit gives Saints a lineout close to our 10m line. It's overthrown, and results in Alex Lewington racing to their 22 - a few phases later Nick Tompkins finds the try-line beckoning after stepping between two defenders. It's 50 minutes and we lead for the first time, 22-15 when Manu adds the extra 2 points. Another restart and this time we make a pig's ear of it, conceding a lineout which leads to a period of sustained pressure in our 22. It's scrappy stuff, and frustration is building up to the point where it's a bit of handbags. Mallinder scores the three from the resulting penalty - but not before the referee formally warns the Northants skipper that he's taken enough chelp from Cobus Reinach, and the next utterance will see him binned. There are still 25 minutes to play, Sarries leading 22-18.
After last week's humbling, the boys are after the try BP to make a statement. It comes on the hour mark when we give away another stupid, unnecessary penalty. Vincent Koch the offender, getting opposing prop van Wyk in a headlock - nothing malicious or nasty about it, just plain daft. The penalty means that we must defend a lineout around 30m or so out. Tom Wood takes clean ball off the top to Reinach. The S/H immediately fires a quick, long pass infield to runners in space, but disaster ! Ben Earl saw it coming, was up like a shot and intercepted the pass. He was away like a whippet and nobody even got near him. The conversion is missed so the score remains at 18 - 27.
There's still 1/4 of the match to play and after their brilliant start, Saints are very much chasing the game. Matt Gallagher decides to help them by deliberately knocking on thus earning himself a ten minute breather. The offence was well back, and two defenders were tracking across so, as earlier the penalty try was not awarded, much to the disgust of the home crowd. Saints decline a straightforward 3-pointer but the lineout drive comes to nothing. They spend 10 minutes in our 22 without ever really threatening the line. A combination of poor passing, knock-ons and general sloppiness is again proving costly. Wiggy makes his only error in an otherwise fine game by having a kick charged down - he rescues the situation by making an excellent cover tackle. Saints eventually take a penalty goal to come within LBP territory with over 5 minutes playing time left.
Gallagher rejoins the match, and just when we think there can't be any more twists to the game - there's another card. The third deliberate knock-on, this time Alex Lewington in the process of making a tackle. The referee who has had an exemplary match makes his only error ... but what an error. He reaches into his pocket and flourishes the red card! He immediately realised what he'd done, but the look on the players' faces was priceless. Yellow duly shown meant we finished with 14 men.
The match fizzled out, the final play being the award of a scrum penalty to Saracens. Having confirmed that time was up, Manu chose not to risk a length of the field score from a missed goal kick, opting instead for a tap & touch kick.
In short, a thoroughly entertaining match. An edge to it, but far from dirty. A solid performance after being blitzed in the first 15 minutes. Excellent game management from Wiggy. Will Skelton was an absolute monster, and Ben Earl is going to be a star if he continues playing the way he is doing. The officials all had a good game, I think they got all the major decisions spot on. The three players off with head injuries are a worry - the state Jackson and Goodey were in I don't expect them to be playing Tiggers next up.
I've done this from the GP website - if anyone hasn't watched the match yet it's well worth it.
Northampton Saints:-
Mallinder, Tuala (Symons), Dingwall, Hutchinson, Naiyaravoro, Biggar (Proctor), Reinach (Taylor), Van Wyk (B Franks), Fish (Marshall), Hill (O Franks), Coles, Bean (Glynn), Wood, Tonks (Eadie), Harrison
Saracens
Goode (Gallagher), Segun, Taylor (Morris), Tompkins, Lewington, M Vunipola, Wigglesworth, Barrington (Carre), Singleton, Lamositele (Koch), Skelton, Hunter-Hill (J Kpoku), Isiekwe, Earl, Wray (Clark) (Woolstencroft)
SCORERS
Northampton (22) Tries: Dingwall, Mallinder; Conv: Biggar. Pens: Mallinder (3)
Saracens (27): Tries: Segun, Singleton, Tompkins, Earl. Conv: M Vunipola (2). Pens: M Vunipola
YELLOW CARDS:
Northampton: Bean, Naiyaravoro
Saracens: Gallagher, Lewington
Attendance: 14,978
Referee: Marr Carley RFU
View a Printer Friendly version of this Story.
BACK TO WINNING WAYS
Discussion started by TheSaracens.com , 05/03/2020 07:44
TheSaracens.com
05/03/2020 07:44
Thank you so much to our newest recruit John. A brilliant debut performance - looking forward to many more



Edited 2 time(s). Last edit at 2020:03:17:20:12:44 by Darraghgirl.
Statesman
05/03/2020 19:43
JL904, I think that's a fair and balanced report. Some additional thoughts/comments:-

Great atmosphere inside the ground - felt more like a Tigers game - felt Saints supporters gave Saracens a warm welcome - any booing was restricted to Carley (probably unfairly!)

I think Carley is a good referee - one of 4 in the Prem (I have him 4th behind Barnes, Pearce and Dickson) and overall he had a decent game. My only issue is the inconsistency around the deliberate knock on. Carley had an identical situation in the Wales/France game the week before and gave scrum only. The following day Bath/Bristol 2 identical situations - scrum only. TBF at least he was consistent on the day with the 3 yellow cards. No issues with the Bean yellow - he's a yard off the pace for Prem rugby.

The injuries in the first half were important - you lost 3 of your best players we lost 1 - but losing Biggar probably had a bigger negative impact on us than your 3 losses had on you.

I thought the TW for CC substitution to leave you with 2 2's on the field was odd - particularly as Singleton was struggling with appeared to be a bad shoulder injury.

Overall, I thought Saracens had excellent defence, made fewer mistakes in key areas and deserved to win.
The Bard
05/03/2020 21:56
Donít think the booing was restricted to the ref, there was a loud chorus after our first try and penalty.
It became a roaring crescendo around our second try, particularly when the assistant ref gave us a 5m lineout when it looked like Manus kick had gone dead!
I'd hazard a guess that the boys received a warm welcome in comparison to the one at Castle Grim earlier in the season ...
TonyTaff
06/03/2020 15:51
Quote:

JL904
I'd hazard a guess that the boys received a warm welcome in comparison to the one at Castle Grim earlier in the season ...
I was at Castle Grim. We win when they boo!
£721.05 (*) donated to the Saracens Foundation due to visits to the Sarries frontpage [
www.rugbynetwork.net
]
Please read and submit articles for publication.
(*) As at October 31, 2018.
Sorry, only registered users may post in this forum.