TIGERS LOSE THEIR BITE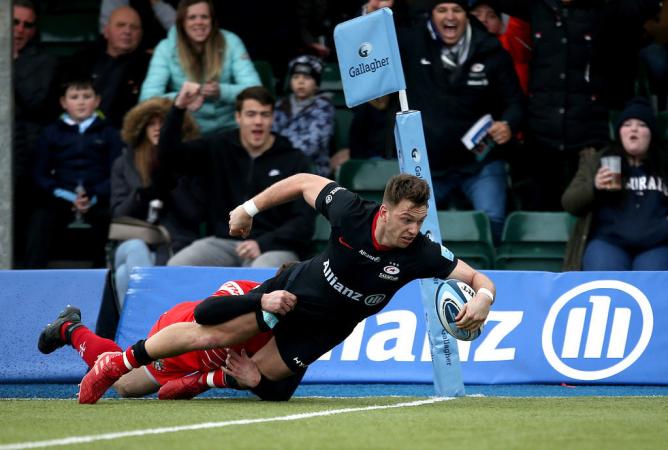 By Blackheath Sarrie
March 8 2020
A sunny Allianz Park welcomed a Tigers team that like Saracens have had some trouble securing wins on the road. The visitors came to the game with one win in the last eight meetings between the two team but with one of the heaviest packs ever to play in the Premiership. Could they grind Saracens into submission like the Tigers teams of old?
The game started with an excellent hanging kick and Clark was able to tackle Kalamafoni as he caught the ball. Tigers recycled and White kicked out. Gallagher and Veainu shared kicks before a long throw at Saracens lineout was stolen by Tigers kicking out on the full. The following break from Skelton who offloaded to Mako was turned over by Tigers Reffell (charitably deemed to be supporting his body-weight by JP)

Unfortunately Tigers scrum-half McPhilips was forced off with an injury on came 20 yo Hardwick.
A good attacking phase by Saracens saw passes from Wiggle, Barritt, Morris to Gallagher who unfortunately ignored Segun who was turned over by Tigers Reffell. Saracens lost control of the ball at their scrum as Mako started to struggle on the Loosehead. Tigers kick was secured by Gallagher who gave Woolstencroft something of a hospital pass that he did very well to hold onto. The kicking game continued with Saracens kicking mainly accurate , well chased and claimed and Tigers is loose and claimed under little or no pressure. Veainu, who used to be a lesson in why you shouldn't kick loosely to Tigers is now rather a lesson as to why you should always make sure you look at the back of your haircut at the barbers, fumbles a kick from Wiggle.

Incredibly it has taken to the 16th minute for the first penalty with White penalised. Isiekwe took at the lineout and a cut out pass from Woolstencroft to Manu saw Lewington ghosts through the Tigers defence. TRY which Manu converted. 7-0.

Wiggles restart is claimed by Gallagher in imperious fashion but he lost it trying to force an offload. A potential Tigers try with one of the Tigers locks running onto a ball straight from the lineout and passing to one of their backs is ruled out for being "not straight" from Polota-Nau (His greatest hits "Nau that's what I call lineout throwing" in all music shops near you soon)

Tigers heavy pack began to pay as they win a scrum penalty over Saracens. They had an advantage with an opportunity on the openside but Whites dithering sees JP call advantage over before it can be exploited. Hardwick comfortably slotted the penalty. 7-3.

Manu kicked the restart out on the full, Kalamafoni ran from base and stepped Manu but is stripped in contact by captain Barritt. Mako secured a Saracens overthrow and Wiggles kick is almost caught by Lewington who had beaten the last man with his jump and would have had a race to the line had he held the ball.

Hardwick kicked out on the full and Barritt showed the same deft touch that set up a try earlier in the season with a kick through for Morris to chase in Tigers 22 but the defence beat him to it.

Tigers most promising attack of the game came as Eastmond fell over and the slight confusion and hesitation from Saracens saw Batley cut a superb line through the defence as he stepped round Kpoku and went over Lewington stopping only when he meet the immovable object of Barritt. The ball was quickly recycled and Skelton defended the crash ball but Saracens gave away a penalty for offside and Hardwick kicked the three. 7-6.

A good attacking passage saw Gallagher handing off Wells and passing to Woolstecroft who lost the ball in tackle.
Woolstencroft is then penalised for "not straight" at a lineout at which Tigers jump across the line but Mako secured a penalty as Tigers are forced to clear him from the side to stop him securing a turnover. Saracens attack broke down as Manu looking for Gallagher on the inside ball passed to no one for the end of the first half.

With the half time choirs suggestion ringing in Saracens players ear "You do run, run, run" the two teams settled down for a short bout of kick tennis. When Saracens decided to run the ball back a short pass from Mako is lost in contact by Woolstencroft. Mako is almost immediately involved again this time with a cut back pass to Morris who found Skelton on the crash ball. Lewington is in support and Saracens have numbers but White did brilliantly to stop the offload for what would surely have been a walk-in. There's an earlier Tigers offside so Saracens retained possession.

In a sign that both lineouts are struggling with the accuracy of their hookers and the competition of the opposition a Tigers lineout is stolen but they immediately secured a somewhat fortuitous looking turnover to get it back. White made a great break but is tackled by Wiggle. Tigers clear and Hughes gave away a silly penalty by blocking Gallagher from claiming the high ball.
Isiekwe voiced his frustration with Tigers continuously closing the gap at lineout but is told by JP to stop complaining. Tigers close the gap and Wells stole Saracens ball ...

In their best attacking move of the game Hardwick passes to Tigers Reffell to Spencer who offloaded to White who ran in Tigers first try. Duly converted by the nerveless Hardwick. 7-13.

Saracens Reffel and Segun get a huge hit on restart receiver but Veainu came away with the ball and Tigers cleared.
Saracens tied to attack but Tigers gave away a penalty with JP warning them about two in a row lying on the ball. Manu chalked up the three. 10-13.

Lewington climbed high and out-jumped Kalamafoni to claim the the restart. Saracens built an attack and Eastmond fairly cynically knocked-on but Saracens retained possession under penalty advantage. The ball was moved swiftly from Spencer to Mako to Manu and finally Gallagher out wide but Tigers had numbers and he was well marshalled. With possession recycled an inside ball from Barritt found Lewington who had men outside and with Veainu taking a leaf out of Eastmonds book there was no option but for the Tigers man to see yellow for a deliberate knock-on. Tigers cover defence meant no Penalty Try was awarded. Saracens have been very successful with attacks against the grain and so it proved for the next try with Barritt finding Morris cutting back as he ran through to score. TRY with Manu adding the extras. 17-13

Manu stripped the ball from Tigers and it was great to see Rhodes first carry back from injury. The attack built with backs and forwards combining and Skelton stepping in at scrum half. Unfortunately when Segun tried to pick up at the ruck another promising attack broke down as he knocked-on at the base.

On 63 minutes Wiggle and the other Saracens players on the sidelines cover their mouths and try to shoo Mako VIRUpola away as he tries to claim his well deserved place on the bench after a typically industrious outing.

Manu identifies some space in Tigers 22 and put a lovely chip through for Segun to chase. The ball bounced well for Saracens and to stop Segun competing White is forced to play it whilst his feet are in touch.
Unfortunately another lineout is lost as one of Tigers locks shredly took advantage of the lack of offside on throws over 15 and got himself in-between the jumper and the support giving Tigers a turnover.

Saracens launched a barrage of attacks with Morris featuring prominently but as they broke well into the 22 Tigers prop Bateman took a Morris offload from the floor and Tigers cleared.

In a phase that showed the skill throughout the squad the ball is passed from Barrington to Vunipola who in the manner of a Matador sidestepped the blitz defence and passed behind it to Isiekwe who commited his defender before passing a great ball for Lewington to run onto. Lewington was shown and took the outside by Veainu and despite a good covering tackles by Holmes was able to ground the ball. TRY Saracens and Manu adds the extras. 24-13

The restart saw Gallagher running the ball back, passing to Manu from there onto an onrushing Titi running a great support line. A somewhat ambitious basketball pass out of the tackle followed from our American Saracen which saw the ball go forward to Hunter-hill and Tigers reclaim possession.

Hardwick decided to try and run past Skelton who promptly picked him up in much the same way you or I might lift a Grandchild. Unfortunately whilst Saracens quickly ensured he couldn't go to ground the fact that he had never been there since the tackle meant that rather than being a maul and a turnover it was in fact Tigers ball!

As well as Wiggle played in the first half Spencer is gave a first class demonstration of the value of raising the tempo of the game. From the ensuing scrum Spencer did great work to scrag White at the base but unfortunately knocked it on in the process. With Tigers running the ball back a loose pass from Eastmond saw Spencer pounce once again chipping the ball through and then once again for Crossdale to score a brilliant try ... alas, it's not to be though as JP believed Spencer may have knocked on and the TMO confirms the slightest touch but that was enough. No TRY.

In the closing moments of the game Tigers have possession in Saracens 22 and are rewarded for off-sides from Morris and Rhodes with repeat opportunities to work a set move or more realistically perhaps maul themselves to within a LBP. The first move broke down when Cole knocked on the second and the last as the imposing figure of Skelton clamped over the ball through the maul and it went to ground for a turnover and a Saracens win. 24-13.
SARACENS:- Gallagher, Segum (Crossdale), Morris, Barritt, Lewington, Manu Vunipola (Whiteley), Wigglesworth (Spencer); Mako Vunipola (Barrimgton), Woolstencroft (Singleton), Koch (Lamositele); J Kpoku (Hunter-Hill), Skelton, Isiekwe, Reffel (Rhodes), Clark
LEICESTER TIGERS;- Veainu (Worth), Homes, Thomas, Eastmond, Hughes (Simmonds), McPhillips (Hardwick), White; Leatigaga (Bateman), Polota-Nau (Kerr), Hayes (Cole), Batley (Geen), Spencer, Wells, Reffell, Kalamafoni (Boladau)
SCORERS: Saracens (23) Tries: Lewington (2), Morris; Conv: Vunipola (3); Pen: Vunipola
Leicester Tigers (14) Tries: White; Conv:Hardwick; Pen: Hardwick (2) Yellow card: Veainu
Referee JP Doyle RFU
Att. 5,500
View a Printer Friendly version of this Story.
TIGERS LOSE THEIR BITE
Discussion started by TheSaracens.com , 08/03/2020 14:41
TheSaracens.com
08/03/2020 14:41
Thanks to our second debut reporter in 2 weeks
Another excellent report
Looking forward to more in the future



Edited 2 time(s). Last edit at 2020:03:21:07:22:39 by Darraghgirl.
BlackheathSarrie
07/03/2020 23:21
Report now published above. Thanks Blackheath Sarrie



Edited 1 time(s). Last edit at 2020:03:08:14:45:48 by Darraghgirl.
Thank you Blackheath - an excellent write-up.

Having done my first last weekend, I appreciate how much effort it's taken you.
Bram1ey_Road
08/03/2020 03:38
Excellent match report and hugely charitable to visually impaired Irish everywhere.
Darraghgirl
08/03/2020 07:23
Thanks Iíll republish this as a headline article later today
BlackheathSarrie
08/03/2020 10:08
Thanks JL and Bram1ey. I really enjoyed your review last week JL I think you captured the game brilliantly.

My pleasure DG. I should have asked how I was supposed to give you the piece, should I have sent it to you rather than published?
Darraghgirl
08/03/2020 14:50
Quote:

BlackheathSarrie

My pleasure DG. I should have asked how I was supposed to give you the piece, should I have sent it to you rather than published?
I've sent you a PM
Thanks
Thanks for the write up, McPhillips is Fly Half rather than scrum half, therefore I think the result should be reversed.
TonyTaff
08/03/2020 17:45
Thanks a lot Blackheath. Photographic memory!
£721.05 (*) donated to the Saracens Foundation due to visits to the Sarries frontpage [
www.rugbynetwork.net
]
Please read and submit articles for publication.
(*) As at October 31, 2018.
Darraghgirl
08/03/2020 19:14
Quote:

Highbury Saracen
crowd was given as 7,000 in newspapers?
I added that bit
Premiership Rugby Site gave it as 5,500 - mind they gave the Brizz/Quins game as "0" so who knows!!! Or maybe they played it behind closed doors?
BlackheathSarrie
08/03/2020 21:41
Quote:

Stopsy
Thanks for the write up, McPhillips is Fly Half rather than scrum half, therefore I think the result should be reversed.
I did know that but for some reason my brain didn't translate it to the page. Given my frequent slips between tenses and unique spelling you're probably quite fortunate he wasn/t credited as being he bench hooker for Saints! and no, the result stands regardless. I did think he looked very composed though and had a great game.
Thanks TT (the benefits to watching the game at home with a cold but a comfy chair, a thermos, biscuits and a pen and paper) and derbyshire fan.
Sorry, only registered users may post in this forum.