OUR FAVOURITE GAMES # 19 A TALE OF 2 SCRUM HALVES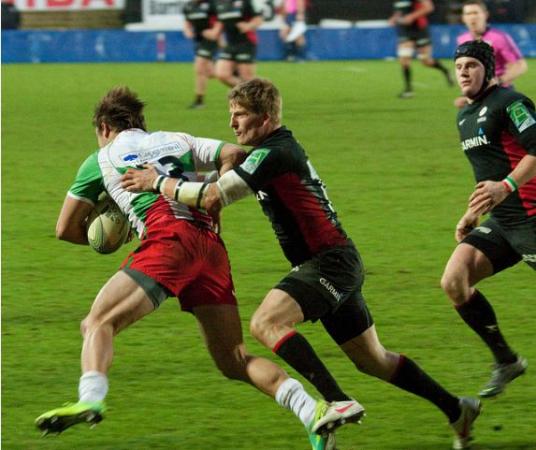 By TheSaracens.com
May 18 2020
Let us go back to the winter of 2012 and an early appearance by a young scrum half by the name of Ben Spencer when Saracens took on the (then) mighty Biarritz. It was a game which might have been played in South Africa if some had had their way but instead we had to settle for Watford. It produced a nail-biting finish as I remember when once again Saracens were destined to be England's only representatives in the knock-out stages of Europe's remier competition. How will they manage without us!
Welcome to Stade Vicarage Road, north London's answer to Parc des Sports Aguilera. Handily sited on the Cote de Watford, a rather shabby district in North London, it sits conveniently next to Watford General Hospital and inconveniently some way from any of the surrounding railway stations. Whereas Parc Aguilera is evocatively named after the Eagle's Nest, Stade de Vicarage Road takes its title from the sometime parson's residence which has doubtless long gone and is now either a MacDonalds or a mosque
Sorry it isn't Table Mountain which towers over the stadium floodlights but due to circumstances beyond our control we had to settle for the delights of the grottiest bit of Hertfordshire and a ground shared with a struggling football team (although you have to admit the pitch ain't bad). Of course no one told the team about the venue change so they went down to Cape Town anyway for a bit of warm weather training which is very useful when the temperature here is around zero. No wonder we saw a few handling errors. Perhaps they should have gone to Iceland instead. One can debate at length the merits or otherwise of a 12 hour flight as preparation 36 hours before arguably the biggest game of the season but we are where we are … at Stade de Vicarage Road.
As the match started Saracens held the unenviable title of England's last best hope of making the quarter finals. With only Harlequins realistically in with a shout (albeit as a runner up) the hopes of the homeland were carried on Sarries' shoulders – which was somewhat appropriate given that at last 8 of the squad had finally got England recognition. Once more unto the breach dear friends, once more.
The good news for Sarries was the absence of Harinordoquy who had caused so many problems in France. Also missing was August with a poorly hamstring and the awesome bearded Erik Lund and his brother Magnus. The bad news was the return of Yachvilli and as everyone knows, when Yachvilli plays, Biarritz win.
It was a beautiful winter's day – even Watford looked quite attractive in the low afternoon sun. The sky was clear, the temperature cool, the pitch dry and not a breath of wind. A perfect day for rugby.
It was also a tale of 2 scrum halves: one an experienced international, one very much a beginner, one 31 the other 19; both left footed, both good kickers, both hugely talented.
The match started with a couple of iffy box kicks from Spencer and a statement from the Sarries pack who turned the first scrum 180 and won the ball. There was quite a lot of aerial stuff with Alex Goode rock solid all afternoon under everything that came at him and Spencer starting to make Yashvilli look like the rookie. The dangerous Nqwenya reminded us of his ever present threat with a kick chase to the corner which Wyles just eased into touch. After 10 minutes Thion was allegedly taken out in the air and Yashvilli did what he does best and sent the ball between the post for the Frenchmen to take an early lead. Almost immediately a high hanging kick from Spencer produced a Sarries penalty and Farrell showed his class and his nerve with a tricky kick to find the target and level the scores. Sarries then appeared to steal a lineout but the ball bounced awkwardly leaving Spencer isolated and the penalty was inevitable as was Yashvilli's accuracy and Biarritz were back in the lead.
A promising attack followed when a Yachvilli lapse allowed Sarries to win a loose ball and a neat pick up by Spencer sent Saracens in the person of Strettle into the Biarritz 22 for the first time in the match. Joubert picked up off the back of the ruck and set Wyles heading for the tryline. He was tackled 5m short and Spencer was alert to the lapse in Ngwenya's defence, snaffled the ball and backed himself to make the tryline to score his first try for the senior team. Farrell, possibly put off by Ngwenya's charge, missed the touchline conversion but Sarries were in the lead at last 8-6 with a quarter of the match gone.
Another Sarries' attack from the restart ended in a knock-on (one of too many) then Goode fielded another Yachvilli high ball in his own 22 and carried it deep into Biarritz territory. The ball made its way out to Strettle on the wing but the pass wasn't quick enough to give him space to beat the defence and eventually the attack ended with yet another knock on.
Yachvilli and Goode exchanged some aerial ping pong before another handling error gave a scrum to Biarritz. From the attack, Botha anticipated Yachvilli's pass to perfection and set off for the tryline but like a steam engine took a while to build up steam by which time he didn't have the legs and was caught on the Biarritz 10m line. The ensuing attack almost saw Wyles reach the tryline but the ball was held up (referee Clancy, who I thought handled the game well, refreshingly backed his own judgement rather than going to the TMO). A 5m scrum should have been meat and drink to a Saracen's pack that had held the upper hand but somehow the drive never got going and the ball squirted out the back but resulted in another Saracens' penalty from a similar position to the missed conversion. This time Farrell had his sights right and the ball sailed between the posts for a 5 point lead.
Several more scrums followed, refreshingly, as happened all afternoon, most of them seemed to go ahead without recourse to free kicks, penalties or resets. Well done Mr Clancy! Strangely as half time approached, a scrum on half way was reset twice before Sarries were awarded a penalty. It looked on limits for Farrell but the young man had no such doubts and calmly sent the ball over the posts for a seemingly comfortable 14-6 lead. Just before halftime Sarries incurred the wrath of Mr Clancy when Joubert took a man out in the lineout and it looked as though Yachvilli would narrow the gap but somehow he missed and everyone went off for tea and buns with Sarries appearing to have the match won and Biarritz not looking particularly bothered. The scrum was dominant, Goode was looking rock solid at the back, Barrett was doing a good impression of a tank trap and Spencer had completely upstaged Yachvilli.
Ah but anyone who has followed Sarries for long will know that they never do anything the easy way. Biarritz changed their hooker bringing Heguy on for Terrain and soon after Marconnet for Barcella and the scrum started to look better. Meanwhile Sarries either thought they'd done enough or the jetlag was kicking in, whatever the next 20 minutes proved to be less than perfect.
It started with a lineout, lost on the Biarritz 22. An attacking opportunity wasted. Sarries seemed to be dominant but there were too many errors when it mattered although there were a few little gems like the super clearance from Goode which Balshaw thought he'd kept in but failed. Biarritz begun a period of intense pressure on the Sarries 22. As always the defence was good but somehow they couldn't clear the ball. Bosch missed a fairly easy drop goal attempt but it seemed every time the ball was kicked away it came back with a vengeance, usually from Balshaw. Then Spencer was substituted. He had been playing well. Hopefully Spencer's experience would help settle the nerves. At the same time Peyrelongue replaced Bosch (a significant change in the first game which seemed to kick-start Biarritz). Kruis also replaced Botha. With virtually his first kick of the game, Stringer's attempted clearance was charged down by Yachvilli and he scored ahead of the diving Hodgson and converted it to boot. Suddenly it was 14-13 and anyone's game.
Biarritz seemed to wake-up, as if they suddenly realised they could still win this game. There was a moment's respite when Sarries won a penalty as Marconnet lay all over the ball and the reliable Farrell stretched the lead back to 17-13 but otherwise Sarries were on the back foot. Stevens replaced Nieto and Joubert gave way to Wray. I have to confess I was worried. This game was far from won. We needed out match-winners on the pitch. Biarritz won another penalty for a Smit high tackle which Yachvilli kicked for 17-16. The game reached its final 10 minutes. Ngwenya seemed to have made an interception but fortunately the referee was playing advantage to Sarries and the panic was over. The Biarritz scrum got its own back on the Nieto-less Sarries pack and turned it. The bedrock was starting to creak and still 8 long minutes to go.
Biarritz went for the kill, attacking the Sarries' line again but Alex Goode stood firm. He caught everything they threw at him (and that was quite a lot) and either ran or kicked it back with interest. At last with just 3 minutes left Sarries won a penalty, when Biarritz went off their feet and although it was a long way out Mr Cool Calm Farrell never looked like missing. The lead was back to 4 and now crucially out of drop goal range. Biarritz grabbed the restart, one last Biarritz scrum, but somehow Farrell stole the ball and Stringer kicked it into touch and Sarries had won. It wasn't pretty, it wasn't easy, (at least not in the second half - is it ever) but it was a win and although a quarter final isn't guaranteed, it would take an almighty upset in Treviso next week for it not to be.
Alex Goode was deservedly given Man of the Match (although had Spencer stayed on longer who knows). Smit and Gill played the whole game and looked good and Nieto has to start ahead of Stevens, at least alongside the tall Smit. Botha, Strettle, Barritt, Hodgson and Farrell all looked England quality and Spencer won the battle of the scrum halves.
Saracens
Goode Strettle Farrell Barritt Wyles Hodgson Spencer (Stringer) Gill Smit Nieto (Stevens) Borthwick Botha(Kruis) Brown Saull Joubert (Wray).
Biarritz
Balsaw Ngwenya Gimenez Traille Bolakoro (Baby) Bosch (Peyrelongue) Yachvilli Barcella (Marconnet) Terrain (Heguy) Kodela Thion Taele (Carizza) Lauret Guyot Faure
Scorers
Saracens: Try: Spencer, Pens: Farrell (5)
Biarritz: Try: Yachvilli, Conv: Yachvilli, Pens: Yachvilli (3)
Scores
0-3 3-3 3-6 8-6 11-6 14-6 14-13 17-13 17-16 20-16
Referee: George Clancy
Attendance 6,789
View a Printer Friendly version of this Story.
OUR FAVOURITE GAMES # 19 A TALE OF 2 SCRUM HALVES
Discussion started by TheSaracens.com , 18/05/2020 20:19
TheSaracens.com
18/05/2020 20:19
What do you think? You can have your say by posting below.
If you do not already have an account
Click here to Register
.
Edited 1 time(s). Last edit at 2020:06:27:17:38:25 by Darraghgirl.
Sorry, only registered users may post in this forum.